After a garment factory collapse at Rana Plaza in Bangladesh killed 1,133 people in 2013, H&M was among the first of many international clothing brands that agreed to sign the binding Bangladesh Accord on Fire and Building Safety, to prevent such a tragedy happening again.
It was a significant moment: The fast-fashion retailer is one of the largest buyers of garments from the country, which gives it considerable leverage in Bangladesh—and also makes it a symbol of the Western fashion brands doing business there. Many other companies followed suit.
But despite touting its progress in accordance with the agreement, H&M is now defending itself against a damning report (pdf) by the Clean Clothes Campaign and other labor groups that advocate for workers' rights. The report, based on public information released by the Accord organization, accused H&M of being "dramatically behind schedule" in making factory-safety improvements it had committed to. In reply, H&M issued a press release and statements to the media explaining the delays (among the problems: Not all of the technology needed for the upgrades is available yet in Bangladesh), and reiterated that it had made "good progress" in some regards.
But the groups behind the report have now issued a rebuttal claiming that H&M's statements are misleading, and in some cases, just plain wrong.
One of the statements they point to (link in Swedish) is the assertion by H&M's press chief on Oct. 2 that all of H&M's supplier factories have emergency exits. They label this "an outright falsehood," based on the standard for an emergency exit laid out by the Accord.
"By definition, any building that does not have enclosed stairwells, protected by fire-rated doors, does not have fire exits (or emergency exits, to use H&M's terminology)," the analysis states. "As H&M admits, more than two years after it signed the Bangladesh Accord, 'some' (actually, most) of its supplier factories still lack proper fire doors, and therefore do not have fire exits."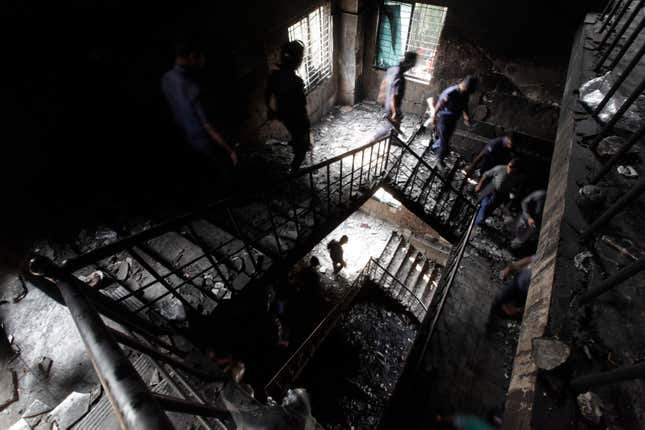 H&M also said that it is only producing in factories that meet the Accord's requirements for operation. Of the 5,000 or so garment factories in Bangladesh, it sources from fewer than 300. But the groups suggest that H&M's phrasing is misleading.
"According to the Accord's published reports, there is not a single H&M supplier factory in Bangladesh that meets the building safety standards of the Accord," they state. "We presume that H&M, in making this claim, is referring instead to the fact that the factories it is using, though clearly unsafe, have not been ordered to shut down due to risk of imminent structural collapse."
Other claims they call out include H&M's assertion that it has completed 60% of the remediation work in factories where it holds the lead role in overseeing renovations, and that lockable doors in its factories aren't ever locked, which the groups say H&M can't possibly know.
H&M tells Quartz that the labor groups' complaints are misleading. "We do not recognize ourselves in the picture given in the report, nor in the recent analysis that you refer to," spokesperson Elin Hallerby said. "For example, basic safety equipment such as fire exits is a fundamental requirement for a supplier in order to be allowed to produce for H&M. Also, there have always been clear escape routes in our supply chain, although many of them will be improved in accordance with new standards."
Even though the Accord has more than 200 signatories, the labor groups focused on H&M in their report because it was a leader in signing the Accord.
"H&M gained significant credibility as the first signer (rightly at the time) and have also communicated to consumers through their sustainability report that all significant repairs are complete," a representative for Labour Behind the Label, one of the groups that collaborated on the report, has told Quartz previously.
The groups say H&M hasn't followed through, and that after two and a half years to make the improvements it agreed to, there are no excuses for the lack of progress.
H&M maintains that its commitment to Bangladesh's garment industry is long-term, and that its work in the country "is not only active but also genuine and honest."