A year has gone by since the Rana Plaza factory collapsed, but the site remains a rubbish tip. Clothing labels still swirl around, remnants of burned trousers remain clamped between concrete blocks, and hooded sweaters lie covered in sand. Ordinary Bangladeshi's stroll over the debris, digging for usable steel on a terrain that still has an unpleasant smell. "The death," says a bystander. A memorial sign for the 1,133 victims of the disaster cannot be found, unless you count the pile of bones and a skull carefully laid out on the ground at the entrance.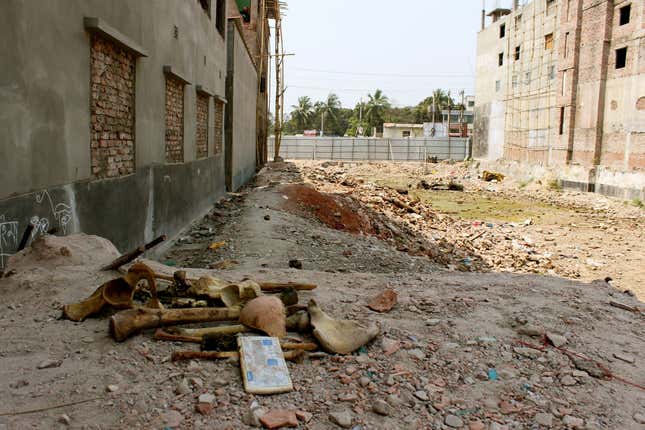 The collapse of the eight-story factory on April 24, 2013 in the outskirts of Dhaka was the 9/11 of the clothing sector. But one year on, progress in making it safer has been limited.
The Bangladeshi textile industry has grown exponentially in the last decade. It's now the world's cheapest sewing space, and the world's largest after China. The sector employs over 4 million people, most of them women. The country's economy has expanded by an annual average of 6% since 2004, largely driven by its garment industry, which is now estimated to be worth about $23 billion annually. The boom has allowed Bangladesh to shrug off Henry Kissinger's name for it:  "the world's basket case."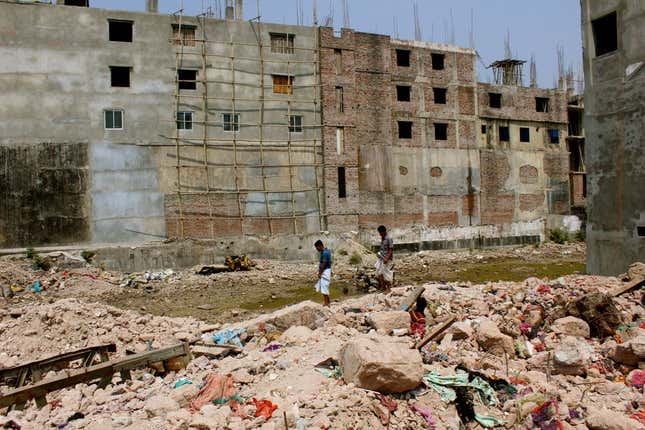 But as a result, many of Bangladesh's 5,000-plus apparel factories have been built higgledy-piggledy. Buildings designed for living in have been stuffed with heavy, vibrating sewing machines. Floors are—often illegally—added to buildings with poor foundations, and buildings declared unsafe remain in use. So the collapse of Rana Plaza, originally intended as a shopping center, built on swampy ground and three stories higher than legally allowed, shouldn't have come as a surprise.
But it is deplorable that such a catastrophe was needed to give Western brands a wake-up call. Bangladesh is notorious for its industrial disasters: In 2005 the collapse of the Spectrum factory left 64 dead. When a fire broke out in KTS Textile in 2006, 61 workers died. Another 29 perished following a fire in the That's It factory in 2010.
Patchy accountability
Politics and business are closely intertwined and textiles are the country's lifeline. Despite several deadly fires in 2012, factory owners and political leaders were never taken to court, says a report (pdf) from Bangladesh-based human rights organization Odhikar. Then a fire at Tazreen Fashion in November of that year killed 112 people. The government commissioned an independent report and the factory owner was held accountable. For the first time human lives were put above profit, a milestone for the Bangladeshi clothing industry.
But it took a tragedy 10 times worse to prod Western retailers to act. Many of them signed the Bangladesh Accord for Fire and Building Safety after the Rana Plaza disaster. An army of inspectors is currently working around the clock to get 1,500 plants—about one third of the country's factories—checked by September. The inspection reports are published online and Western brands have agreed to pay for repairs. More than 150 companies support the Accord, including major European brands like H&M, Inditex (which owns Zara), Primark, and Tesco.
Another inspection group, the Alliance for Bangladesh Worker Safety—the North American equivalent of the Accord—was founded, aiming to inspect 630 factories by July. Its agreement has been signed by 26 brands, including Walmart, Target and Gap.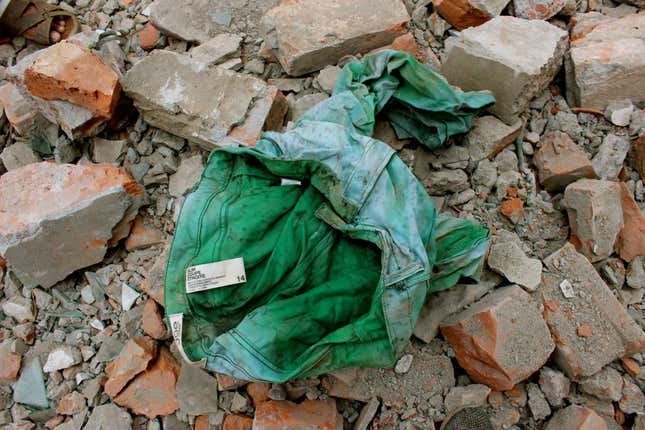 But why two separate accords and inspection regimes? Because retailers couldn't agree to involve labor unions. As a result, the Accord has co-signed the agreement with 10 unions who can confront the multinationals if they do not live up to promises. The Alliance, however, wouldn't cooperate with unions and left the responsibility for holding retailers accountable to the retailers themselves.
Though these programs were set up right after the factory collapse, it has taken the Bangladesh Accord inspectors nearly a year to publish reports on the first 10 factories. The results were hardly surprising: in nearly all 10, safety facilities were insufficient. The organization today said it has inspected more than 250 factories, of which eight have been ordered to close.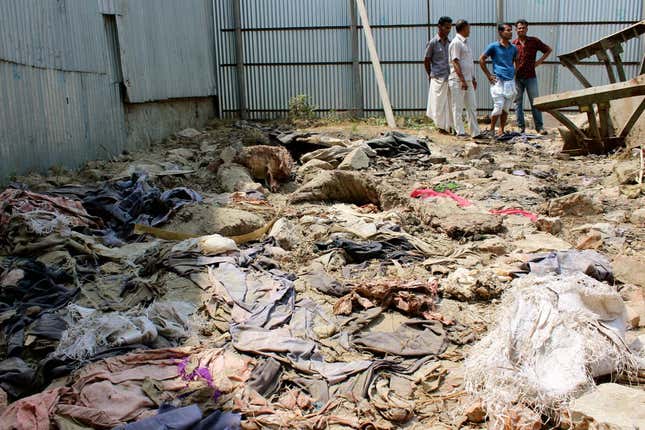 Workers united
The disaster also saw the garment workers band together. They demanded a raise of the minimum wage, last raised in 2006 to $37 per month. After they took to the streets last November, they got a raise to $68.
The US government has also acted. In June, it suspended long-time trade benefits for Bangladesh, ending duty-free imports from the country (though that didn't directly affect garment imports). The European Union might do the same, given that EU clothing imports from Bangladesh remain duty-free.
Not long after the US decision, the Bangladeshi government adjusted its labor laws. Workers were allowed to form unions and stand up for health and safety rights.
Not so rosy
These are good developments, but the reality is less rosy. Earlier this year the BGMEA, which regulates and administers the country's garment exports, reported that 40% of factories did not comply with the new minimum wage standard yet. Nor do most factories allow trade unions to be formed, Sirajul Islam Rony, president of the Bangladesh National Garments Workers Employees League (BNGWEL), told Quartz. "Some factory owners even threaten workers with dismissal if they dare to unite," he said. Human Rights Watch, a New York-based human rights group, reported earlier this year that some workers have also complained about getting death threats, being beaten up or getting forced to resign.
Meanwhile, many of the 2,500 survivors are still suffering from their injuries and loss of income. Afroja, a 30-year old mother of three who worked on the fourth floor of Rana Plaza, was stuck under the debris for three days before she was rescued. She lost her right leg. She has been promised 45,000 takka ($580) in compensation from the government but has so far only received 10,000 takka. "I actually want 1 million takka," she told Quartz at the hospital for disabled people in Bangladesh.
The UN-backed Rana Plaza Fund, which seeks to compensate the victims, is barely one-third full. Western retailers have only donated $15 million, well short of the $40 million target. Of that, $7 million came from Primark alone. Human Rights Watch said on April 23 that it had written to the retailers that operate in Rana Plaza, like America's JC Penney, Italy's Benetton, and France's Auchan, asking them why they had not paid into the fund yet.
In addition, there are dozens of factory owners subcontracting their orders to so-called "bad" factories, which aren't on the inspection lists. So a Western retailer can place an order at a factory approved by an inspection team, but can't stop it forwarding the order to an unsafe factory.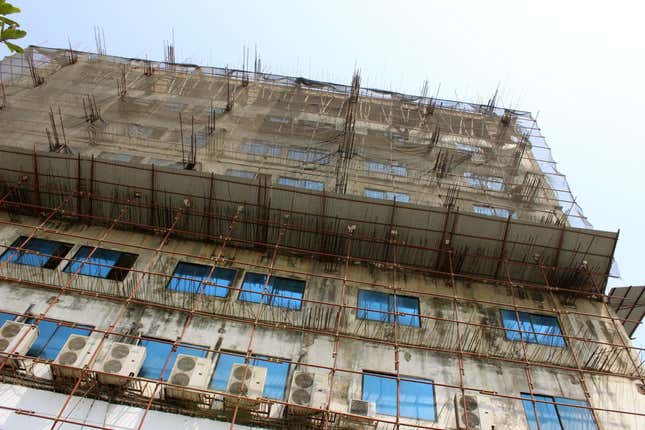 Growing too fast to control
Less than a month after Rana Plaza collapsed a fire broke out in the Tung Hai sweater factory in Dhaka, leaving nine people dead. Another 10 workers perished in a fire in the Aswad factory last October. But the country's textile industry is resilient, with garment sector exports rising about 16% year-on-year between April 2013 and March 2014. Safety efforts may be under way, but it is doubtful they can keep up with the growth.