Ten oil and gas CEOs made a pledge today (Oct. 16) to do more to tackle climate change.
"Our shared ambition is for a 2°C future," said the CEOs, referring to the rise in temperature considered by climate scientists to be the point-of-no-return for global warming. "We are committed to playing our part," the company bosses added.
The joint declaration, which includes some broad suggestions about how fossil-fuel companies can help halt global warming, came from a group called the Oil and Gas Climate Initiative. The group includes the UK's BG Group and BP, Italy's Eni, Pemex of Mexico, India's Reliance Industries, Repsol of Spain, Royal Dutch Shell, Norway's Statoil, Total of France and Saudi Aramco.
A glaring omission from the list: a single American oil company. US oil has gone through a renaissance in recent years, with shale drilling producing huge volumes. The millions of extra barrels of oil have sent the price of oil plummeting, making it cheaper to burn.
America, the world's biggest economy, only got on board with international climate negotiations fairly recently. But in this latest show of unity from the oil and gas industry, US oil giants like Chevron and ExxonMobil are nowhere to be found. Quartz contacted both companies, who have not yet responded to requests for comment. We will update this post if they do.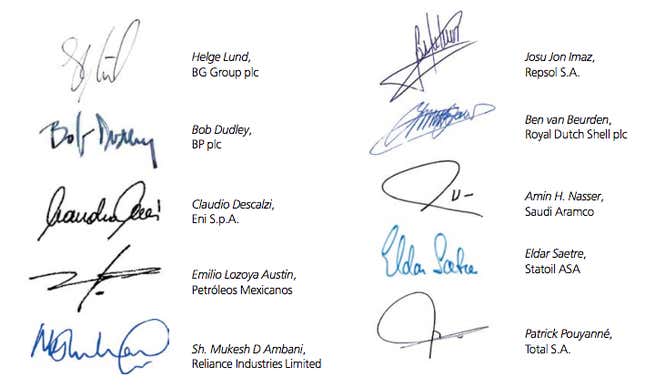 (Of course, representatives from several other major oil-producing countries are also absent—Russia's Rosneft or Brazil's Petrobras, for example.)
A pledge is not the same as action. Jonathan Grant, director of sustainability and climate change at consultancy PwC, said that the oil industry has made commitments in the past to tackle problems like the burning of gas at drill sites, known as flaring. "In May 2004, a number of governments and oil companies published a standard which aimed to eliminate routine flaring and venting of associated gas by 2011," he told Quartz. Flaring remains a significant issue today.
The CEOs' message of solidarity came ahead of a global climate summit in Paris next month, which the chief executives hope will produce "an effective climate change agreement." But at a pre-conference briefing in London yesterday, climate experts said any deal was likely to set the world on course for at least 3°C of warming—enough for a dangerous degree of environmental damage.
The CEOs' public declaration is still a step forward in the push to reduce the impact of emissions, moving several major players in the industry on from a position of denial or non-engagement to one of burden-sharing. Energy accounts for a huge share of global carbon emissions, with fossil fuels some of the biggest contributors. Together, the 10 companies represented in the declaration produce about 10% of the world's energy.
It is now harder for the companies involved to pursue strategies that could be seen to contravene the commitment made today. But Shell, whose CEO signed the declaration, only recently pulled out of oil exploration in the Arctic. Statoil and Eni, which also signed, are going ahead (paywall) with plans to extract up to 100,000 barrels per day from a jointly owned Arctic field.