Early last month, I took a ferry from Shanghai to Zhoushan, a group of islands some 100 km (62 miles) to the southeast. The Shenying was a rust bucket of a boat, and on board I spotted a young female customer buying a 10-yuan ($1.60) packet of instant noodles, despite not having any cash with her.
Swiping a card was not an option on this nautical contraption so the customer, surnamed Wang, promptly pulled out her smartphone and scanned the snack seller's WeChat account instead. In an instant, the money appeared in the seller's Tencent Wallet, free of charge and with no clearing time.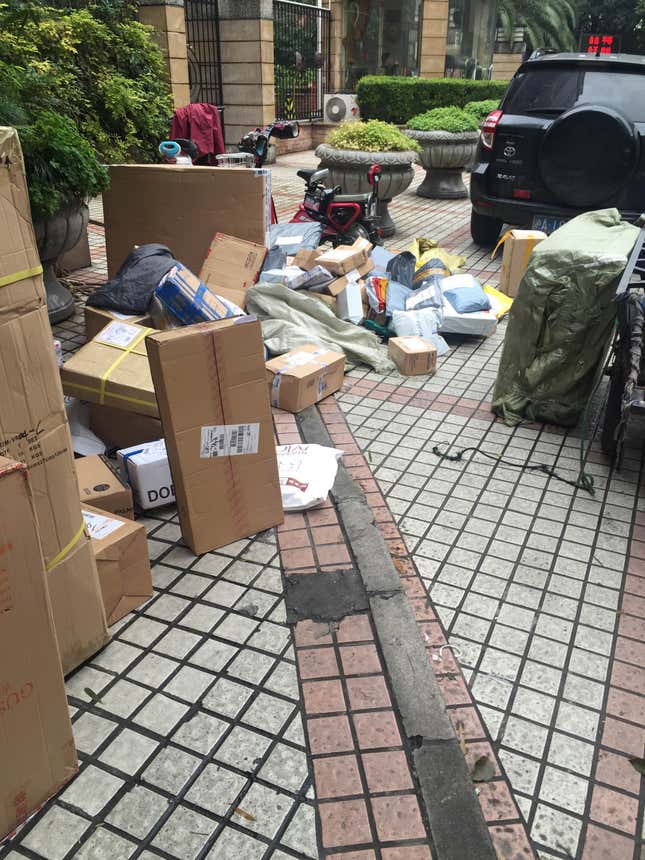 Ms. Wang's simple action illustrates both a challenge and an opportunity to doing businesses in China: Customers engaging in a face-to-face, physical transactions still expect an online aspect to their sale. That means businesses that excel in connecting their physical assets with mobile—either at the marketing, point-of-sale, or after-sale level—will win points. Much more so than in the West, those that do not risk failing fast.
The record-breaking sales during last week's Singles' Day—nearly 70% of which were made via mobile—show Chinese consumers are a growing force in international retail, one that sees little difference in whether a purchase is made online, offline, or anywhere in between.
I started researching social media and consumer tech in China 10 years ago, and now I work to help businesses—Western and Chinese—navigate the perplexing landscape of China's digital world, be it social media, e-commerce, or online-to-offline marketing. Here are some recommendations I give to my clients:
Don't overlook mobile
Chinese consumers take mobile for granted, so every strategy, business, or experience needs to be designed to fit inside a 5.5-inch screen.
I witnessed the case of an uber-famous tailored suit brand that set out to create a "digital concierge" that wasn't optimized for mobile, only to find out that 80% of its customers connected via mobile. I don't think their plan ever saw the light of day; no busy executive in China can be asked to sit in front a desktop computer to order a new bespoke suit.
An extreme opposite case is eBay's Xiu.com, a fashion e-commece site that's rebuffed Western email-centrism and instead uses mobile phone numbers as customer logins. It would seem absurd to receive an SMS from, say, Mr Porter, with the latest deals available. But in China only half of internet users commonly use email, so it would be a real pity to miss the other half just to stick to the global standard.
Remember to connect the dots
Digital and e-commerce work best if they go hand in hand with traditional (offline) retail, communication, and marketing strategies.
For every company that thrived going online, I met one that misunderstood e-commerce to mean a shortcut to avoid "hard" retail investments. Most of these ended up spending bitter bucks pulling out of the market. I recently had a hard falling out with an international accessory label because we could not get traffic to their Chinese e-commerce store: Without physical stores in the country, consumers could not "verify" the brand, and did not feel like spending money on no-name jewelry.
Digital and physical retail intertwine so that no company is now merely selling online or offline. Almost all the best-selling companies during last week's Singles' Day have a strong retail network, and some—Uniqlo, Zara, and white goods chain Gome, just to mention a few—moved the promotion to their offline stores as well so they could make the most out of the shopping festival. These efforts fared best because the companies got better advertising space on Tmall, as Alibaba expects an established offline presence to have a beneficial impact on e-commerce sales.
Alibaba itself has invested heavily in logistics and bricks and mortar, including its $4.6 billion purchase in August of a 20% stake in electronics retailer Suning.
Don't just translate, localize

Experiences and messages need to be redefined to fit China, its culture, and its peculiar market situation, not just its language.
It is a common original sin for a company to think its products are unique, and consumers in any market will embrace them unconditionally. In China, and especially online, this is not the case. Up to 70% of Chinese e-commerce sales are discounted—as were 100% of the $14.3 billion in sales registered on Singles' Day—so price strategies need to be catered carefully to a consumer who is sick and tired of overpriced imported goods.
Sometimes the core business needs to be adjusted altogether. Take for example the world's top yacht producers' who have redesigned their boats to remove open-deck areas and to install fully furnished kitchens. Chinese customers do not like to get tanned or to eat cold meals, even when out at sea.
Don't forget to take China seriously
Chinese consumers are among the world's most demanding and digitally savvy. Be prepared to be tested, scrutinized, and criticized.
A sex video shot by a couple in a Beijing Uniqlo store went viral this summer, and is said to have impacted the brand's perception significantly, nationwide. Uniqlo was swift in distancing itself from the event, showing how much they cared about online public opinion in China. McDonald's famously replies to food-scare social media news within an hour, as they know failing to do so can result in much more bitter flak, and declining sales.
Once your company is online, its reputation can easily escape the hands of the brand managers, so make sure you have the best people in place to respond to such issues.
Don't skimp on digital spending

China's e-commerce is a costly business that rarely offers immediate returns. Plan long-term to avoid early disappointments.
I have lost a great deal of potential sales by revealing that going online in China generates sales no greater than a single physical shop in the first year, and costs more to manage than a flagship store. Burberry, which is commended as a digital champion, allocates half of its marketing budget to digital, despite well below 5% of its China sales coming from e-commerce. It takes faith and devotion to turn traditional companies into digital enterprises.
For decades, companies have benchmarked innovation against the West, cooking jejune strategies for supposedly benighted markets like China. As a generation of Ms. Wangs grows to become the world's most advanced and profitable consumer, the opposite is likely to happen.
Andrea Fenn is founder and CEO of Fireworks, a digital consulting agency in Shanghai. He also teaches the "E-commerce for Fashion and Luxury" course at the Condé Nast Center of Fashion & Design.