Climate reports from recent years and months have revealed skyrocketing global temperatures on both land and water. But the latest global report is even more dramatic.
The National Oceanic and Atmospheric Administration (NOAA), which has measured the temperature of the planet since the 1880s, announced today (Oct. 21) that last month was the hottest September since the agency began collecting data 136 years ago.
That's not all: Last month also demonstrated the greatest-ever rise in the global average surface temperature for any month. Mashable's Andrew Freedman compared the record-setting increase to "a baseball player hitting a home run that travels a greater distance than any other home run on record for that particular stadium."
NOAA notes, in addition, that the first nine months of 2015 comprised the warmest period ever recorded, at 0.85°C (1.53°F) above the 20th century average. The chart below gives a year-by-year breakdown:
Since not all areas of the Earth are equally warm, NOAA also released a map of temperatures broken down by region.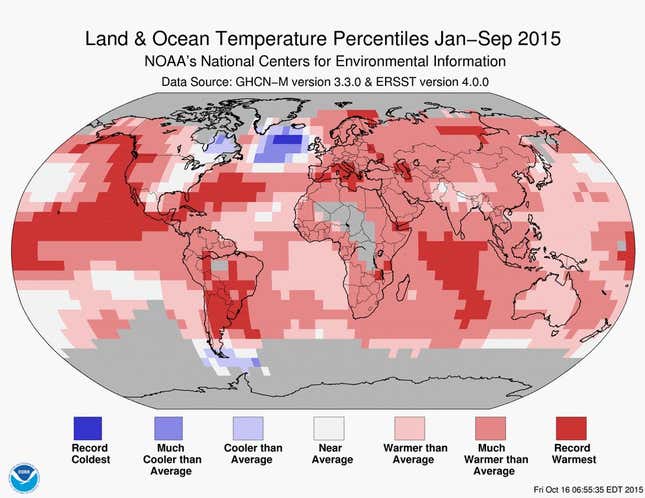 The heatwave can be attributed partly to the proliferation of greenhouse gas emissions and also to one of the strongest El Niño events in the last 50 years.
September's temperature also broke a number of other records. The figures fall in line with several other reports predicting that 2015 will end up being the hottest year in history.