There's a new way into Europe. Under mounting pressure at home, faced with likely tragedy on the Mediterranean, and turned away by border police in eastern Europe, some Syrians are forging an unlikely path across the Arctic Circle.
This month, Italian photographer Alessandro Iovino followed Syrian asylum-seekers through Russia and into the northernmost part of Norway, passing from the small Arctic town of Nikel, Russia, to Kirkenes, Norway.
Authorities from the Norwegian Directorate of Immigration told Quartz that refugees can cross this border without papers, but must apply for asylum in order to stay in Norway. 
"The Russian gateway to Europe is rather an easy and cheap way," Youssef, 54, one of the Syrian men who completed the journey this month told Iovino. "But there is still the high risk of rejection, the language, and the misleading information that could be disastrous," he added. (Youssef's name has been changed at his request, for security reasons.)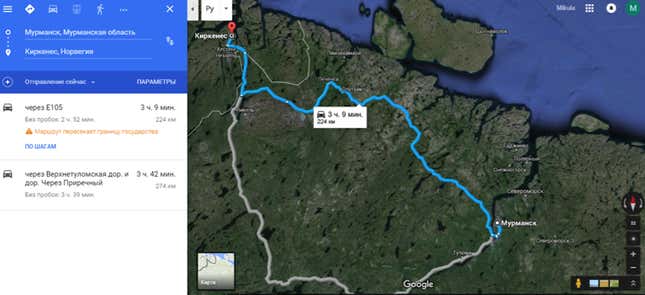 Syrians can enter Russia with tourist visas, then strike out for Norway. But transportation between the town of Nikel and the Norwegian border is controlled by smugglers who demand extortionate prices for taxis and lodging, says Youssef.
While such a trip would ordinarily cost about $100 USD, refugees are often forced to shell out fees for extra services. Many are made to stay in a hotel in Nikel for at least one night, before the smugglers arrange a taxi to take them to the border. Due to a Russian law that bars people from crossing the border on foot, refugees are also forced to purchase bicycles to cross the border. (The bicycle counts as a "vehicle.")
Police in Kirkenes confirmed to Quartz that hundreds of bikes dumped by the refugees have been taken to the garbage by city workers.
All together, the journey can end up costing anywhere from $500 USD to over $1000 USD per person, according to Youssef, plus an additional $100 to $150 USD for the bike.
So far, more than 1500 immigrants have crossed into Norway from Russia since August 2015,  Kirkenes police told Quartz, with an estimated average of 50 to 60 crossing the border each day. This number has been increasing since September.
The Norwegian government has opened shelters and an immigration center in Kirkenes to handle the influx of people. Norway has pledged to take in more refugees from Syria, but has already begun to push back against those coming from Russia; officials warn they may send back Syrians who previously resided legally in Russia.
Earlier this month, Norway's foreign minister Børge Brende requested that Russian authorities explain why so many Syrians who have been living in Russia are now coming to Norway.