As China's major online retailers continue to offer their customers more goods from abroad, minor players are following suit. Today Amazon, which despite its dominance in the rest of the world is little more than a whimper in the Middle Kingdom, said it will bring new electronics brands to China—somewhat ironic, given where electronics are cheap, and domestic brands continue to rise in popularity.
A new section on Amazon.cn, the company's domestic site, offer products from over 600 overseas brands including Beats, Audio Technica, Mobee, and others, all of which the company says are listed at their US prices.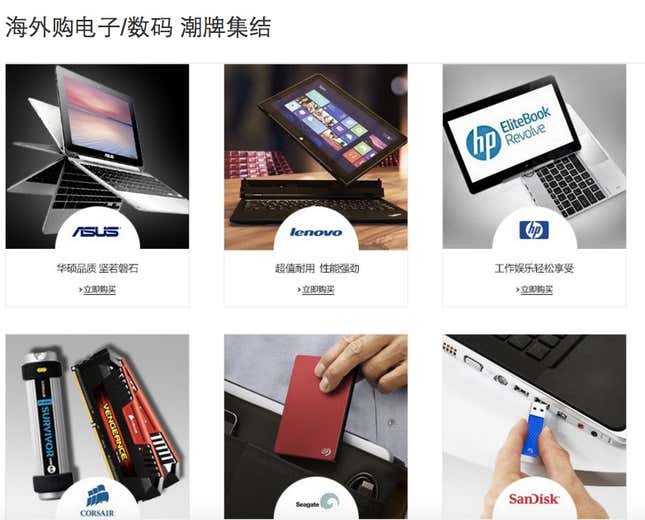 A quick glance through the catalog shows a few flashy foreign products that would qualify for bragging rights. There's a set of Beats speakers retailing for 999 yuan (about $160), and earphones from Beats and Audio Technica. Products from Toshiba and HP are listed, as well as Lenovo—which doesn't qualify as an overseas brand given its headquarters is located in Beijing. It's possible that this selection will grow over time, given Amazon's relationship with electronics brands in much of the rest of the world.
The company hopes that the introduction of the mini-store will help bring more Chinese consumers to its site, it said in an announcement (link in Chinese).
"For the convenience of Chinese consumers, in order to help them shop better, we've created an independent store just for electronics," says Li Yanchuan, vice president of Amazon China in a statement.
Rivals Alibaba and JD are continuously introducing mini-stores in partnership with foreign brands, like Alibaba's Costco store, so the Amazon strategy isn't exactly new.
In fact, Amazon is so far behind in China's online shopping game it's a wonder the company is still there. After entering China in 2004 through an acquisition of local e-commerce site Joyo.com (which was founded by Xiaomi CEO Lei Jun), the company continues to have a piddling market share.
To many observers Amazon's fate in China was sealed when it opened a store on Alibaba's Tmall—equivalent to Wal-Mart opening an online store on Amazon in the United States. eBay left China after losing customers to Alibaba, and Google departed due to political pressures. But Amazon steadfastly soldiers on.