Kris Duggan, CEO and co-founder of BetterWorks, created software to help companies set goals and track their progress towards meeting them. John Doerr, a billionaire venture capitalist who was an early backer of Google, invested $15 million in the company. BetterWorks' clients include Disney, Schneider Electric, Kroger, and Aidan and Colin.
Those last two are Duggan's kids.
Every six months, Duggan, his wife, and their two sons (aged 11 and 13) travel somewhere—recently, it was Hawaii—and spend half a day discussing personal goals. At the "off-site," as they call it, goals are rated, discussed, and reflected upon. New stretch-goals are set. The family measures and manages all this information the same way that Disney, Schneider Electric, or Kroger does—with BetterWorks software.
For example, Aidan, 11, recently set the following five goals:
Master the trumpet (learn three new songs)
Take art class (choose an inspiring art class; complete it; complete a piece of art)
Read six books by summer
Add two new songs on SoundCloud
Learn 10 new magic tricks and perform them
Unsurprisingly, Duggan (the dad) is a quantified-self evangelist. "I read a long time ago that the key to happiness in life is to set stretch goals—aggressive but attainable—and then to achieve those, and then to reflect on your success and then to set the next period of goals," he told Quartz. "Anybody who achieved ultra-success has used that philosophy."
Performance management is in flux: big companies like Accenture, Deloitte, and GE have recently ditched the traditional annual performance review as a management tool. When Duggan was CEO of software firm Badgeville, he searched for performance-tracking software that would allow employees to identify three-to-five important things they were working on, which would then be continuously tracked and shared with others at the company. It sounds simple, but he couldn't find anything suitable, so he built his own software, incorporating the latest thinking on productivity and measurement.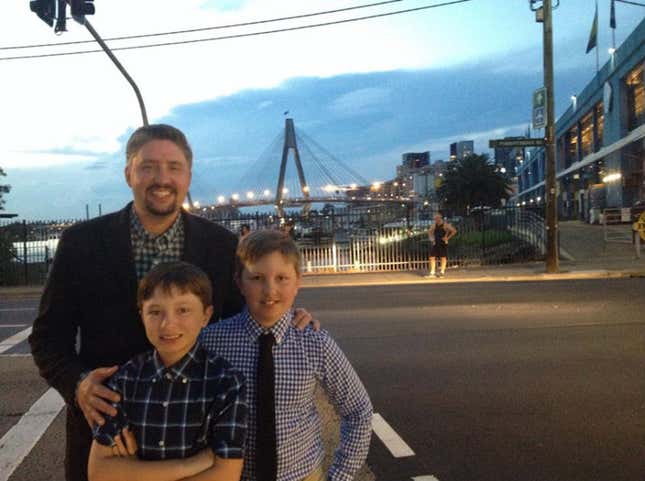 For example, individuals are 42% more likely to achieve their goals by writing them down, and there's a 78% increase in achievement when sharing weekly progress with a friend, according to research by the Dominican University of California. FitBit users take 43% more steps than non Fitbit users, according to Fitbit, and companies that have their employees revise or review their goals on a monthly basis are 50% more likely to score in the top quartile of business performance, according to Deloitte.
As for the family goal-setting, Duggan restricts it to hobbies and personal interests, and focuses on the critical "how to get there" information as much as the goals themselves. For himself, he has set goals related to fitness, cutting his calorie intake, and spending time with his family. To this end, he has lunch with his wife once a week and a sub-goal is to spend more time with his father. They've planned an Alaskan fishing trip and they are printing up t-shirts with "Duggan dudes" on them to mark the occasion.
The family started tracking goals before the BetterWorks software existed, but the software has helped improve the process. "What better way to leverage goal-setting and the feeling of accomplishment and success?" Duggan asks.
For the curious or competitive 11-year-olds among you: Aidan has competed 100% of the first three goals above, he has done nothing on the fourth, and it is unclear where he stands on the fifth. On his iPad dashboard, he can see that he's been "nudged" a few times on the unaccomplished goals. In the software, managers—or in this case, parents—can see the percentage of each goal their team members have completed, and can nudge them in encouragement (a kind of digital nagging).
Here's Aidan explaining how the software works, and even offering his dad some ideas for improvements:
Have Duggan's kids pushed back against his Tiger-Dad approach? I mention that childhood is serendipitous by definition and discovery often accidental.
"You could have an accidental outcome," Duggan concedes. "But wouldn't it be better to plan and be better organized for it?"
Anyways, he added, "that's the way we do things. And it's hard to push back when you are in Hawaii."