Amazon, the online bookseller sometimes accused of destroying the publishing industry, will open its first physical bookstore today (Nov. 3) in Seattle.
Amazon Books will offer browsers (that's people, not the software you're using to view this) the chance to thumb through thousands of titles selected by a mixture of big data algorithms and human curators. The store is designed to be permanent, too, not a pop-up.
"We've applied 20 years of online bookselling experience to build a store that integrates the benefits of offline and online book shopping," Amazon said in its press release. What's more, book prices in the physical store will be the same as they are online, meaning shoppers won't have to check out which platform offers the best deal.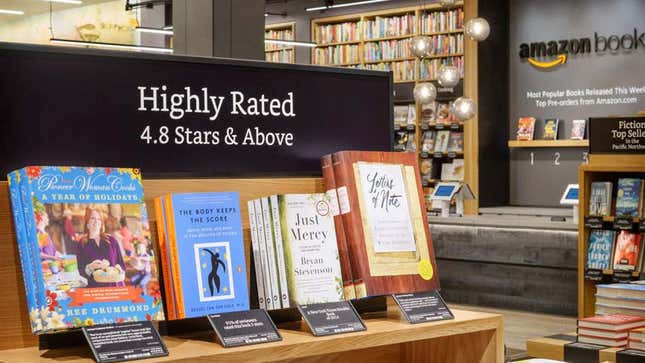 That could sound like good news for book lovers everywhere, who complained that buying books online and the move to e-books threatened to ruin the long-cherished joy of browsing, buying, and reading physical books.
But Amazon's move into actual bookstores isn't good news for Barnes & Noble, the US's last remaining national chain after Waldenbooks, B. Dalton, and Borders went out of business in recent years. The company reported its fifth consecutive decline in quarterly sales in September, after its efforts to sell books online, in-store, and via its own ebook reader failed to win customers from Amazon.
Barnes & Noble has been closing stores for years. In fact, the new Amazon store will be located in the University Village mall, which used to count Barnes & Noble as its anchor tenant until the chain retailer shut its 46,000 square foot store there in 2011.
Amazon has been experimenting with physical spaces already this year, opening a collection point where buyers can pick up textbooks they ordered online and place orders at an Indiana university. It is rumored to be opening locations where customers can collect online grocery orders, with no products stocked for people to browse or buy.
Amazon Books aims to capitalize on the emerging art of online-to-offline retail. The thousands of books stocked on its shelves will be selected partly by a range of metrics that determine what kind of books will be popular, and each will be accompanied by a user review and its Amazon rating: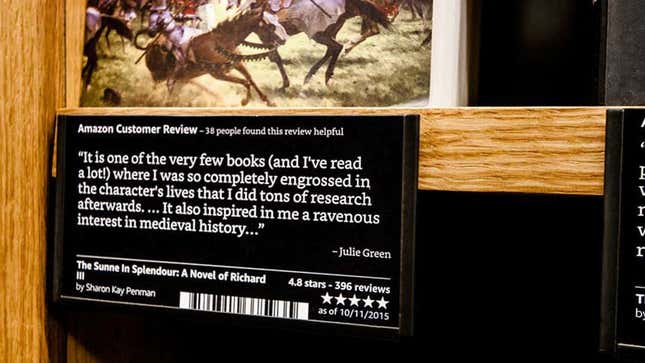 In theory, Amazon could end up subsidizing physical bookstores with the revenue it makes from online sales and the hundreds of other industries it is involved in. Should Amazon Books succeed also, we might not see the death of the bookstore after all, just the monopolization of it.