China is undoubtedly slowing down. Last month, the world's second-largest economy reported that third quarter GDP grew at 6.9%, the lowest rate in more than six years. That slowdown isn't consistent, though. When you break those figures out by regional levels, there's some pretty stark differences.
First of all, things are slowing in more regions than they're growing. So far 29 of China's 31 provincial-level governments have reported their GDP figures for the first three quarters this year, Chinese state media reports (link in Chinese). Among them, 22 provincial-level regions (these include provinces, municipalities, and autonomous regions) have posted slower GDP growth rates than for the same period last year.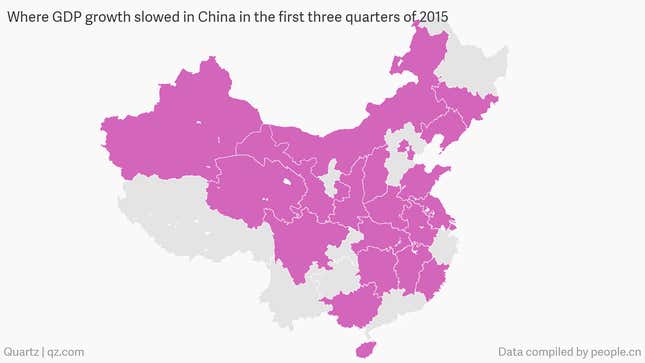 But when you look at how individual regions are doing, a distinct pattern emerges: China's industrial northeast is slowing, and in some cases suffering, while economies in the south and west continue to grow at a fast past, sometimes in the double-digits.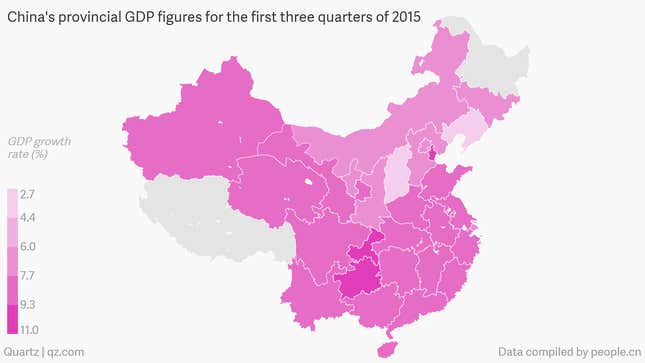 That's because while breakneck growth is faltering in China's biggest, most developed cities and its traditional industrial hubs, new trade links with Europe and a flood of tax money for development is supporting growth out west and in the south. Here's how this breaks down by province:
On the top of the list is Southwest China's Chongqing municipality, often referred to as the "gateway to the west," which reported 11% GDP growth for the first three quarters of 2015. Zhejiang, Hebei, Guangdong, Yunnan, and Guizhou provinces all reported stronger GDP growth for the first three quarters of 2015 than the same period last year.
In contrast, six provinces, including Shanghai and Beijing, did not even meet the national GDP growth rate for the first three quarters of 2015 (which was 6.9%). Northeast China's Liaoning province, home to much of China's iron and steel industry, ranked the very last with 2.7% GDP growth, compared to a 6.2% growth rate in the same period of 2014.
China has recently lowered expectations for overall GDP growth in its 13th five-year plan. President Xi Jinping said Tuesday (Nov. 3) that annual growth should be no less than 6.5% in the next five years, the country's lowest since the late 1970s.