The world championship in biathlon—a combination of cross-country skiing and rifle shooting—ends this weekend. Germany, with its long biathlon tradition, has had a poor showing with just a lone silver medal. But there's one area where a German is winning big.
Peter Fortner, a gunsmith from Rohrdorf, manufacturers so-called repeater devices, which allows athletes to shoot faster by reducing the loading time of their rifles. He says 95% of all professional biathletes use his invention.
The idea came about in the early 1980s. Fortner, a traditional gunsmith, met Peter Angerer, who had won a gold medal in the Olympic Winter Games in Sarajevo. Casually, Angerer told Fortner that West Germany's biathlon team would need "proper" rifles. Back then, better rifles built in the GDR (former East Germany) at that time were only available on the Soviet and GDR market, Fortner told Quartz. He agreed to rebuild an old biathlon rifle and developed a new repeating device that improves an athlete's speed. Previous versions had a lateral cocking mechanism. To operate it, shooters needed to take their hands from the pistol grip, so they needed extra time to readjust the rifle. Fortner's device can be operated by the athlete's index finger and thumb, without changing the hand position.
"The repeating device alone is about two seconds faster each shot," Fortner said. He said because the rifle also remains relatively stable, athletes gain a few seconds more they else would use to readjust the rifle.
Here's a video that shows how the repeating device works:
Fortner formally started his own business in 1984, with a focus on biathlon rifle production. Today he has six employees. The company produces only the repeating device and builds part of the rifles with material received from Fortner's business partner, Anschütz, a German producer of sports and hunting weapons.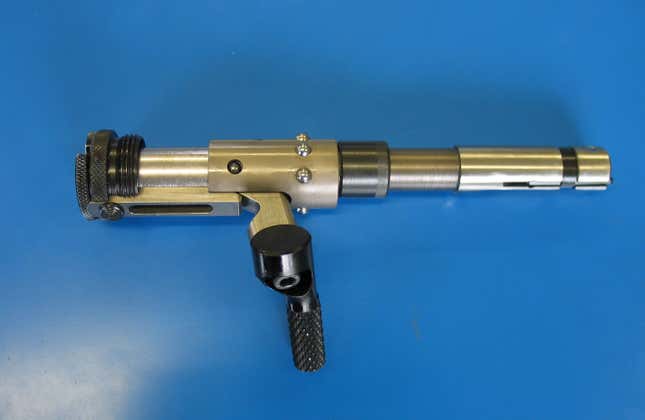 Together, they produce between 500 and 600 rifles a year. Biathlon rifles cost about €3,000 ($4,000), and about 10,000 biathlon rifles are in use today. Fortner said his annual revenue is €700,000 ($937,000). He said he isn't afraid of large companies taking over the segment, since the market is too small to be worth it. Fortner only has one Russian competitor, Izhmash, but its main focus is on producing military weapons.