Over the years, Apple has made a habit out of hating on Android, publicly criticizing the platform as it urges users to switch to iPhones.
But Tuesday's (Nov. 10) beta launch of Apple Music for Android turns all of that around.
The app offers more or less the same features as Apple Music on iTunes or iOS, and it has all the same content as well. It also costs $9.99 a month and includes a free three-month trial period.
There are, however, significant differences. The Android version of the app comes with a distinctive Android feel, touting a user interface that's been engineered specifically with Android design principles. That's already a stark departure for Apple, a company usually so picky about its brand design that it even tells third-party accessories providers how to screw in their screws.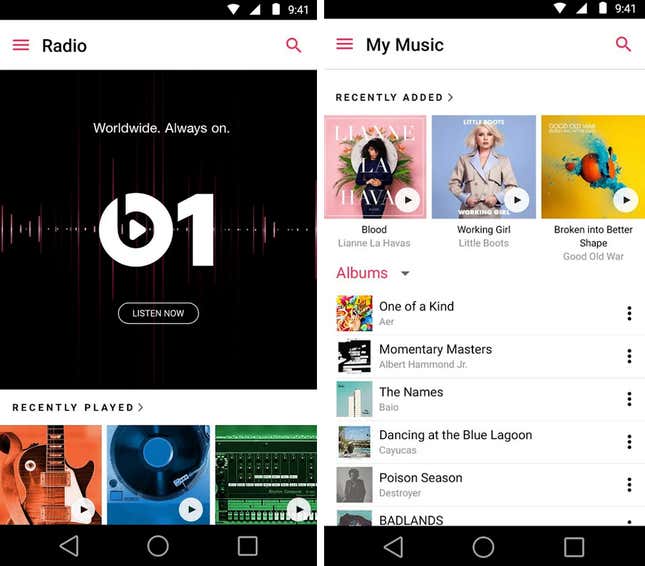 The new app also falls slightly out of line with Apple's determination to convert people to Apple products. While the launch of iTunes on Windows computers was meant to get more people buying iPods and iPhones (the only devices compatible with iTunes), the launch of Apple Music for Android likely won't persuade many people to buy Apple gear—because there's no reason to do so. And sure, the app might boost Apple's visibility, but the company is already the most prominent brand in the world.
What the app will do is ensnare people in Apple Music itself—a valuable opportunity that might be well worth the sacrifices in both design and potential product sales.
Apple knows it can't afford to miss out on a market of 1 billion smartphone users if its music streaming service—already late to a game with established competitors like Spotify—is to thrive and expand. Apple Music currently has 6.5 million paying users, but there's ultimately only a certain number of iPhone users out there.
So far, Android users have generally reacted to the new app with enthusiasm, and there are already nearly 8,000 user reviews in the Google Play Store. Now it comes down to whether many more Android users will bite. While some reviewers praised Apple for finally breaking out of its exclusive product bubble, one Android user scoffed, "Show us something we don't already have."