Claim almost an entire sea for yourself and you're bound to stir things up. That's especially true when it's the South China Sea, arguably the world's most important body of water for international trade and potential future military conflicts.
Citing a "nine-dash line" it drew up at the end of World War Two, China says almost all of the sea counts as its territory. To solidify that claim—considered outrageous by various Southeast Asian nations that also claim territory in the sea—Beijing has been busy building manmade islands atop reefs in the Spratly archipelago, complete with a runway, helipad, and lighthouse.
Challenges to Beijing's claims are growing.
This week, the US flew B52 bombers near the artificial islands, the Pentagon said on Thursday (Nov. 12), on what officials called a "routine mission" in international airspace. Last month, the US sent a warship close to the manmade islands, in an area that it's long considered international waters. (Beijing issued verbal warnings but otherwise not much happened.)
On Oct. 29,  an international arbitration court in the Netherlands ruled it has the authority to decide whether China is violating international law with its claims in the South China Sea, two years after the Philippines first lodged a complaint. (Beijing refuses to recognize the case.)
Indonesia is the next country stepping in.
This week, Indonesia's chief security minister, Luhut Pandjaitan, indicated the nation could turn to an international tribunal over disputed claims involving the Natuna archipelago, parts of which intersect with the China's nine-dash line. That follows a confirmation last Sunday (Nov. 8) that Indonesia deployed seven warships to the archipelago, saying the move is "a routine patrol program carried out by the navy to safeguard Natuna waters."
And yesterday (Nov. 12) Indonesia's foreign ministry said it had asked China to clarify its claims in sea. "The position of Indonesia is clear at this stage that we do not recognize the nine-dash line because it is not in line with… international law," noted ministry spokesman Armanatha Nasir. "We asked for clarification on what they mean and what they mean by the nine-dash line. That has not been clarified."
Indonesia's pushback against China's claims goes much deeper than that, though.
Last summer general Moeldoko, the commander in chief of Indonesia's armed forces, took to the Wall Street Journal to express (paywall) Indonesia's surprise about China's claims. "Indonesia is dismayed… that China has included parts of the Natuna Islands within the nine-dash line, thus apparently claiming a segment of Indonesia's Riau Islands province as its territory." In response, he added, "the Indonesian military has decided to strengthen its forces on Natuna."
Yet there would be little reason to, if not for China's moves in the area. Consisting of about 270 islands, the sleepy Natuna archipelago is part of Indonesia's Riau Islands province. Most of the less than 100,000 people living there are involved in fishing or farming.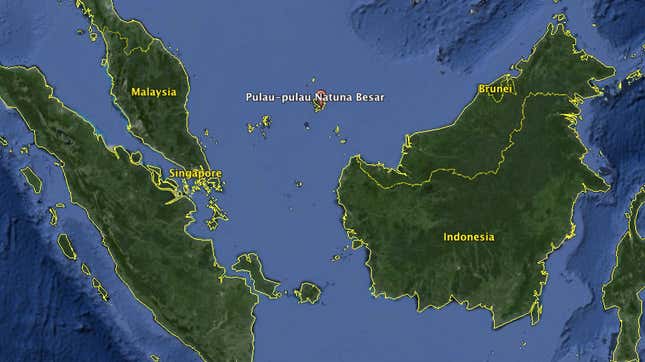 In September Indonesia's defense ministry announced that it would improve the infrastructure in Natuna, including runway improvements for the benefit of warplanes and a new radar system. It also said it was deploying unmanned aerial vehicles and at least 2,000 additional personnel to the islands.
Indonesia's government said it is still counting on diplomacy. "We don't want to see any power projection in this area," Pandjaitan told Reuters this week. "We would like a peaceful solution by promoting dialogue. The nine-dash line is a problem we are facing, but not only us. It also directly [impacts] the interests of Malaysia, Brunei, Vietnam, and the Philippines."