This post has been corrected.
Just north of Pamplona, Spain, there's an old farmhouse that's been abandoned for 60 years. The house is isolated from society—five miles from the nearest town and a mile from a village of 50 people. And come this spring, it will run on poop.
The poop-powered house is a project of Meghan Sapp and Iñigo Arana of engineering start-up PlanetEnergy. When it's finished, it will be 100% self-sufficient for energy—which means making sure any poop that comes out goes right back in.
According to Sapp, the company's founder and CEO, the house is a demonstration for the company's EnergyCommunities initiative. She explains the initiative in an email to Quartz: "Based on the 'use what ya got' principle, we design systems that take advantage of available resources to supply existing and future demand with a waste-first focus."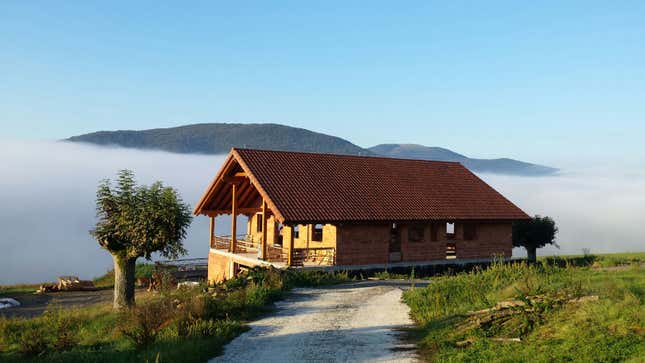 The hot water, in-floor heating, and cooking gas in the house will come from biogas, while solar and wind will provide electricity. The biogas will be created from organic waste from the bathroom and kitchen, as well as manure from four horses (the couple currently have two).
Sapp and Arana will also grow their own produce on the property.
Using biogas as energy isn't new—last year the UK launched a poo bus that ran on human waste—but Sapp hopes that her home will inspire individuals to use biogas on a small scale—in apartment buildings, for example. (The house cost the couple about half a million euros, and they expect to make it back in less than five years, says Sapp.)
The two began construction on the house in June this year and hope to move in by the spring.
Correction (Nov. 13 9:34 am): A previous version of this post stated the farmhouse was north of Navarre; in fact, it is north of the Navarre region's capital, Pamplona.