The French authorities, families and foreign ministries across the globe have almost completed the heart-wrenching process of identifying the victims killed in Friday's Paris attacks. Of the 129 confirmed dead, at least 25 were foreign nationals.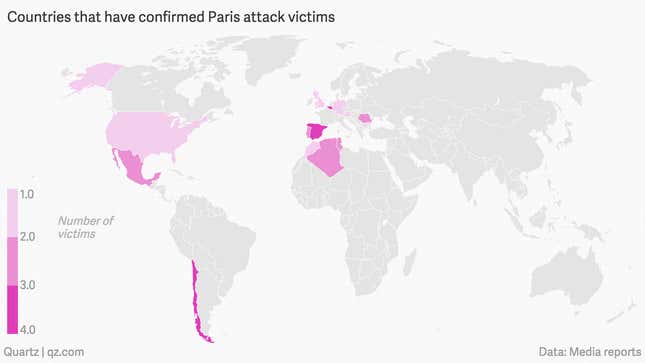 Spain
"The latest victims to be confirmed by diplomatic sources are Jorge Alonso de Celada, 59, who died in one of the restaurants that was attacked, and Alberto Pardo Touceda, 34, who was killed at the Bataclan concert hall, which was the scene of the worst carnage on Friday night. The first Spanish victim to be named, 29-year-old Juan Alberto González who was originally from Granada, also died in the Bataclan, where he had been attending the concert by American rock band Eagles of Death Metal with his wife…A 27-year-old woman with dual Spanish-Mexican nationality, Michelli Gil Jáimez, was killed in the attack on La Belle Equipe restaurant, Mexican officials have confirmed." (El País)
Belgium
"The Belgian Foreign Minister Didier Reynders confirmed that not two, but three Belgians were killed in the shootings in Paris last night. The third victim is a man who had a double French-Belgian passport. Didier Verhasselt, the spokesman of the Foreign Office, said there are no Belgians among the various injured people. Many of them are still in a critical condition." (De Redactie)
Chile
"Chile's Foreign Ministry reported three Chilean citizens were killed in the attacks. A ministry statement identified one of the dead as Luis Felipe Zschoche Valle, 33, who had lived in Paris for eight years with his French wife. The ministry said the other victims were Chilean exile Chilean exile Patricia San Martin Nunez, 62, and her daughter, Elsa Veronique Delplace San Martin, 35, who was born in France." (USA Today)
Mexico
"California State University confirmed on Saturday that one of its students, 23-year-old Nohemi Gonzalez, was killed in terrorist attacks in Paris on Friday evening.Gonzalez was the first American confirmed to have been killed in the coordinated attacks that killed 129 and injured more than 350.A Mexican official, speaking on condition of anonymity, later said Gonzalez had held joint Mexican-US citizenship. A second Mexican citizen was killed in the attacks, the country's foreign ministry said, and a third with dual Austrian nationality had been operated on successfully after being wounded." (The Guardian)
Algeria
"The victims are a 29-year old young man living in Paris and 40 year old woman possessing dual citizenship, said the Emergency Committee, in charge of following the developments of those tragic events, in coordination with the Algerian consular representations in France and with the French authorities." (Algeria Press Service)
Portugal
"The first identified victim was Manuel Colaço Dias, 63, a native of Mértola, mainland Portugal, who emigrated to France 45 years ago.  Dias lived in Paris with his wife and two children. None of his immediate family was currently in France, since they were in Portugal gathering documents for the wedding of one of their sons…The second confirmed victim is a 35 years old French born woman, of Portuguese descent, with dual nationality. Her name was not released." (Portugese American Journal)
Romania
"'It is with deep sorrow that the Foreign Ministry is informing that the death of two Romanian nationals in the terror attack of last night in the capital city of France has been confirmed by the French authorities. MAE is hereby informing that the Romanian Embassy in Paris is in contact with the families of the deceased to provide them the necessary consular assistance,' reads a press statement released on Saturday by MAE." (Agerpress)
Tunisia
"Two Tunisian sisters living in France were among at least 128 people killed in Paris after traveling there to celebrate a birthday, officials and media said on Saturday. The women, aged 34 and 35, were from the Tunisian town of Menzel Bourguiba but living in Creusot in central France, foreign ministry spokesperson Naoufel Laabidi said. Mosaique FM radio identified them as Houda and Halima Ben Khalifa Saadi." (News24)
Austria
Germany
"'Unfortunately, we must confirm that a German citizen is among the casualties of the Paris attacks,' a spokesperson for the German ministry said." (Deutsche Welle)
Italy
"Italian officials say a 28-year-old woman from Venice was among those killed inside the Bataclan Theater in Paris. Italian consul Andrea Cavallari told reporters Sunday outside a Paris morgue that Valeria Solesin had been positively identified based on information provided by the family, who so far have remained in Italy." (AP)
Morocco
"The victim, who has just gotten married, was killed during the attacks, while his wife is in critical condition in the hospital after she received three shots." (Morocco World News)
UK
"Nick Alexander, who worked Eagles of Death Metal's merchandise table during the group's European tour, was among the 118 people killed in the terror attack at Paris' Bataclan, Alexander's family confirmed in a statement. He was 36." (Rolling Stone)
US
Follow Quartz' coverage of the Paris attacks here.