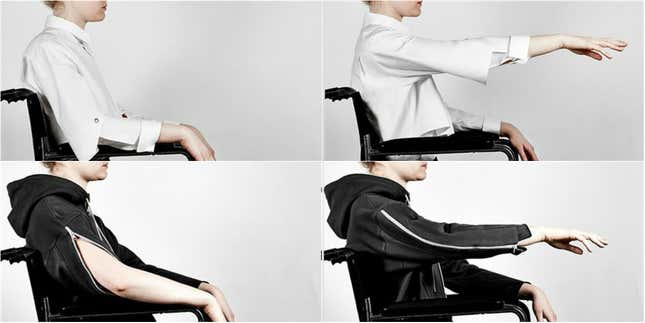 When fashion mavens see Izzy Camilleri's design for a black leather motorcycle jacket, they think of Jean-Paul Gaultier. He would make a jacket like this—clean and classic except in the back, where a large cut-out creates an unexpected graphic pop. It's rock star chic, but it wasn't designed with rock stars in mind. It's made for someone who uses a wheelchair or mobilized scooter.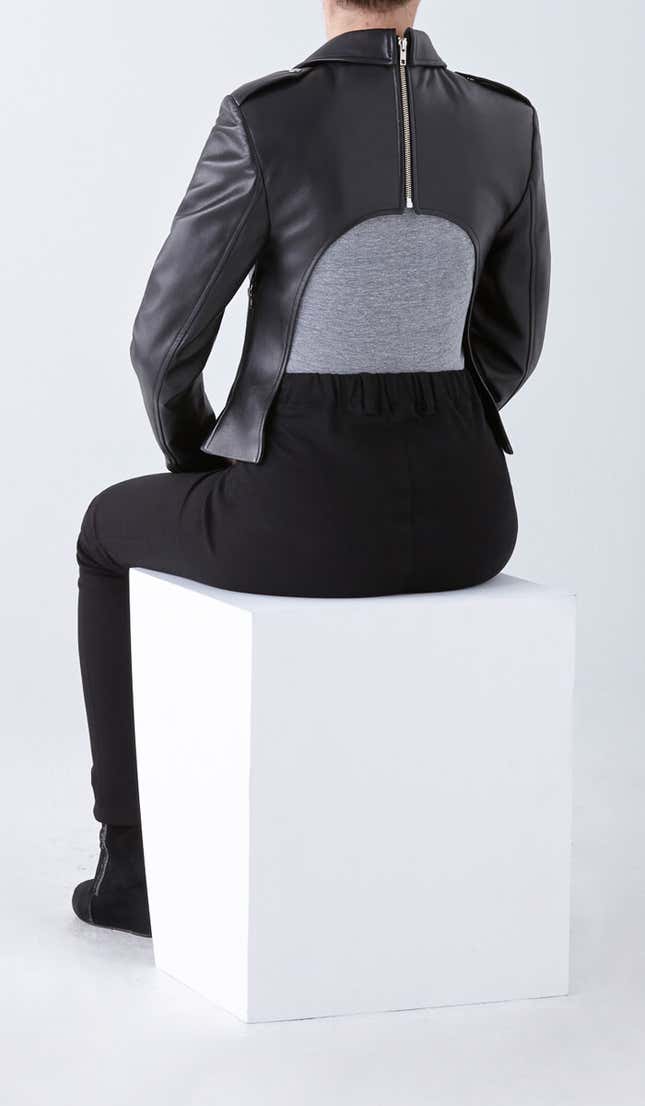 Camilleri, a Toronto-based designer, once worked exclusively in the high-end fashion market. Her work has been featured in national and international magazines, including Italian Vogue. David Bowie asked for her by name when he needed a suit made for a video, and her long red fur coat was worn by Meryl Streep in The Devil Wears Prada.
In 2009, however, she left haute fashion behind and launched IZ Adaptive, making clothes for people who have disabilities but who'd rather not abandon their sartorial identity. Cutting out the back of a biker jacket makes it easier to spend hours sitting in a chair, for example. She designed a funnel neck wool coat that's longer in the front than in the back for the same reason. Camilleri's pants have big voluminous bottoms that sag like deflated balloons when the pants are on a hanger. "It looks really big, but it's not—a sitting person's bum fills this out," she says, tugging on the extra fabric.
Camilleri was inspired to go the adaptive route after creating some custom garments for a local journalist who was a quadriplegic. She soon discovered that the existing offerings in the category were uninspired at best—they were frumpy and geared toward the elderly; big elastic waists and bad polyester tops were the norm. Camilleri began building her label from the bottom-up, creating a collection that covers the items we all have in our closets—a pair of good jeans, chinos for men, a clean-lined black dress, a quality coat that drapes nicely.
Most of her clients are in the US, but the small company also ships to Europe and Australia. For now, her target market is the 30- to 50-year-old age group, since she learned that the vast majority of people who break their back are young, between the ages of 18 and 34. (Blame car and motorcycle accidents, extreme sports, etc.) But Camilleri feels she's well positioned for a demographic-fueled growth. "We're all dressing younger," she observes, and the population is rapidly aging. We're also living much longer, all of which suggests mobility issues will become far more common.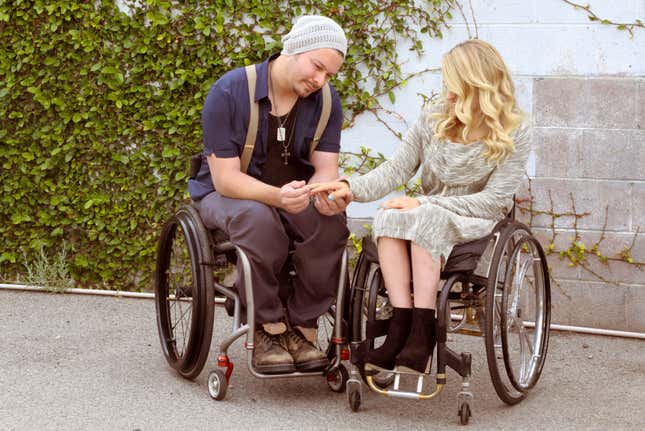 According to figures from Cornell University's Employment and Disability Institute, about 21 million Americans were living with an ambulatory disability in 2013. Of that group, 10 million were age 65 or older, and 6.1 million were 75 and older. "It's not 20 or 25 years away when more people will need these kinds of products. It's beginning to happen now," Camilleri tells Quartz.
Twenty-three-year-old Lucy Jones, a recent graduate of the The New School's Parsons School of Design, recently won the 2015 Womenswear Designer of the Year award for her Seated Design collection, which relies on things like side zippers to make dressing easier for people with dexterity problems, or extra padding for elbows that rest on a chair all day.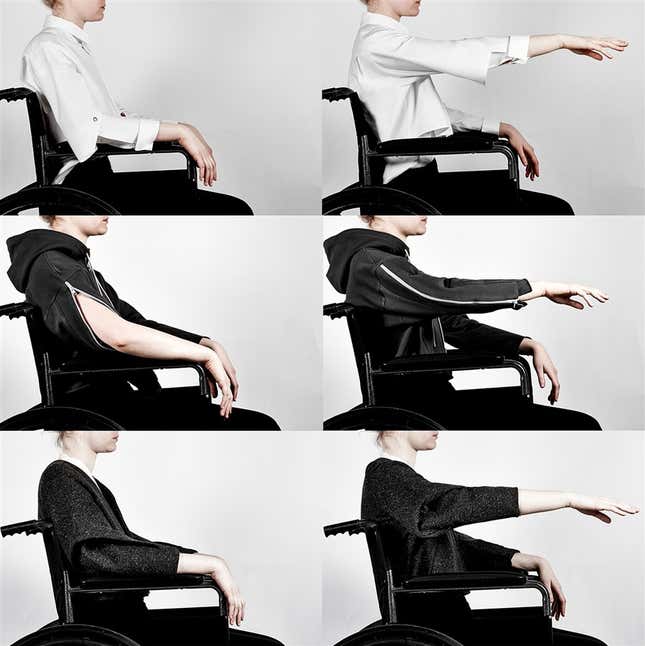 Jones, who is Welsh, prefers to think of her work as inclusive and suitable for anyone, disabled or not, rather than "adaptive." She wants her pieces to function well for someone like her young cousin whose body is significantly weaker on one side, but who wishes to get dressed without help, and her grandma, who likes current fashions but has a hard time wiggling her way into the sweaters that she admires on her granddaughter. "The aging population is part of the reason I was so interested in this idea," Jones tells Quartz. "I don't think there's a law that says you have to dress a certain way at a certain age."
Julia Twigg, a sociologist at University of Kent, Canterbury, and author of Fashion and Age: Dress, the Body, and Later Life, says the introduction of cheap, fast fashion around 2000, led all age groups to start shopping more often.
As soon as fashion could be made cheaply and quickly in East Asia, everyone, including older women, "were drawn into the sphere of fashionability," and targeted by the industry, she argues. In fact, in 2011, her data showed that women over age 75 were shopping more frequently than women in the 16–34 age group were in 1961.
"Now we all want to express an identity through fashion," Twigg told Quartz.
There's no reason to believe that things will be different as our bodies and abilities change.
Jones, who is currently working as an intern at Eileen Fisher says the entire office staff of all ages wears the line's signature wide trousers and asymmetrical sweaters, and, "We all look different, but it's all the same clothes!". She is also plugging away at a business plan for her Seated line as a side project. Her dream would be to have everyday retailers include a modified line for people who need it, but as an online category, not as a standalone store. "The more I talk about it, the more I hear, 'I know someone who…' or 'My mom would…,' etc. It would make sense for this to happen right now."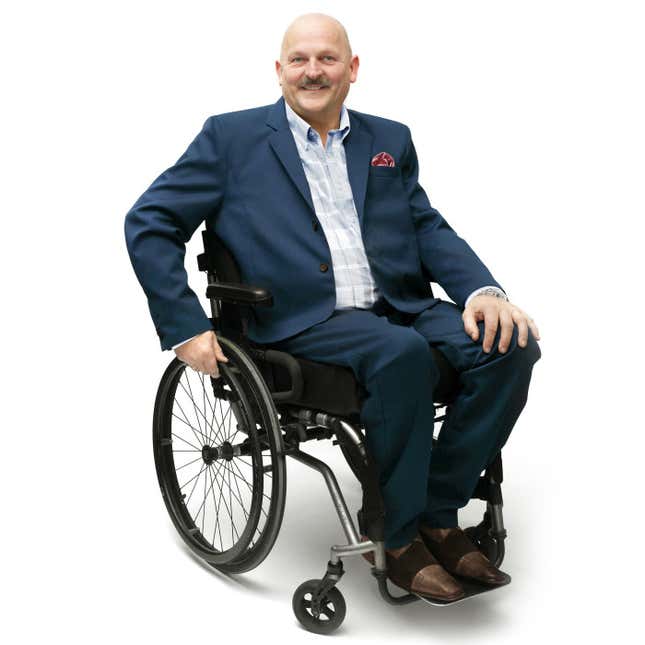 "We've become very uncreative about how we get in and out of clothes," says adds, but points to Nike's recent release of its Zoom Soldier 8 FLYEASE sneaker—its wrap-around easy-entry system design was inspired by the hinges on a door—as an example of what more companies could be doing to be more inclusive.
Last January Walmart began selling a pair of jeans by ABL Denim, a Los Angeles-based company, online. ABL founder and designer Stephanie Alves says that the jeans, which are soft and stretchy and cut to stay high on the waist when someone is sitting, are identical to the pricer pairs she sells through her site, but are cut from more affordable denim. They cost $38, and are "selling steadily, not heavily."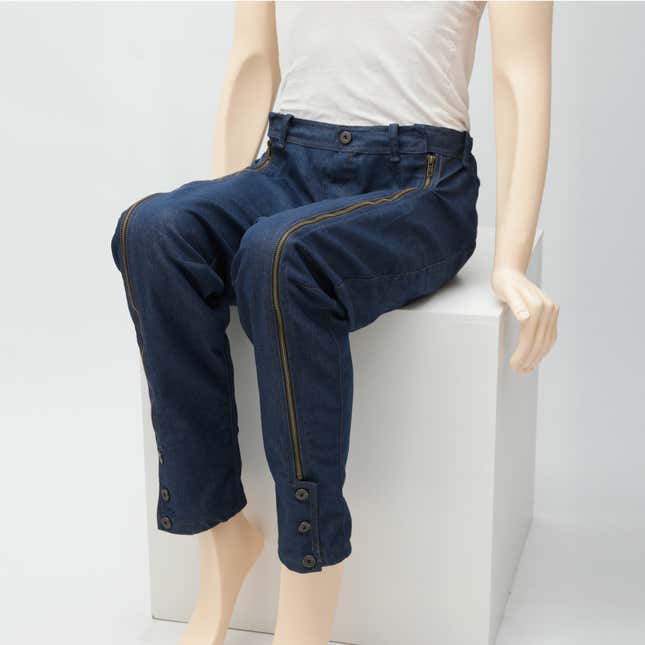 But she too is expecting "just the sheer number of baby boomers" in the US to make functional clothing like hers more commonly sought after. "Boomers are moving into an age where limitations are going to be more prevalent," she says. "It might just be arthritis in the fingers, or it could be something more serious, but functional clothing will be the way to go. And why shouldn't the clothes still be fashionable?"
Chairmelotte, a 2-year-old online retailer based in Den Bosch, Holland, is probably pushing the style envelope more than any other adaptive fashion company right now. Its founder, Crista de Wit, attends shows in Italy for inspiration, and was making culottes for her customers before she saw them everywhere on the streets.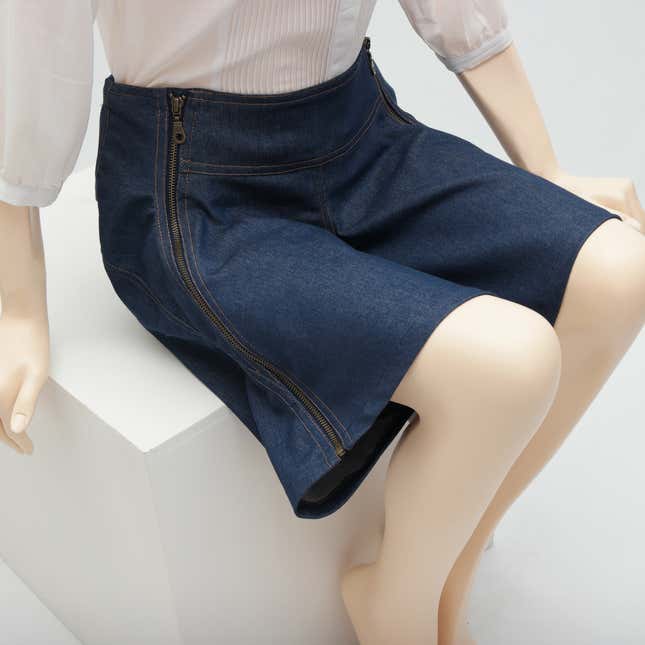 The company's promotional video features young, fully-abled models in their underwear, and the tagline: For Sitting Only. "Everyone treats people in wheelchairs as if they are children and they have no taste," de Wit tells Quartz. "Our philosophy is that you design for the person first and then for the condition that affects their abilities or shape."
All of her patterns are meant to allow clients to be as independent as possible. Her "fold-open" skirts can be placed in a wheelchair, allowing someone to sit on top of the skirt and zip the front up herself. In casual styles, the large zippers are left exposed for effect, but in formalwear, they're hidden under an overlay. The top-selling "Trousers Alex" for men use chunky zippers as eye-catching embellishments all the way up the front of both pant legs.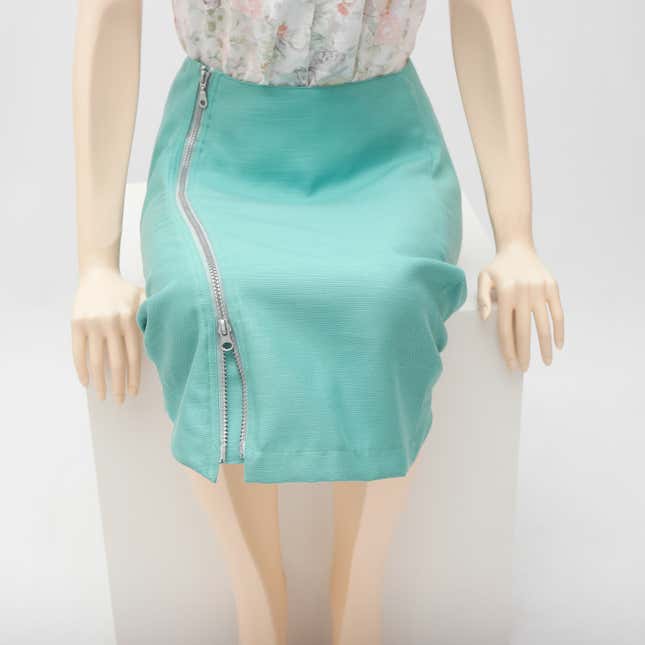 The adaptive market may be niche, but it's possible that it may also become fashion's next niche frontier. After all, retailers of women's clothes are already addressing the bigger waists and dropped busts of the aging body (paywall), in styles that are nevertheless similar to what the kids are wearing.