Lowe's, like its home improvement rival Home Depot, had a pretty good quarter. It posted income of $736 million on $14.6 billion in revenue, both measures beating expectations and improving from the same time last year.
Whereas the United States's unseasonably warm fall has been hurting winter coat sales, it's been a boon to stores like Lowe's and Home Depot as homeowners take advantage of the weather to work on projects around the house.
"Customers took the opportunity to extend the outdoor season driven by warmer and drier weather earlier in the quarter," CEO Robert Niblock said on the company's earnings call.
But that's not the only factor that's been good for business. As the US housing and economic recovery continues, hardware stores have captured some of the spending that homeowners are plowing into their increasingly valuable homes and the new homes being built. For instance, single-family housing permits (which are more economically stimulative than condos or apartment buildings) are getting filed at their fastest pace since 2007.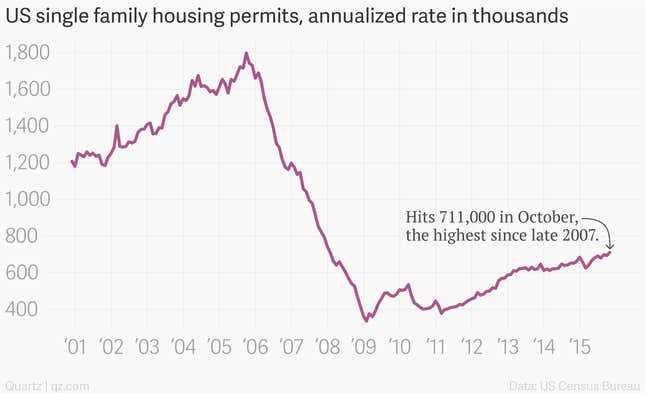 And actual housing starts growth has reached a faster pace than what the country was experiencing before the recession, though from a much smaller base.
Although the housing market hasn't been quite as equitable as it was before the crisis (for better or worse), there's little doubt that it's chugging along nicely right now.
"Steady job and income gains, coupled with persistent home price appreciation and strengthening home buying, should keep home improvement growth buoyant," Niblock said later on the call.