Beer is no stranger to wood: for centuries, beer was fermented, stored, and transported in containers made of the arboraceous stuff. But wood has recently become valuable to the beverage in a whole new way, with many brewers aging beer in barrels that previously contained entirely different types of spirits. As the trend picks up steam, those simple wooden receptacles are beginning to change the landscape of the entire brewing industry.
The most popular of these vessels are bourbon barrels, frequently used to age strong beers that can stand up to the big vanilla, coconut, oak, and burnt marshmallow flavors imparted by the saturated oak. Case in point: The Bruery's near-deadly Black Tuesday, an Imperial Stout known as much for its incredible flavor profile—which includes notes of caramel, vanilla, burnt wood, and anise—as for its mind-blowing alcohol content; each annual release hovers around 19% alcohol by volume.
Not that brewers only age dark beers in bourbon barrels: Curieux, a barrel-aged Tripel (a strong, light-colored Belgian ale) has become a year-round mascot of sorts for Allagash Brewing Company in Portland, Maine. "Compared to an imperial stout, the Tripel is a very neutral beer," explains Brewmaster Jason Perkins. "I very much consider barrels an ingredient. It's just another tool to add unique flavors to the beer."
Whatever part the barrel may play, Allagash is clearly doing something right with Curieux: wholesalers get a very limited number of bottles each year, no matter how many they may beg for. "We're expanding [Curieux production] next year…but we increased the size of our storage room to the maximum that it can be in the current facility," says Perkins.
Allagash gets the vast majority of their bourbon barrels direct from Jim Beam, which ensures freshness and consistency for Curieux. "We can get these barrels at our facility within a week of being empty," Perkins claims. "And [since] Curieux is a pretty delicate beer, we are big on keeping things consistent."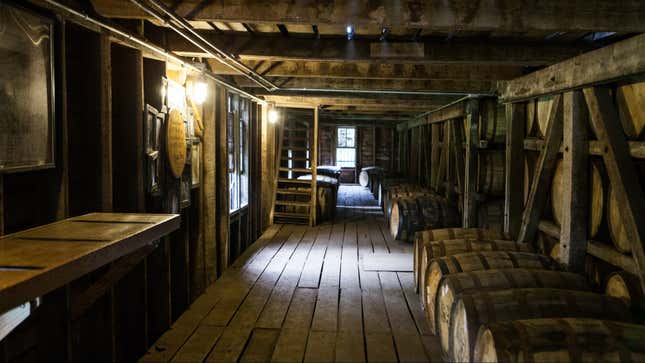 Still, even though Allagash has recently increased its contract with Beam, the brewery must fight harder and harder each year to satisfy its ever-growing need for bourbon barrels. A worldwide shortage of bourbon barrels makes it very difficult for many breweries to get their hands on them. The Bruery, for example, utilizes a broker in Kentucky who sources barrels from eight different distilleries. As Brewmaster and founder Patrick Rue admits, "We get a lot of breweries coming to us saying they can't get barrels, and we try to help out as much as we can."
Of course, this is not to imply that Allagash—one of the leading bourbon barrel-aged beer producers—is hogging all of the world's barrels for itself. As Perkins points out, "We're probably one of [Jim Beam]'s smallest [customers], because a company like that is mostly selling to large conglomerates that then spread the barrels around to their distillers. The predominant use is scotch, and rum, and tequila," all of which are aged in bourbon barrels. Relatively speaking, the beer industry barely dents the world's bourbon barrel supply.
The craze over bourbon barrels is astonishing to some, as they certainly weren't always in demand. Wild Turkey master distiller Eddie Russell remembers a time when he couldn't give the barrels away: "It probably hadn't been more than 10 to 15 years ago, I actually stacked 30,000 on the ground because I couldn't get rid of 'em, couldn't get much for 'em," he remembers. "Really, it was the Scotch industry, and I think it really changed a lot as the Irish whiskies changed, especially Jameson growing as big as they did." 
Though Wild Turkey now sells 90% of its barrels to Pernod (a contractual stipulation established when Pernod sold the distillery to Campari in 2009), since 2010 it has also been offloading a few thousand barrels each year to California brewery Anderson Valley Brewing Company. Russell claims that he prefers such a long-term, larger purchase order to making short-term sales that ride rising market prices: "You might be able to get a little more money here or there [for smaller, more frequent deals], but it's good to have certain people that you count on to take your barrels so you don't have to worry about it."
Shortage or not, some brewers aren't huge fans of bourbon barrels when it comes to aging beer. Peter Kruger of Bear Republic Brewing Company in Healdsberg, California, for example, prefers to age his beer in wine and Cognac barrels, which aren't charred (i.e. set on fire). "The folks making bourbon have worked really hard to get impurities out of their bourbon and locked up in the wood," explains Kruger. "Because of the [bourbon barrel's] char, you're getting an amplified spirits (alcohol) character that—unless you're putting that into a really big stout—can really take over a beer."
To Kruger, the quality of the liquid once held in the barrels is less important than the presence of lingering microorganisms that will allow him to make funky beers such as Cuvee de Bubba, a wild sour ale fermented in stainless steel and finished in neutral oak wine barrels. "A lot of brewers view barrels as an ingredient," he confirms, echoing Jason Perkins's perspective. "[But] we view it more as a process step." In other words, Kruger is more interested in what chemical reactions the barrel can facilitate than the flavors it can infuse into the beer. "Wood is a very different material than stainless steel. It's got a lot of inherent—what 30 years ago, brewers would have [called]—'flaws,' but the fact that the wood is porous [means that] oxygen enters in a very controlled rate, and it gives bacteria a nice home to hang out in. Those are really fun things to work with."
Kruger's philosophy leaves Bear Republic fairly immune to any potential barrel shortage. "People who use bourbon barrels use them one time, so they need a lot," he clarifies. "For us, a good barrel becomes a brewery pet, so it's around for a long time. We're only rotating in maybe 20% of our barrels per year."
Allagash and The Bruery have their own house "pets," too; in fact, the two breweries have experimented with all types of wines and spirits. Allagash is currently working with Portuguese brandy, tequila, rum, aquavit, and Calvados barrels, and The Bruery has made beers with rye, rum, tequila, port, and madeira barrels, to name a few. Each spirit infuses the barrel with a range of different flavors, which are thus imparted to the beer that later ages in it—tequila, for example, can add briny, salty, and citrusy notes, while rum produces more tropical flavors.
But all types of barrel aging present similar challenges. As Kruger explains, "Obviously, barrels are much more fragile than stainless steel vessels are. You're dealing with things that coopers have had to deal with for thousands of years, [such as] leakage."
Meanwhile, Rue claims that the greatest hurdle to overcome in barrel aging is unintentional contamination. "We're using barrels that have been stored in brick houses with mold and all kinds of bacteria all over them," he explains. While higher alcohol spirits keep the barrel fairly sanitary, an especially robust unwanted bug can survive in the nooks and crannies of any kind of barrel. "You always have to be willing to dump beer if you barrel age," he warns.
And Perkins points out that the "temperature of the room you're storing in, and the length of time that the beer is in the barrel—all of those factors are really important." Barrel aging requires constant vigilance for incredibly long periods of time, throughout which evaporation can lead to a huge amount of loss. In just one year, a brewer might lose 10% of the liquid, which is known to all distillers as the "Angel's Share."
So what makes all the trouble worth it? As Perkins confirms, barrel aging is anything but a guaranteed cash cow:
My gut says we're not making money on some of these experimentals. It's a labor of love; part of who we are as a company. Barrel aging and sour beer probably make up about 5 or 6% of our overall production in a year, but they're such a huge part of who we are, what our employees are fired up about, and what our customers know us [for].
Ultimately, if Allagash owner and founder Rob Tod were not so passionate about making experimental beer, the brewery would have a tough time convincing a corporate owner to barrel age. "If we had investors to answer to," Perkins concludes, "they might scratch their head a little bit about this stuff, because on paper it's not always profitable."
Kruger has a similar opinion: "I think [barrel aging] keeps us all really interested in our craft…and is a way to connect with the extreme hardcore beer fans, because it's sort of the tip of the spear in terms of where craft beer styles and flavors are." This interest in bolder flavors is riding the wave of beer popularity in general. "There are some [consumers] who are just moving away from a light lager to any number of the flavorful styles in craft beer—they want to try the next new IPA," Perkins says. "And then there are the people who have been doing that for awhile, and want to try even more interesting flavors, [like those found in] sour and barrel-aged beer. It's all in the same movement of 'more flavorful beer.'"
Beer fans are willing to pay a premium price for the bold, unique flavors of a product that takes so long to make with highly allocated outside materials. "Something that's 15% alcohol that's been aged in barrels for a year is certainly is a different experience than a 5% pale ale," says The Bruery's Rue. "Our core customers certainly understand that, but anybody's who's new to the craft beer world can sometimes be shocked by the prices. Then you just remind them, 'What do you pay for a mediocre bottle of Cab[ernet Sauvignon]? $20? Well, you can buy a really great bottle of beer for $20!'"
Barrel aging is thriving during a golden age for beer, wine, and spirits: at last, American consumers are prioritizing flavor, drinking to taste rather than for refreshment or merely to get hammered. Wild Turkey's Eddie Russell goes so far as to give craft breweries credit for lifting the bourbon market, suggesting that consumers seeking out more flavorful beer have begun to demand more of their whiskey, too, seeking out small batch and experimental bourbons. And Brent Elliott of Four Roses has previously spoken of the trend of consumers seeking out more "authentic" handmade products: the market for "craft goods" is floating all alcoholic beverage industries.
With higher alcohol, more time-intensive brews gaining popularity, beer is undoubtedly moving in the direction of the wine and spirits industries. Its main ingredients (water, hops, grain, and yeast) can be harvested relatively limitlessly, but barrels—already highly rationed—are only becoming more and more scarce. Meanwhile, demand for barrel-aged beer is showing no signs of slowdown. So while the products might begin to pop up in every bar and supermarket in town, prices could continue to rise until $50 or $60 bottles are the norm.
Aficionados and collectors, consider this your warning: clear out that wine cellar, and make room for beer.