Driving in traffic is insufferable. The stop-starting, the stress, the other drivers trying to cut ahead for no reason. For many, it's an unavoidable part of their daily commute. But Volvo wants us to embrace the commute. The company announced Nov. 18 that it's planning to have an autonomous vehicle on the streets of Sweden by 2017.
Volvo showed off its self-driving concept, bluntly named the Concept 26, which references the 26 minutes the company says that we commute to work each day on average. Volvo didn't release any images of the exterior of its concept, focusing entirely on what the experience will be like driving—or sitting in—the car.
According to the company's launch video, Volvo wants to "fix what's broken about driving," which apparently is being stuck in traffic in cities—rather than emissions, safety recalls, fuel efficiency or anything of the like. The way to fix this problem: Make humans comfortable as the car slogs away in traffic. The concept car's interior looks more like a seat in business class on a high-end international airline than a practical family sedan.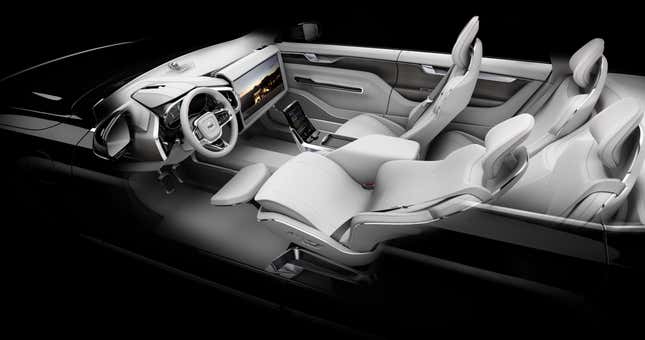 In the center console, there's a tablet-shaped screen that looks a fair bit like Tesla's setup in its current Model S car. But when the Volvo enters self-driving mode, the car turns into a home theater on wheels. The steering wheel retracts into the dashboard, a tray table pops out of the driver's door, the seats recline, and a massive screen flips out from the glove compartment. In the future, we may enjoy sitting in traffic, as it'll give us time to catch up on the shows in our Netflix queues. It's not certain, though, if that screen doubles as an airbag if some non-self-driving car veers into your rolling movie theater.
A veritable arms race has broken out in recent years between traditional car manufacturers and Silicon Valley, with a plethora of companies committing to bringing self-driving cars to the roads, and scrambling to get the talent to make good on those promises. Google, now Alphabet, has been one of the more vocal companies in showing off the progress it's made on autonomous cars in recent years. Toyota recently pledged $1 billion to create research facilities dedicated to robotics and self-driving vehicles, and Tesla last month introduced an "autopilot" function for its Model S cars. But Google thinks publicly available self-driving cars are about five years away, and Ford thinks it'll get there in four years. But if Volvo can live up to its promise, it'll beat both of them to the punch.
"We have gone to great lengths to understand the challenges and opportunities that autonomous cars will bring to people in coming years," Peter Mertens, Volvo's research lead, said in a release.
Volvo didn't release many details about the car beyond its interior, but has previously said that it plans to use modified XC90 SUVs to test its self-driving technology. Wired reported earlier this year that only 100 people will have access to the cars in 2017, and they will only be able to drive autonomously on pre-approved roads in Gothenburg, Sweden. Volvo wasn't immediately available to comment on whether this is still the plan, if the car will be electric, or when it would be available to the general public.
But if the tests in Sweden are successful, traffic jams might become something we look forward to, instead of dread.