Deflation be damned, the US Federal Reserve is going for liftoff in December.
Liftoff, of course, is the much-awaited first increase in short-term interest rates since 2006. The US central bank floored the target for the Fed funds rate, the traditional benchmark interest rate it moves up and down, late 2008.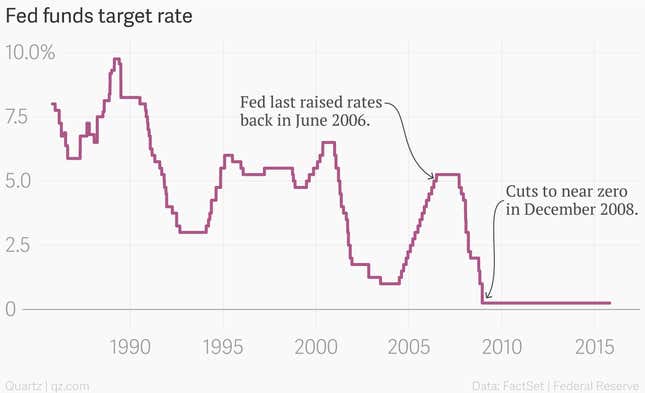 With the US economy humming along—5% unemployment and 271,000 new jobs October—it seems that slowly starting the rate-hike cycle isn't a bad idea.
But it's not without risks. The global commodities price collapse and slowing Chinese economy means that, outside the US, predominant pressures are deflationary.
Germany just reported that producer prices—a measure of wholesale inflation—fell by 2.3%, the fastest pace of decline since 2010. Prices at factory gates in China are falling rapidly too, dropping by just under 6% in October, compared to the prior year. That means significant deflationary pressures are pushing their way into the global production pipeline.
And since China is the world's largest exporter that means it's exporting those falling prices around the world. US factory prices were down 1.6% year-on-year in October. Corporate pricing power is nowhere to be found.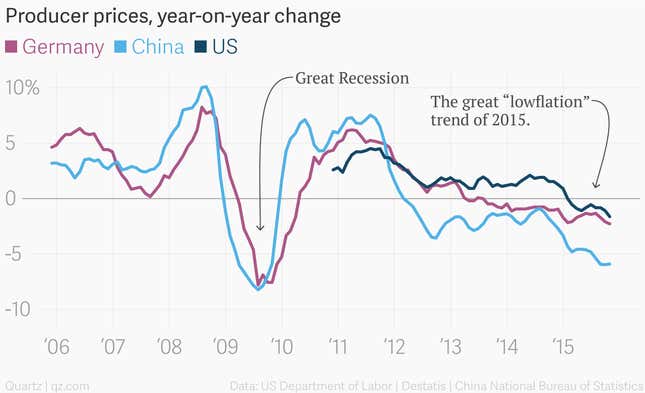 In normal times, deflationary pressures like this would call for looser monetary policy, not a slight tightening as the Fed is expected to put in place next month. But after nearly seven years at 0% interest rates in the US, these aren't normal times. And so the hiking cycle begins.
Still, the global deflationary trend likely means that the Fed will be even more cautious about spacing out its interest rate increases. That means—despite an increase in the Fed funds rate—the low interest rate environment will likely stay in place for quite some time, perhaps even longer than people first thought.