Welcome to the New York City subway: Terrifyingly crowded, regularly delayed (need a late-to-work slip?), and generally a place no one wants to be for too long.
Sometimes it's just easier to walk—and much healthier, as well.
Consider this: Walking the short route between two subway stops in midtown Manhattan can burn as much as 45 extra calories, according to a helpful new map from online medical clinic Treated.com. The site compiled data on the distance between hundreds of subway stops in multiple New York boroughs, then calculated the calories that would be burned by someone weighing 179 pounds (the average US citizen's weight) and walking between the two stops at a pace of three miles an hour.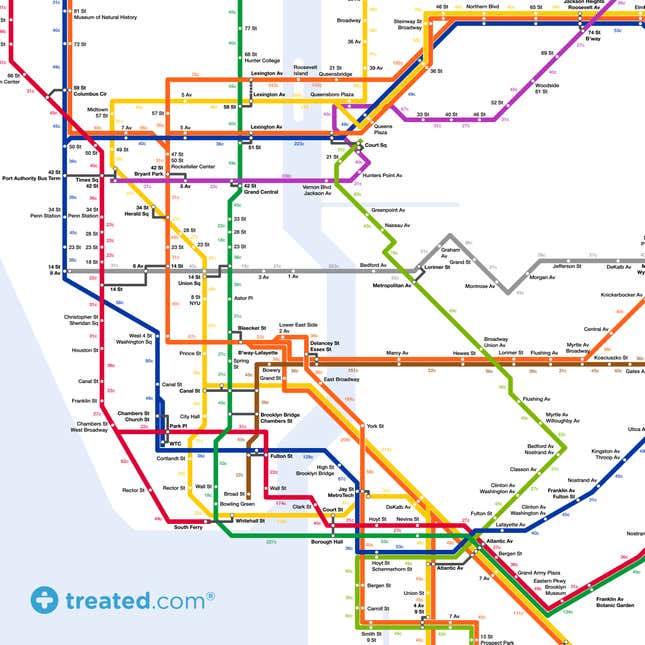 Bypassing three subway stops in Manhattan or Brooklyn, which comes out to around 20 minutes of walking, can quickly zap 90 calories. Jogging or cycling between stops also can amount to significant calorie burn.
The idea behind the map—which draws inspiration from similar calorie maps of the London Underground that were made when the city's subway shut down from strikes a few weeks ago—is to nudge harried commuters to consider a healthier means of transport. According to the Center for Disease Control, a staggering 69% of the US adult population is either overweight or obese, with lack of exercise figuring in as one of the primary causes.
Sure, many US cities, including New York, are already plenty walkable. But it's certainly motivating to know exactly how much is to be gained—or lost—by forgoing motorized transport and taking those extra steps every day.