Update at 9pm ET: Colorado Springs police are now confirming that one police officer was killed in the shooting.
Updated at 7:15pm ET
A man is in custody after spending several hours barricaded inside a Planned Parenthood clinic in Colorado Springs. He hasn't been identified. Four police officers were injured, as well as an uncertain number of civilians.
The incident began unfolding in the late morning, local time, as police and firefighters responded after a gunman was reported shooting in or near the clinic.
The suspect reportedly brought his own weapon—a "long gun" of some type—and some bags. The police are now clearing the crime scene, looking for people who were still in the building, and working out what, if any, other weapons or explosives the gunman may have brought with him.
The Fox 31 Denver news channel reported that the injuries to the police officers were not life-threatening, and that five civilians were also injured, though their condition is not known.
The New York Times, citing police radio broadcasts, said police drove a BearCat armored vehicle into the building, "smashing through two sets of doors into the lobby and rescuing some of those inside."
The Planned Parenthood office is a few hundred feet north of a cluster of stores, in an area busy with Black Friday shoppers.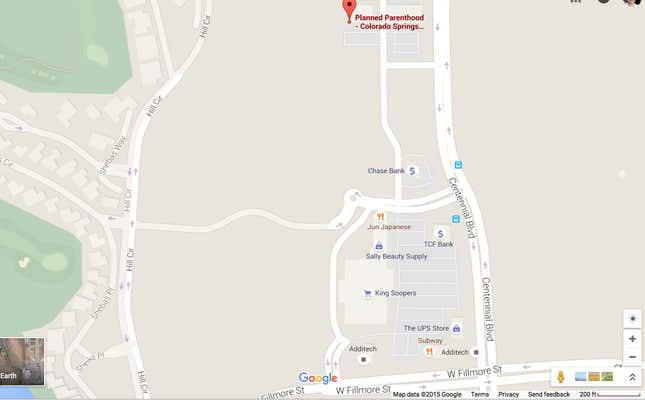 Local station KKTV reported that hundreds of people spent five hours or more sheltering in the shopping center, under police instructions not to move while the siege of the clinic continued.
It is unclear whether the shooting was an attempted attack on the Planned Parenthood facility, or what other motive the gunman may have had. "At this moment, I have as many questions as you do," the local police chief, Peter Carey, told reporters. There have been increased protests against the group's clinics in  recent months, after anti-abortion activists published videos that accused the group of selling body parts from aborted fetuses. The group in fact facilitates fetal tissue donations to save lives and for research, but not for financial gain.
This is a developing story and will be updated as more information becomes available.