Current state of play (4.15 a.m. ET): Former Italian premier Silvio Berlusconi has signalled he is willing to form a coalition with the center-left bloc that won the majority of the votes in Italy's lower house. That may solve the problem of a split parliament that could leave Italy politically and economically paralysed.
The alliance led by Pier Luigi Bersani, which proved popular with investors because it favors continuing outgoing prime minister Mario Monti's austerity scheme has won the majority of the lower house by a whisker. But anti-austerity Berlusconi's alliance won a blocking minority in the Senate. Without a deal with the right, Bersani's group would struggle to get legislation passed that could lift Italy out of recession.
Italian media has reacted violently (paywall) to the election result, with one columnist calling the country "ungovernable" and others referring to the "Porcellum," a colloquial term for Italy's unwieldy electoral system meaning "pig's mess".
The election was notable for a massive protest vote by Italians. Comedian Beppe Grillo's anti-establishment 5-Star Movement won the largest vote for a single party in Italy's lower house, with 25.5% against Bersani's Democratic Party's 25.4%. Bersani's alliance with the SEL party won the lower house by around 125,000 votes. It remains to be seen whether Grillo will do a deal on a coalition.
As an Italian government requires a majority in both houses, it is possible the country will have to go to the polls again. But the country may have to change its electoral laws to enable that.
Italian stocks are still down a massive 4.06% this morning, hinting markets are not exactly cheering the prospect of Berlusconi regaining power.
Berlusconi had been expected to demand a recount of the lower house vote, but has now conceded defeat to Bersani's alliance.
We'll be posting updates throughout the day.
Update: 3.30a.m. ET: Investors are fleeing Italian and European stocks on fears that Italy's split parliament could usher in a fresh euro zone debt crisis.
Markets have been rattled by the prospect of Pier Luigi Bersani's center-left coalition failing to get the support it needs in the upper house to continue the belt-tightening needed to lift the country out of recession.
Italy's FTSE MIB 100 index opened down 4.7% in morning trade. Paris' CAC-40 index fell 2.6% and Frankfurt's Dax slumped 1.92%.
Asian shares have been tumbling all day while Italian bond prices have, unsurprisingly, taken a fall.  Traders are also buying up German Bunds.
Update at 1.40 a.m. ET: Asian stocks are suffering from the Italian election uncertainty. Japan's Nikkei 225 index has fallen 2.3% while Australia's S&P/ASX 100 has dropped 1.06% and Hong Kong's Hang Seng Index is down 0.77%. This was part of a global selloff that saw the S&P 500 record its biggest one-day drop since November on Monday. And pundits forecast European shares would echo those losses when markets open for Tuesday morning trade.
Update at 7.20 p.m. ET: With most of the votes counted in Italy's general election, it seems almost certain that the parliament will be split.
Polls had previously predicted a win for Bersani, who has said he would continue Monti's reforms and possibly form a coalition with the technocrat to keep markets happy.
With a hung parliament, the parties could theoretically come together in a "grand coalition" government. But Bersani looks unlikely to agree to govern in tandem with Berlusconi. This means weeks more of uncertainty and instability, and when a government finally does form it's likely to be extremely volatile.
Update at 7.25 p.m. ET: Here's a graphic from La Stampa summarizing the current outcomes: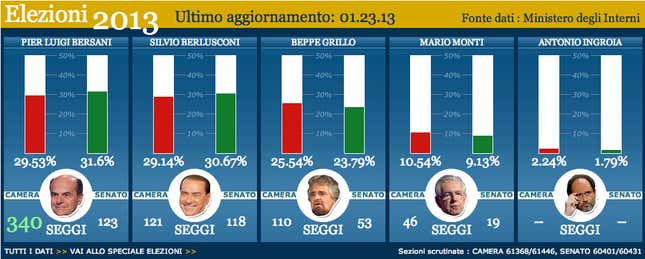 Update at 3.10 p.m. ET: We're still waiting on a final vote count in Italy, but the prospect of a hung parliament is quite likely. Read our guide to how that might happen and what it would mean for Italy.
Update at 1.47 p.m. ET: CNBC posted a poll from Dow Jones saying the Senate race is tied:
Update at 1:18 p.m. ET: As expected, Bersani has taken the lead in the lower house of the Italian Parliament, the Chamber of Deputies. But it's a close one:
Latest RAI projection for Lower House: Bersani 29.1%, Berlusconi 28.6%, Grillo 26.3%, Monti 10.8% #elezioni2013

— Fabrizio Goria (@FGoria) February 25, 2013
The party or alliance that wins even a slight plurality in the lower house would win a special premium, bringing its majority to 55% of the seats there. But the government could still fall apart if the chambers of parliament are controlled by different parties. Typically, both sides would grudgingly come together to form a grand coalition, however Bersani's team has indicated that such a possibility could force a new round of elections.
Update at 11:36 a.m. ET: Possibly the worst-case scenario for markets, Italy could face a hung parliament. That's the latest from Bersani aide Stefano Fassina, based on polls that suggest Berlusconi's center-right party will win the Senate, although a coalition between Bersani and Monti's parties could take control of the lower house. Fassina indicated that there was little prospect of a "grand coalition" between all the parties.
A hung parliament and a new round of elections in Italy would remind investors of a failed vote in Greece last year. At the time, analysts believed that Greece's leading parties would control the race in the first round of elections, but a close vote and a surprising victory by the third SYRIZA party meant that Greek voters had to participate in fresh polls a month later.
Update at 10:59 a.m. ET:
Terza proiezione SkyTG24-Tecnè per il Senato: Centrodestra 31,9%, Centrosinistra 28,7%, M5s 24,9%. #SkyVoto2013 #Elezioni2013

— Sky TG24 (@SkyTG24) February 25, 2013
New polls on the Italian Senate:
Berlusconi's center-right party: 31.9%
Bersani's center-left party: 28.7%
Grillo's Five Star party: 24.9%
The Eurasia Group described what would happen if Monti and company failed to win 8% of the Senate vote, which would bar them from the upper house. A coalition of Bersani and Monti's parties are still projected to control the lower house in a coalition:
The most prominent downside risk (20-30% probability) is that Bersani and Monti's seats do not amount to a Senate majority despite an IBC win in the lower house. In this case, a stalemate in the Senate — and thus, a hung parliament — would result. Grillo's strong campaigning means that one condition for this sort of outcome is likely to be fulfilled, though the others that we have identified (i.e. that Monti is barred by the 8% threshold for representation in the Senate in several regions, and that the center-left loses most or all close Senate races to the center-right) still appear fairly unlikely.
Update at 10:37 a.m. ET: New polls from Sky News indicate that investors may have been fooled: Berlusconi has taken the lead in the latest read-out on the Senate elections with 31% of the popular vote. Bersani's center-left party trails with 29.7%, and Monti lags even farther behind with 8.2% of the popular vote. The Italian FTSE MIB has fallen sharply, back to +0.5% +0.2% for the day.

Interestingly, populist former comedian Beppe Grillo and his Five Star (M5) party have made an impressive showing, with the latest polls suggesting they've won 26% of the vote.
Original post at 9:48 a.m. ET: Pier Luigi Bersani, currently the secretary of the center-left Democratic Party, looks poised to win the Italian Senate with 34.5% of the popular vote, according to a flash poll released by Sky News. These are the first results out of Italy since the polls closed at 3 p.m. local time.
Former Prime Minister Silvio Berlusconi's People of Freedom Party was in second place in those polls, with 29% of the popular vote. Current Prime Minister Mario Monti, a technocrat who has spearheaded economic reforms in Italy since late 2011, trailed the other candidates with 9.5% of the vote. The Italian FTSE MIB is up 3.4% on the news that Bersani—and not Berlusconi—is leading the race.
Analysts expected Bersani to require Monti's assistance to gain control of the Italian Senate, meaning that the reformer would play an important role in policymaking going forward. The latest polls suggest that this may not be the case; Bersani could lead a coalition all by himself. Monti has been a positive for markets; formerly a European Union commissioner, he's given investors confidence in a political system that used to be known for corruption and resistance to change. Berlusconi, with his popular, tax-cutting rhetoric and various rule-breaking escapades was the poster child for the old status quo.
Italy's high levels of public debt mean that the new government must continue to reform its uncompetitive economy in order to win support from investors. Bersani is known as a down-to-earth career politician who is unlikely to be as energetic a leader as Monti was, but is better than the alternative (Berlusconi).
Click here to a more complete guide to the Italian elections.