This article was originally published on Dec. 11, 2015 and updated on Jan. 28, 2016.
One of China's top bankers and a former regulator fell to his death yesterday (Jan. 27) morning, and left behind a suicide note, after being put under investigation by the Communist Party's discipline watchdog for possible corruption.
Yang Zezhu, 62, former chairman of Changjiang Securities, had resigned from his post after the mid-sized Chinese brokerage said on Jan. 6 that he was being probed by the Central Commission for Discipline Inspection for "personal reasons."
Yang is just the latest in a long list of Chinese bankers and finance heads that have unnaturally died, been suspended from their jobs, or "disappeared," after President Xi Jinping's sweeping anti-graft campaign spread to the financial sector in the past year. Since China's stock market crash that vaporized nearly $5 trillion between last June and August, China's authorities have been ruthlessly looking for culprits guilty of insider trading, rumor-spreading, and what they called "malicious" short-selling.
The culprits (or scapegoats, some argue) include top executives at some of China's largest banks, brokers, and hedge funds—a comprehensive round-up that would be almost unfathomable in any other country. Imagine, for example, if in the past year US authorities had detained or "disappeared" Bank of America's Brian Moynihan, Goldman Sachs's Lloyd Blankfein and several of his top executives, Charles Schwab's Walter W. Bettinger, Wells Fargo's John Stumpf, Third Point's Dan Loeb, and Warren Buffet—as well as several others.
Here's a list of China's top bankers and fund managers who have been detained, disappeared, or died of unnatural causes in the past year. In some cases, their company says they are still "unreachable" and they have not been seen in public since their disappearance:
Mao Xiaofeng, president, China Minsheng Bank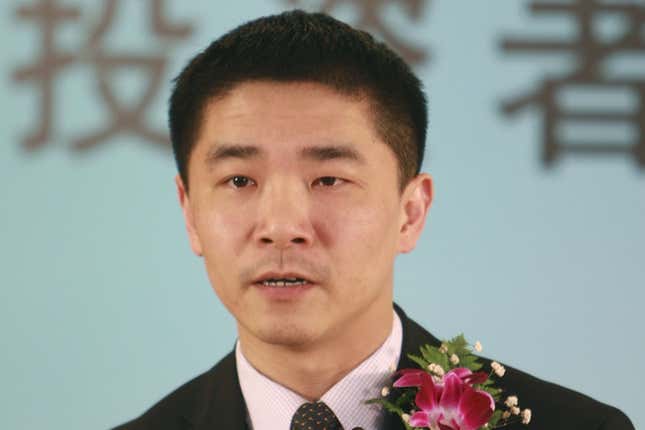 Mao, 43, the youngest president of a listed Chinese bank, was taken away by the Communist Party's anti-graft agency in January of 2015 to assist with the probe into Ling Jihua, the one-time top aide of former president Hu Jintao. Minsheng Bank said Mao had resigned for "personal reasons" after Chinese media reported the investigation.
Minsheng, the world's 49th largest bank, is known for its fast loan growth. Before joining Minsheng in 2002, Mao served in mid-level leadership roles in the Communist Youth League, a key power base of Hu Jintao. Chinese media reported Mao had links to wives of fallen state leaders—he had paved the way for Lin's wife to work at a bank subsidiary for three years.
Lei Jie, chairman, Founder Securities
After going missing in January 2015, Lei Jie, chairman of Founder Securities and its joint venture with Credit Suisse Group, was released from police custody a few months ago, according to Bloomberg.
Wang Yaoting, vice president, Hua Xia Bank
Wang, a deputy chief of the mid-sized Shanghai-listed lender, was taken away in May 2015 for a corruption investigation. Wang was taken to court (link in Chinese) in December and charged with $164,000 in bribe-taking.
Li Yifei, chairwoman, Man Group's China business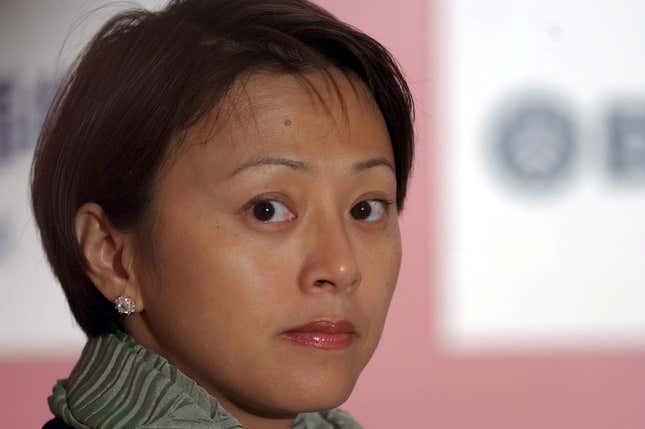 Li, head of the China unit of London-based Man Group, the world's largest publicly traded hedge fund, was taken into police custody to assist with an investigation into market volatility, Bloomberg reported in August 2015. Li showed up in November at a Beijing charity forum, denying she has been investigated (link in Chinese). Li said she was on a vacation in China when the news of her disappearance came out, but her husband told Bloomberg earlier she was meeting with unidentified "relevant industry authorities."
Citic Securities president Cheng Boming and other top executives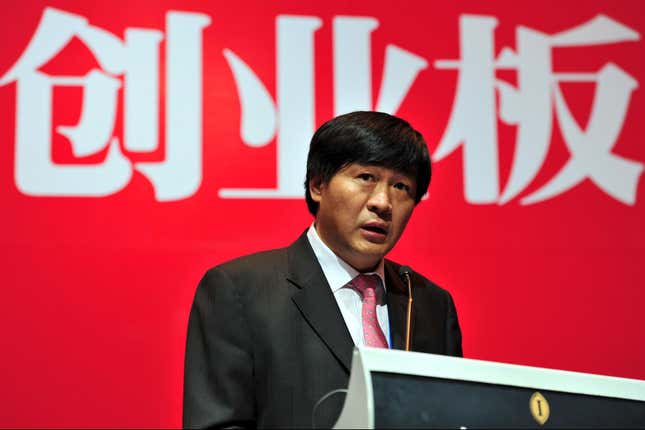 Cheng, chief of China's biggest broker,was probed by police for suspected insider trading in September 2015. In August, managing directors Xu Gang and Liu Wei admitted to illegal trading, after a total of eight Citic staff members were rounded up for the offense.
Citic was a major player in China's "national team"—a group of state-backed financial institutions dragooned to buy Chinese stocks to prop up the market. On Dec. 6, 2015 Jun Chen and Jianlin Yan, two senior executives with Citic Securities, were also detained in an unspecified investigation.
Zhao Dajian, honorary chairman, Minzu Securities
Zhao, who is also a director of parent Founder Securities, has been missing since Sept. 22, 2015 after Chinese media reported (link in Chinese) he was taken away by police for an unspecified investigation.
Chen Hongqiao, president, Guosen Securities
Chen, 49, president of China's fifth biggest broker, hanged himself in his Shenzhen home in October of 2015. Before joining Guosen in 2014, Chen was a senior stock market regulator at the Shenzhen Stock Exchange. He was a deputy of Zhang Yujun—the former assistant chairman of the China Securities Regulatory Commission, who was taken away for investigation in September—when Zhang served as general manager of the Shenzhen bourse.
Xu Xiang, general manager, Zexi Investment
Xu, nicknamed "hedge fund brother No. 1," was detained by police for alleged insider trading and stock manipulation in November of 2015. Despite the stock market meltdown, Xu yielded an average of 249% returns over the five funds he managed in the first ten months of 2015. The average return of Zexi's funds has ranked him in China's top three fund managers every year since the company was founded in 2010.
Yim Fung, chairman, Guotai Junan International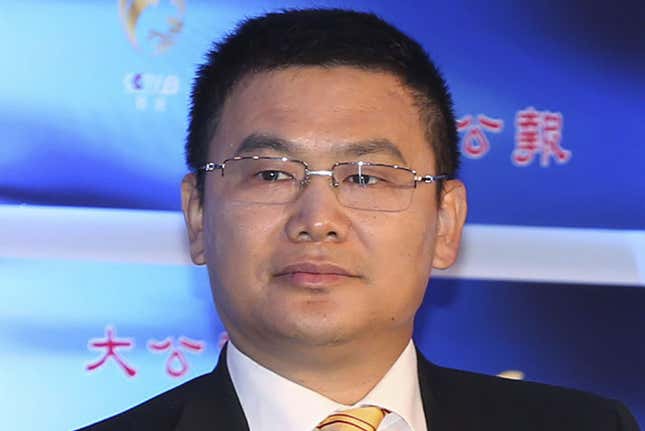 Yim, chairman of the Hong Kong unit of Guotai Junan Securities, one of China's largest brokers, was out of contact for more than a month after disappearing on Nov. 18, 2015. Chinese media reported Yim was taken away as part of an investigation into Yao Gang, a vice chairman of the China Securities Regulatory Commission who used to be a general manager at Guotai Junan Securities. He reappeared in late December, after "assisting in certain investigations."
Zhang Yun, president, Agricultural Bank of China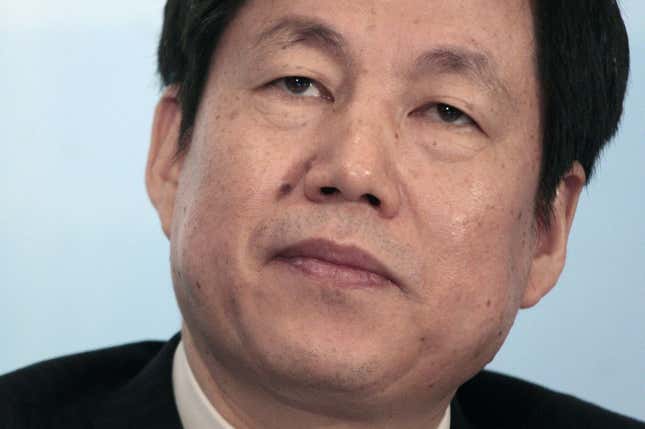 Zhang, president of China's third largest bank, resigned from all his posts at AgBank in December after he was taken away for an unspecified anti-graft investigation in November. Earlier Zhang had been named by Yang Kun, former vice president of AgBank, when he was sentenced to a lifetime in jail (link in Chinese) for taking bribes in 2013. Zhang had served in AgBank for 30 years before he became the president in 2009.
Guo Guangzhang, chairman of the Fosun Group
Guo, 48, the billionaire chairman of the Chinese conglomerate Fosun Group, disappeared from the public eye for several days last December as he was "assisting in certain investigations" by the Chinese authorities, the group's Shanghai-listed subsidiaries said. Four days after his disappearance, Guo reappeared at his group's annual meeting in Shanghai on Dec. 14. It is not clear what investigation he was linked to.
Guo ranks 17th among China's richest men with a net worth of $5.6 billion. He nicknamed himself "China's Warren Buffet," and copied Berkshire Hathaway's business model, investing float from insurance premiums in Fosun's other business—real estate, pharmaceutical and commodities. Assets in the insurance business, at 113 billion yuan ($17.6 billion), account for 35% of the group's total assets. Fosun announced 16 overseas deals worth a combined $4.5 billion last year, according to Bloomberg.
Yang Zezhu, chairman, Changjiang Securities
On the morning of Jan. 27, Yang fell to his death from his 12th floor apartment in Wuhan, capital of the central Hubei province, where the brokerage is based. A suicide note was found by police.
Before joining Changjiang in 2013, Yang headed the Hubei provincial branch of the state-owned Assets Supervision and Administration Commission, which oversees government conglomerates, for seven years. Chinese media report the investigation into Yang is related to his days at the Hubei regulator. Yang and his son were reported by several companies for fraud worth $HK80 million (around $10 million) in 2013, financial newspaper China Business News reported (link in Chinese).
May Shi contributed reporting to this article.