There's probably a cheaper version of that fancy razor, soap or shirt, sitting just a few aisles down in the men's section, and the main reason it costs less is because it's aimed at guys.
That's the conclusion of a new study (pdf) that reveals significant inequality in pricing of men and women's products in New York City. After examining nearly 800 products offered in "male" and "female" versions, New York City's Department of Consumer Affairs has found that women are being charged 7% more than men on average for a wide range of similar products, as if earning less than men for the same work weren't enough.
Though the study focused on New York specifically, the products encompassed more than 90 brands—some global, such as H&M, Neutrogena, and Gillette—sold at two dozen different retailers in New York City, both in-store and online, meaning the price gap is likely to extend beyond the city's limits.
Far pricier for women were personal care products, such as razors and especially haircare, and adult clothing—a woman's shirt, for example, cost 15% more on average.
The study also included numerous examples of products where the women's version is priced higher—or in some cases, even the girl's version. One product it highlighted, which Julie Menin, commissioner of the DCA, also singled out in an op-ed for the Daily News, was a children's scooter. The pink version, called a "girl's scooter," was twice as expensive as the red one, labeled a "sports scooter."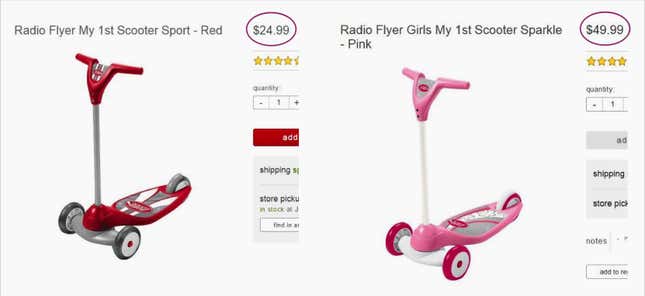 Since the report came out on Dec. 18, Target, which has run into trouble over price disparities before, has lowered the price of the scooter and blamed a "system error" for the discrepancy, according to the Washington Post.
The study was the DCA's first to look at price disparities across multiple industries. Focusing on products that reflect a consumer's life cycle, it examined children's toys and clothing, adult clothing and personal care products, and products for seniors, including canes and support braces, restricting its analysis to items that were as similar as possible in all aspects but the gender of the intended buyer. Items aimed at women, it found, cost more in all but five of the 35 different product categories analyzed.
The DCA did look into whether the way products were made or the ingredients used could explain the price difference. Generally, they could not.
Experts consulted by the DCA said that while men's and women's personal-care items typically don't have identical ingredients, the differences aren't a major factor in the price gap. Most of the price comes from offsetting research and development costs, and according to the study write-up, "female consumers absorb more of these costs than male consumers, rather than the costs being distributed equally."
In a footnote, the study also mentioned that some expensive products with supposedly special ingredients don't actually work better. The DCA spoke with Dr. Gary Kelm, a 35-year veteran in personal care product formulation at Procter & Gamble, who told them women often pay a premium for ingredients that look good on the label but usually make up less than 1% of the product.
"These ingredients yield no significant benefit to the consumer, but legally enable a brand to advertise the use of that ingredient and the potential benefits it could confer," the DCA study states. "Examples include natural extracts and botanical ingredients, which are frequently used in women's products." It's perhaps not too far from the reasons why makeup is so expensive.
The conclusion was much the same for the cost differential in clothing: women are willing to pay more, so they're charged more. (It's another argument for gender-neutral clothing.)
Gendered pricing, sometimes called "the pink tax," has been going on for years. Other studies have called out the disparity, and in France the issue prompted an investigation in 2014.
While the DCA report notes that in some instances there are legitimate reasons for the price gaps, it points out that women generally can't avoid higher prices, unless they switch out of the women's section entirely. "As such, choices made by manufacturers and retailers result in a greater financial burden for female consumers than for male consumers," the DCA said.
That burden seems especially heavy if it starts from childhood.