It's almost been a year since gunmen stormed Charlie Hebdo's office over cartoons it made of the Islamic prophet Mohammed, killing 12 twelve and wounding five. The satirical French magazine is marking the deadly anniversary with a cover featuring a bloody God wielding a gun, accompanied by the text: "One year on: The assassin still at large."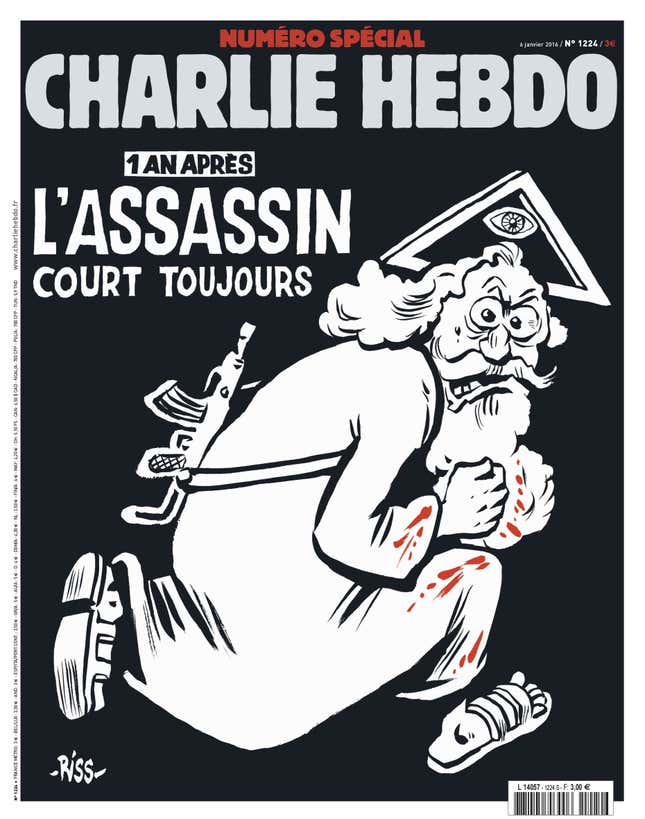 The 32-page special edition includes cartoons by five of the Charlie Hebdo artists killed in the attack. The edition also includes a fierce editorial by the editor, Laurent Sourisseau (link in French), who was seriously wounded during the attack. Sourisseau defends secularism and condemns fanatics who use the Quran to justify their atrocities, and other religious critics who called for the end of the magazine for "daring to laugh at the religious." He said:
A believer, especially a fanatic, never forgets the affront to his faith, because it is behind and ahead of him forever… It is eternity that fell on us this Wednesday, Jan. 7. These two masked idiots will not screw up the work of our lives.
The magazine has been subject to a number of attacks since it republished cartoons of Mohammed in 2006 (link in French). It was firebombed in 2011 after publishing its "Sharia Hebdo" issue. A year later, the French government decided to close a number of embassies and schools when the magazine published more controversial cartoons. But it's not just Muslims; the magazine has raised the ire of Christians as well, who have sued it 13 times.
A million copies of this special edition will go on sale in France on Wednesday, the anniversary of the attacks. Millions of people showed their solidarity with Charlie Hebdo and commitment to free speech with the hashtag #JeSuisCharlie, which quickly went viral hours after the attack.