In the heart of Tokyo, an unusual store opened last July: An "art supplies laboratory" called Pigment that sells esoteric tools and paints used in traditional Japanese art. Think handmade washi paper used in the Meiji period, antique ink stones for sumi painting, glues made from ox skin or fine powder pigments from crushed malachite.
An initiative by the high end storage company Warehouse Terrada, the store champions traditional arts and crafts. "Today, production of art supply for Asian paintings produced by traditional methods is in decline," stated its founders during Pigment's launch. "Traditional art supply is essential both for the conservation of historical artworks and for the creation of the new."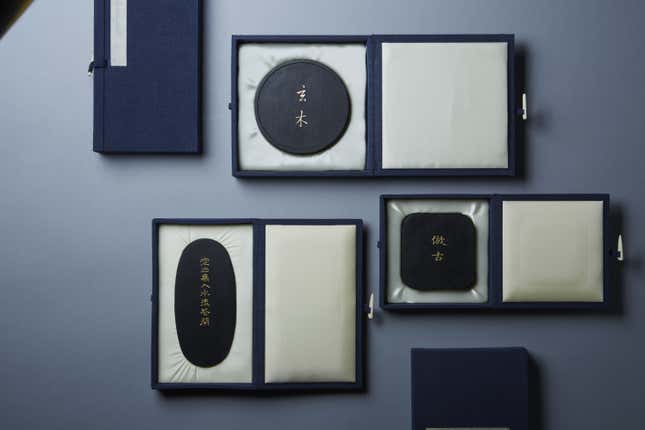 Pigment's online store caters to those who can't travel to Tokyo's Shinagawa ward, but they're missing out on the full experience: Regular lectures by art historians and professional painters make the store a learning hub for artists and for the dwindling coterie of Japanese artisans who still create traditional tools. Pigment even has an in-house specialist with a PhD in the study of art materials, who offers advice on the history, application methods and characteristics of each product.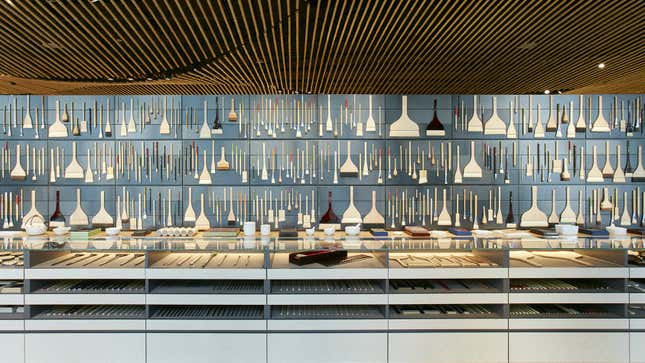 And if the lure of these covetable tools is not enough, the store's design sure to draw attention. On the walls of the airy space designed by the venerated Japanese architect Kengo Kuma (who recently won the commission to design Japan's controversial Olympic stadium, taking over Zaha Hadid) is an awe-inspiring display of color.
Store spokesperson Marina Mito tells Quartz that staff dedicated three weeks just to arrange the wall display. "It took us about 20 days to arrange 4,200 jars considering gradation and balance of all the colors," she says.