While getting free users to become paying subscribers is crucial to business for music streaming services, it's also no easy task. Spotify, the current industry leader, needed six whole years to attract its first 10 million paying customers.
But it took Apple Music just a few months to hit the same milestone, the Financial Times reported (paywall) on Jan. 10. Some music industry analysts say the fast growth of the service, which launched in over 100 countries in June 2015, indicates that it might topple Spotify and take over as the leading music subscription service before long.
Netting 10 million subscribers in six months certainly seems a feat in and of itself. With each subscriber paying around $10 a month, we can assume Apple Music is already raking in more than $1.2 billion a year—making it a sizable competitor in the field. (The nine-year-old Spotify, by comparison, is now up to 20 million subscribers and an estimated valuation of $8 billion as it possibly prepares for a long-rumored initial public offering.)
Looking at the bigger picture, though, Apple Music's milestone becomes somewhat less impressive. Apple preinstalls the Apple Music app on every iPhone, offering would-be users the chance to sign up with no more than a single click. And there are more than 90 million iPhones in use in the US alone right now—not to mention millions more in other countries—meaning that Apple Music has actually only attracted a tiny sliver of its potential audience.
What's more, when Spotify hit 10 million subscribers in 2014, it also had 40 million active users on its free tier; Apple has had a much closer ratio—with 8.5 million on its free tier (in the form of a three-month free trial for its paid tier) vs. 6.5 million paying users as of October, pointing to lower interest in general.
In any case, the streaming battle is intensifying. According to the latest Nielsen figures, the number of songs played on streaming services doubled from 2014 to 2015. Meanwhile, album sales dropped 6% and digital track sales fell an even steeper 12.5%.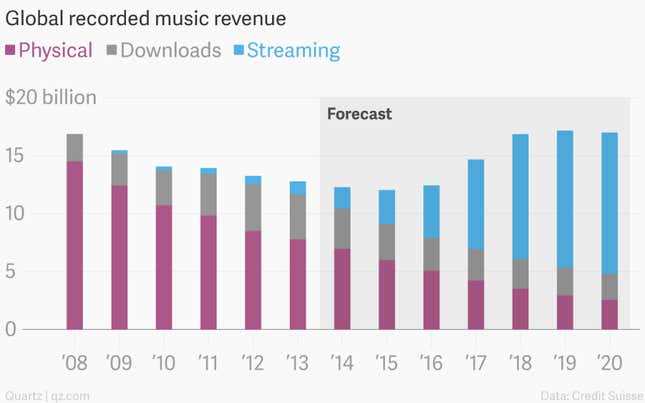 As streaming grows bigger yet in the next few years, Apple Music will have to make even more of a push to snag the fancy of new users. It's also worth remembering: For a company valued at close to $1 trillion, reaching $1 billion in music streaming revenue doesn't particularly matter much.