Each January, the Consumer Electronics Show in Las Vegas allows companies to showcase for industry insiders, manufacturers, suppliers, and the press what they believe the future will look like. There are see-through computer displays, bendable TV screens, fridges with computers in them, cars that drive themselves. All are meant to be a glimpse at the technology that's just around the corner.
But in reality, many of the technologies on show at CES are concepts—some of them not even working concepts—and many of them are things the average person simply doesn't need. 3D printers were everywhere again this year, but they still aren't particularly useful. Internet of Things devices were jammed into just about every object imaginable, but aren't reliable enough yet to control your home. But one of the buzziest technology trends—drones—actually showed promise in living up to their hype. For the most part, today's drones either require a large financial outlay, or piloting expertise. But the drones on show at this year's CES point toward a near future where drones are as easy to use as smartphones—and potentially as ubiquitous.
Hexo+
At CES, there were drones that aimed to take the difficulty out of flying. Hexo+ billed itself as "your self-flying camera." It has sensors that allow it to track and follow you around as you perform whatever extreme sport suits you. The companion app lets you set how it tracks you, and allows the drone to follow you even if you're biking through the Nevadan desert. Soon you'll be able to control it by waving your phone around—a feature The Verge's Ben Popper said made him feel like a Jedi. That sounds a lot easier than learning about pitch, roll, yaw, and the myriad other control settings used in a standard drone remote control.
Lily
Hexo+ wasn't the only easy-to-use drone on show at CES—well, more or less. "Don't call it a drone," Antoine Balaresque, the CEO of Lily, told me last week. The Lily flying camera—as he calls it—recently announced it had made $34 million in pre-sales, on top of the $15 million in funding it secured in December. (That $34 million equates to about 60,000 of its drones.) Balaresque said that growing up, his mother would take the photos on family vacations, so she was never in the shot. In 2013, he had the idea of creating a camera that would include everyone in a photo at once—in the dark ages before the selfie stick—that would be simple enough for his mom to use. That led to the Lily, which can be tossed up into the air, and immediately snap videos on the go. It's controlled by a companion iOS and Android app.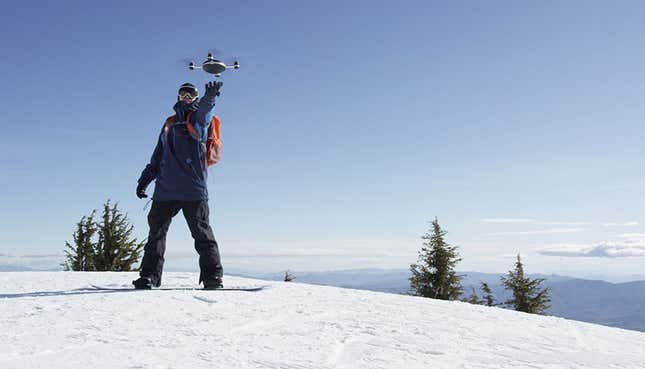 Balaresque wanted the drone to help people with no photography skills take professional shots, and take them as quickly as possible. Most drones on the market need some sort of assembly and pre-flight setup before they can take off—the Lily, however, can just be tossed into the air and follow you around. Unlike with the Hexo+, you don't even need a phone to have Lily track you—just slip on a small tracker wristband and the Lily can follow you from as far as 5,000 feet away. You can take it with you in a small backpack, meaning if you're out snowboarding and think you're about to finally nail that killer trick, you can toss it up, and just go for it. The Lily is also completely waterproof, Balaresque said, making it ideal for surfing footage. It'll make using a GoPro feel a bit old hat.
The company has produced a few hundred test models, and are working out the kinks to make Lily as reliable as possible before it ships to customers this summer. The drone can fly for 20 minutes, takes two hours to charge, and currently costs $819.
Parrot Disco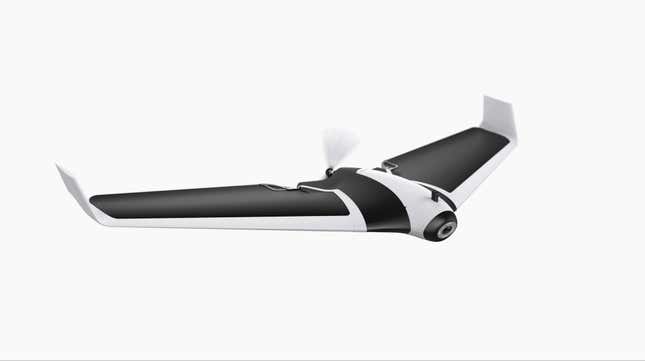 The French drone company showed off its newest concept at CES: A fixed-wing drone that you can toss into the air and use to film from above. Like the Hexo+ and Lily, it can track your position, but can't hover in one place since it's not a helicopter-shaped drone. Instead, it flies in tight circles above its intended target. While Parrot wasn't able to confirm when or if consumers would be able to buy the Disco, it showed that the company seems to be thinking about how to make drones easier to use—if not easier to carry around.
Parrot also showed off a working concept at CES, which it tossed into the air in the desert and got some pretty stunning footage. While the drone doesn't have a gimbal like many of its competitors, the Disco has built-in image stabilization technology to record decently smooth video. You can also connect the drone to a pair of video goggles and get the first-person video of what the drone is seeing as it's flying. Perhaps soon we'll be racing these.
Fleye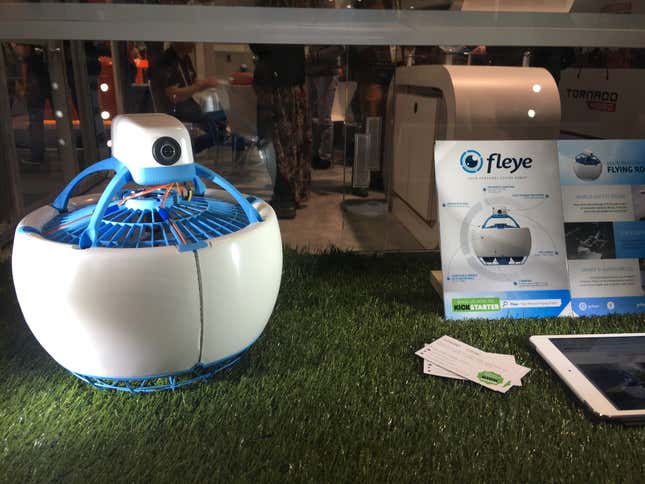 While it's great that drones are getting easier to use and control, they're still pretty dangerous—just ask Enrique Iglesias. But a new drone from startup Fleye showed that we could soon have drones safely following us around. Unlike Amazon, which is working on making drone deliveries safe with complex sensors to avoid obstacles, Fleye offers a much simpler solution: just make the drones themselves safe. The company showed off its drone, which is encased in a styrofoam-like shell that allows it to bump into things without cutting them open. It's a pretty low-tech solution, but when you pair it with the tracking technology other drones are pioneering, you get the sense that it might not be too long before we're all walking around with our own personal drones hovering somewhere nearby, capturing our every action, documenting our lives like mini paparazzi. By that point, we'll also be flying ourselves around in drones. It's a brave new world out there.