Taiwan's 2016 elections have changed the face of politics on the 23 million person-strong island, ushering in a female, gay-rights-supporting president, and a death metal rocker and aboriginal rights advocate as legislators.
Chen Chien-Jen, 64, the island's next vice president, is another break from the past. The renowned epidemiologist is best known for his work suppressing the spread of SARS, the flu-like respiratory disease that killed 774 people between November 2002 and July 2003, in Taiwan. Appointed as health minister at the height of the outbreak, Chen prevented the virus' escalation despite Taiwan's exclusion from the World Health Organization.
The island's medical authorities received no access to samples, research, or guidance from the WHO, because of successful pressure from China (pdf, pg. 2) to exclude Taiwan as a member, which China sees as granting the island nation status. Chen and his team were forced to devise quarantine procedures and fever screening plans without global help.
By the end of 2003, the disease had been contained in Taiwan, although the island suffered 37 deaths out of 346 infected people. Taiwan's rate of deaths to infections, at 11%, was far lower than Hong Kong's 17%, and Taiwan's caseload was about one-fifth the size of Hong Kong's, even though Taiwan's population is three times as large.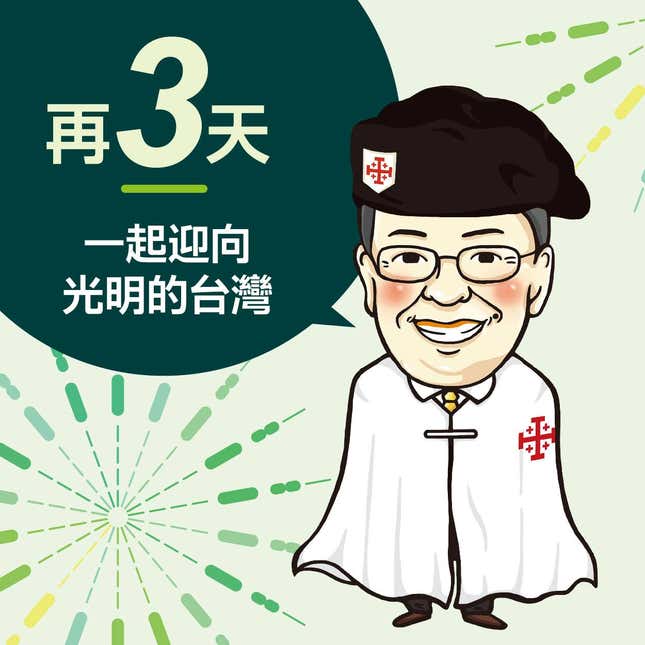 Tsai Ing-wen, Taiwan's president-elect and Chen's running mate, says she nominated Chen in November because of his legacy during the outbreak. "Like many people in Taiwan, I had been very much impressed by his calm and stable performance when he was named the chief of then Department of Health in 2003 when Taiwan was gripped by the most severe outbreak of SARS (Severe Acute Respiratory Syndrome)," she told media.
After departing Taiwan's health ministry in 2005, Chen joined Taiwan's National Science Council, then became vice president at Academia Sinica, the island's leading academic research institute. In academic circles, he's known for his studies on arsenic and chronic hepatitis, according to Nature.
Like many prominent Taiwanese leaders that have risen to prominence recently, Chen is a political outsider. He's not a member of the Democratic Progressive Party, which Tsai has chaired since 2000, and has no plans to join it. He's also a devout Catholic, and regularly discusses his religious beliefs on social media.
"Taiwan is a diverse society, with people every type of ethnicity and religious belief occupying this land. This is what makes Taiwan precious. No matter one's belief, the core of all religions is love, peace, and mercy. I believe every one of us can become a sower of love," he wrote on Facebook.