China is Apple's growth engine, with revenue there doubling in the fourth quarter of 2015. Compare that to the next-best performing region, the rest of Asia, where sales grew by 27% for the period.
Apple's exploding sales in China were built on the back of the iPhone, particularly the iPhone 6, which was the best-selling smartphone on the mainland last quarter. And China could soon be adding even more fuel to Apple's red-hot revenue growth there. According to analytics firm App Annie's report on app downloads in 2015, China is poised to overtake Japan as the second-largest source of App Store revenue this year, behind the US.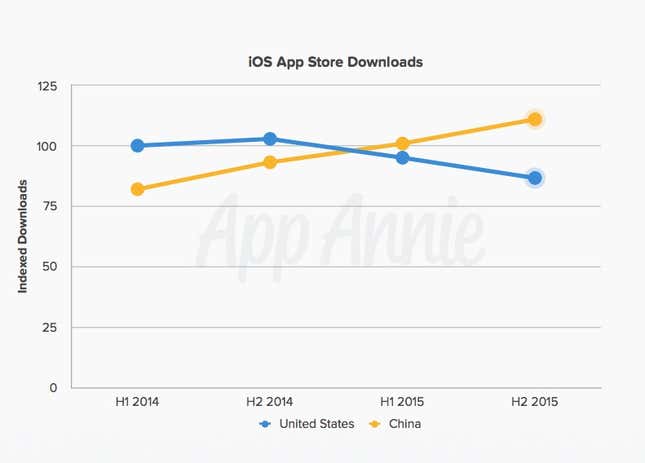 App Store revenue from China doubled in 2015 compared to the previous year. That's significantly quicker growth than the 30% increase in Japan and 20% for the US. The revenue from China was almost completely driven by games. Just 5% came from other kinds of apps. The top publishers were Tencent, NetEase, and Supercell.
China also is the leading market in terms of App Store downloads—and its lead over the US and elsewhere has continued to widen, with downloads growing by 20% in the fourth quarter of 2015 compared to a year earlier. "Download growth often paves the way for revenue growth, and this is exactly what is happening in China," App Annie's report said.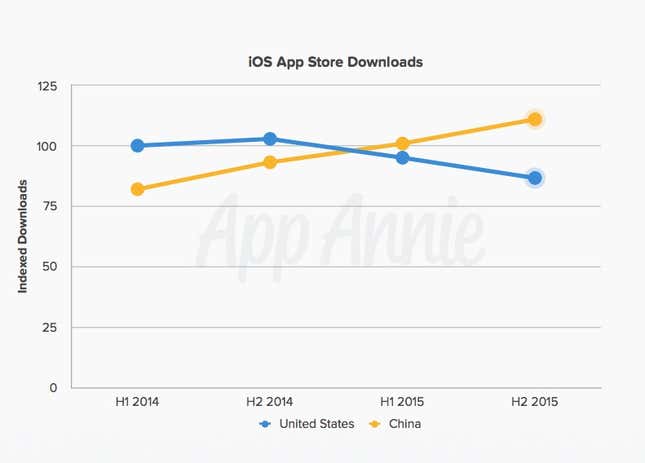 Although App Annie doesn't provide absolute revenue figures (it uses indexed values to show relative numbers), Apple's "services" segment made up about 10% of its revenue for 2015, or $20 billion. That segment includes the App Store as well as things like AppleCare, Apple Pay, and Apple Music. Apple noted in its annual report that App Store revenue was a key contributor to the services segment in its 2015. We should expect China's iPhone gamers to add a bump to that this year.