Last year it took the militant group ISIL only a few months to destroy hundreds of years of architectural history when it reduced Palmyra's nearly 2,000-year-old Temple of Bel and 1,800-year-old Arch of Triumph to rubble. Since then, artists and engineers have been fighting to preserve the memories of these lost treasures, one 3D model at a time.
#NEWPALMYRA, named for the ancient city in Syria, launched in Oct. 2015 with the goal to digitally preserve the city's ruins, which date back to the 1st century AD. A collaborative effort between artists, technologists, archeologists, and architects around the world, the organization sources historical and archaeological data from its community, then releases models one at a time to the public, available for anyone to download and 3D print.
On Monday (Jan. 18) the group shared a model of the Arch of Triumph, which was destroyed by ISIL in October.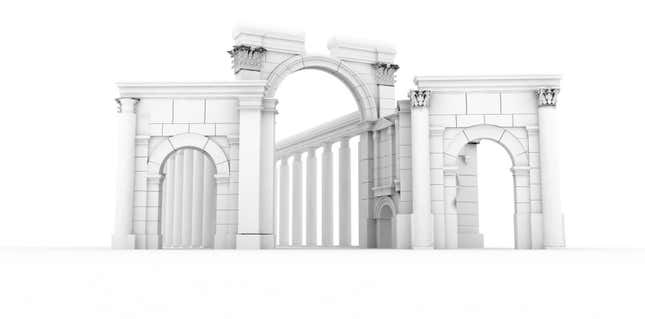 ISIL has occupied Palmyra since May last year, and in August executed the city's renowned archeologist, 81-year-old Khaled al-Asaad, reportedly beheading him and hanging his corpse in the city.
ISIL routinely targets cultural heritage sites, destroying or selling artifacts that do not adhere to their interpretation of Islam. Just yesterday (Jan. 20) the Associated Press confirmed that the group had destroyed the 1,400-year-old St. Elijah's Monastery of Mosul, Iraq's oldest Christian monastery.
Preserving historical buildings (even if not physically) is a small way to fight back against the violent destruction of culture.
"Architecture embodies culture and power, a certain set of beliefs and ideals, and ISIS is trying to reset a lot of that," says artist and #NEWPALMYRA interim director Barry Threw. "Attacking previous culture sites and wiping them out is a means of control, a way to project power and to rewrite history in its favor," he says.
For Threw, the primary goal of the project isn't to someday rebuild the ruins, but to encourage new, creative interpretations. "We feel like we're releasing [the information] into the public domain, putting it in people's hands, and they're learning," he says. "That's equally as important as reconstructing this thing at its original site."
#NEWPALMYRA is inspired by the work of software developer Bassel Khartabil, a leader in the open-source community who was detained by Assad forces in March 2012, and whose current location is unknown. Khartabil began photographing the historic site in 2005 to create 3D virtual reconstructions.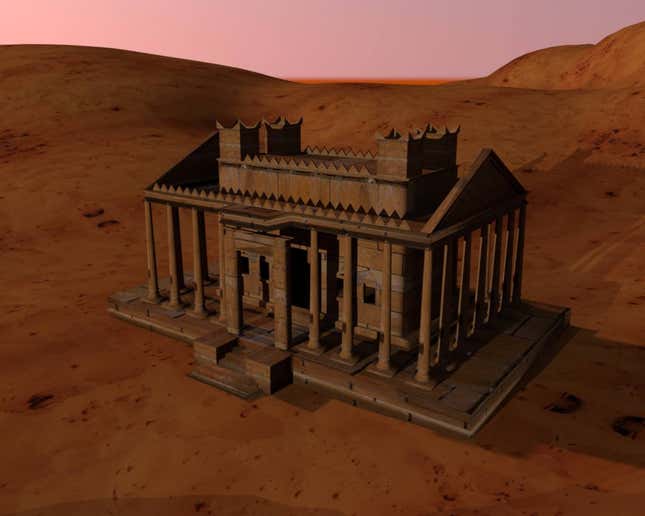 The organization has called for creative derivative works of the arches to be shared online. These will be displayed in an exhibition at Taiwan's Taipei Contemporary Art Center from Jan. 23 to Jan. 31.