What a great match these two products would make. Medium is an amazing repository of great writing—whose accumulating mass makes it untidy and increasingly difficult to manage. Nuzzel, on the other hand, is one of the cleverest engines able to extract useful signal from the social noise.
Last week, I spoke with Nuzzel CEO Jonathan Abrams. I wanted to write about his company, not for their numbers (still relatively low, about a million users), but because I kept bumping into people who, like me, use Nuzzel and love it. A lot. The praise is always the same:
…It's great. It scans my Twitter feed for me. It saves me a great deal of time. I no longer miss anything important. It provides me personalized stuff.
And above all: "…It sends me relevant information."
This is why Nuzzel shot up into my top five apps, and my two or three apps for news, a meaningful score. A Monday Note survey (still open) of the daily use of mobile apps shows that 41% of users look at only two news apps or less, while 82% look at five news apps. Call it the new definition of a long tail.
Why are people so fond of Nuzzel?
For one, Nuzzel embodies an emerging trend in the news distribution business. A trend that rides on keywords such as personalization, relevancy, and respect for users—on top of universal prerequisites such as interface simplicity and speed.
Among the media still built on originality and uniqueness of content, survivors will be the ones able to establish a direct, personalized relationship with their readers. That won't be the case for those who elect to churn out commodity information—sometimes cleverly, with large but volatile audiences.
And that's the type of bond Nuzzel is about.
Nuzzel's CEO Jonathan Abrams is no spring chicken. He started in 1996 as a software engineer at Netscape, then became a serial entrepreneur with HotLinks, Friendster, and Socializr. He's also a cofounder of Founders Den, a cool coworking space/clubhouse for tech entrepreneurs.
As Jon explains, the idea for Nuzzel finds it roots in the classic hassle of information overload:
It started with the RSS feeds. I was getting sick of being swamped by it. Then came Twitter. Again, no time for this: you leave for a couple of hours, and you are missing things… That's how I got this idea of a personalized tool to deal with that [deluge.] I first thought that Flipboard or Zite would build it, but they didn't…
The first web-based prototype was launched in 2012. The iOS and Android apps came two years later.
Nuzzel works as a social voting system. You connect your Twitter account, and it will pore over what your 'friends' are sharing. Once a threshold of sharing is reached, the document is made available to you on the web, in the app—with or without notifications—and in a bespoke email. The system goes even one step further by surfacing documents selected from 'friends of friends.' See below: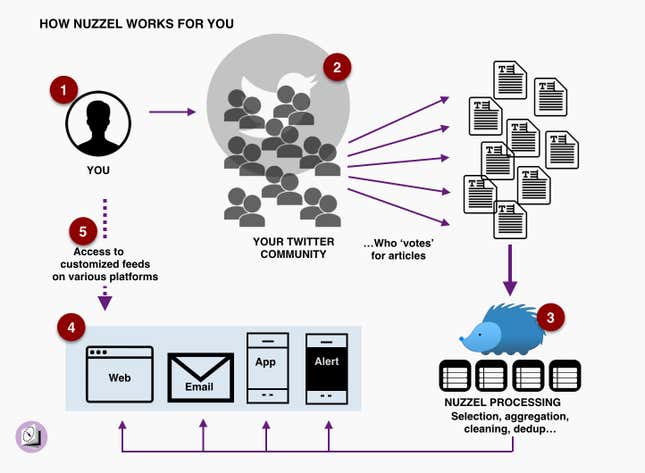 Nuzzel is designed to avoid swamping its user. The alert trigger on the mobile app is adjustable from three to 25 community 'votes,' with a default value of six. The maximum number of daily alerts for the app ranges from one to 25, with a default of five. These modest values show how customer's patience is a concern for Nuzzel's team. It's certainly not alien to the application's popularity.
Technically, like many great products, the complexity lies hidden under the hood. Jonathan Abrams:
Nuzzel is certainly not a simple product to build. The core of the system is simple: social voting, no other criteria. People thought we were using some machine learning system, but we don't. Then, things get very complicated. As always, the devil lies in the details. We need to simultaneously follow thousands of URLs to see where they redirect; then we aggregate, do the deduplications, etc. We have to cope with what is often wrong on the web such as different URLs pointing at the same document. Plus, we manage a lot of data. Since the beginning, we surfaced about 50 millions stories, which means processing hundreds millions of URLs, and billions of tweets. And we need to do that fast. We can't have readers waiting a couple of hours to get a story after it was shared by their community. We rely on parallel processing to do just that.
Based on this robust architecture, Nuzzel keeps iterating. A few months ago, it came up with custom feeds (see the company's excellent blog for details), and Nuzzel's content can also be injected in Slack for business projects. Late February, it will be part of Google's AMP roll-out (see previous Monday Note).
But for Nuzzel, the major leap forward will be to grow outside the Twitter ecosystem. Jonathan Abrams wants its product to be used without having to connect to a social network. Through the discover feature available on the website and in the app, users can already subscribe to a number of preset feeds covering topics with a good level of relevancy.
Regardless of its remarkable execution, Nuzzel can only be as good as the corpus it draws from. This explains why the system tends to harvest documents that are often too mainstream, while we would aspire to get a more serendipitous selection.
The need for a "serendipity engine"
Hence the half-joking reference to Medium mentioned in the headline.
I will discuss Medium in a future Monday Note. For today, I'll just say I find Medium one of the moment's most interesting editorial experiments. There, I read pieces that can't be found elsewhere, often written by "unknown experts." The only problem is the difficulty in unearthing nuggets from an ever growing mountain of rubble.
That's why I'd love to see Nuzzel's ability to surface content in a qualified fashion applied to Medium's corpus. I can't foresee a better service than the one able to collect for me writings, authors, topics, angles, and treatments that I don't know exist—but that a clever community will collect for me. Such a "serendipity engine" would be a killer editorial product able to effectively mine the hidden but brilliant long tail of publishing. (In passing, Medium would have no trouble injecting its neat design principles into the Nuzzel's website that looks like the intranet of a Scandinavian clinic.)
For now, Nuzzel, Inc. is a small operation manned by only six people, driven by passion, and sparsely spending a modest but sustained funding provided by several news media. Far away from the gloss and glitter of aspiring unicorns, this startup quietly implements its strategy, one step at a time.
But Nuzzel is up for global domination. Seriously. According to its CEO Jonathan Abrams, the mobile application on which he built Nuzzel's reputation is almost anecdotal. (Despite my known persistence in asking the same questions in multiple ways, he stubbornly but nicely declined to give me specifics on Nuzzel's reach.)
In fact, Abrams' big bet is email.
"Email is the only thing to be genuinely cross-platform," he says. If Nuzzel were aiming at Flipboard's user base, he'd be talking of dozens of millions people—at most. "If we wanted to go after Twitter's audience, we would be talking about a hundred million people. With email, we are aiming at billions of customers." Big, quiet, ambition.
This post originally appeared at Monday Note.