It's now been a little over three months since McDonald's introduced all-day breakfast—the menu addition that customers had long clamored for—across the US.
And were there any doubts about the magical powers of the Egg McMuffin, just-released fourth-quarter results from the burger giant should be quashing them.
McDonald's said Monday (Jan. 25) that sales at stores open for at least 13 months jumped 5.7% for the quarter ended Dec. 31. That's the best US same-store sales figure the chain has reported in almost four years. Shares opened up nearly 3%, and were hovering around $120, near an all-time high, as of early afternoon.
"All-day breakfast was clearly the primary driver of the quarter," Steve Easterbrook, McDonald's CEO, told investors on a post-earnings conference call. "We knew it would be."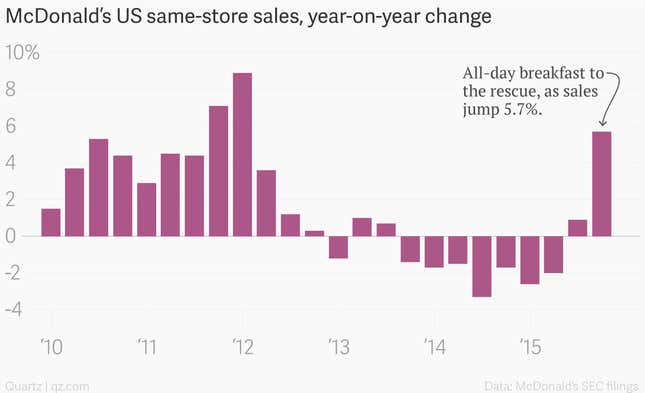 The strong US results are a crucial affirmation for Easterbrook, who has now spent the better part of a year attempting to rebrand McDonald's as a "modern, progressive burger company." When Easterbrook took the reins last March, McDonald's was in a grim state. Sales had plunged. Workers were protesting. Ronald McDonald had gotten a terrifying makeover. Defeat was palpable. The signature "I'm lovin' it" slogan was tweaked to "lovin' beats hating'."
Under Easterbrook, McDonald's has dramatically changed course. The chain has pushed out a slew of initiatives designed to make its fast-food offerings appeal to health-conscious and sustainability-minded consumers. Those are the same consumers who, in recent years, have gravitated to fast-casual chains such as Chipotle and so-called "better burger" retailers like Shake Shack and Five Guys. McDonald's is trying to bring back some of those customers with commitments to things like cage-free eggs and reduced antibiotics in chicken.
That said, the single most important change McDonald's made wasn't about any of those values. It wasn't about "fresh" or "healthy." All-day breakfast was simply about giving the core customer something they really, really wanted. And it's working.