For public colleges and universities across the US, state funding is a critical lifeline—and one that in the past typically far outpaced federal investment. But the recession forced many states to slash the amount of money they put in higher education, one of the largest categories in most state budgets. This tightening left many students and families struggling with college costs.
The good news is that trend appears to be slowly reversing. On average, state spending on higher education increased a respectable 4.1% between the 2015 and 2016 fiscal years.
But while some states are boosting education budgets by double-digit percentages (Oregon by as much as 16% in the last year), others are still making steep cuts. Over the past five years, spending on higher education in certain states has decreased by as much as 27%.
These figures come from the 2016 Grapevine report, out Monday (Jan. 25), a yearly survey conducted by researchers at Illinois State University and the State Higher Education Executive Officers Association, an educational policy group. The report defined education spending as any money set aside for operating colleges and universities, financial aid, scholarships, and other state programs, and it didn't count any federal sources or student fees. Data from all 50 states were included in the analysis, with the exception of Illinois and Pennsylvania, whose governments have not yet released up-to-date figures.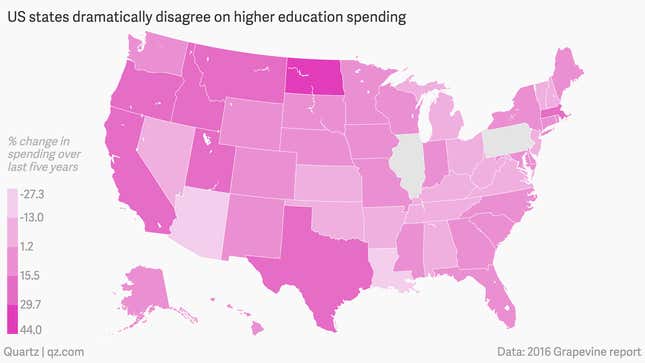 The US on the whole has seen a steady three-year rise in higher education spending since 2013. But, as the above map shows, not all states are putting money into education equally.
The variance is startling: Between 2011 and 2016, as North Dakota and Massachusetts poured a respective 43% and 23% more into education, Arizona and Louisiana slashed their budgets by 27% and 25%. Most other states made modest increases, with the average change over the five-year period being a hike of 7.4%.
Between fiscal 2015 and 2016 alone, Oregon made the biggest recommitment to higher education spending, raising its funding by a solid 16% compared to the previous year. On the other hand, Arizona—which routinely clocks in at the bottom of national state-by-state education quality rankings—made a cut of 14%.
The US's 4.1% overall increase in higher education spending this year "suggests an ongoing, albeit slow, recovery in many states from the losses experienced in the wake of the last recession," the Grapevine report optimistically notes. But the keyword here is "slow." It'll be a while yet before education budgets across the board bounce back to what they used to be.