Too often, when a sportswear brand has released a women's sneaker, it's been a retrofit of something originally designed for men. "Shrink it and pink it" is the industry term.
But some companies are finally starting to recognize that women represent a huge missed opportunity for sales. In the US, the world's largest sportswear market, for instance, women outnumber men among those finishing races, and have since at least 2010, according to Running USA.
This year, Adidas aims to capitalize on the female runner. On Feb. 1, the company launches a new running sneaker designed purely for women, the PureBoost X. It's the culmination, Adidas says, of three years of research on women's feet. "This is going to be a big year for Adidas and women's," Kelly Olmstead, Adidas's senior director of marketing, tells Quartz. "But this really is the crown jewel in our efforts to connect in the first half of the year."
So how is it different? In the middle of the shoe, where the arch of the foot is, the upper is completely detached from Adidas's popular Boost sole. The reasoning, according to Mikal Peveto, Adidas' design director for running, is to make the sneaker as flexible as a woman's foot.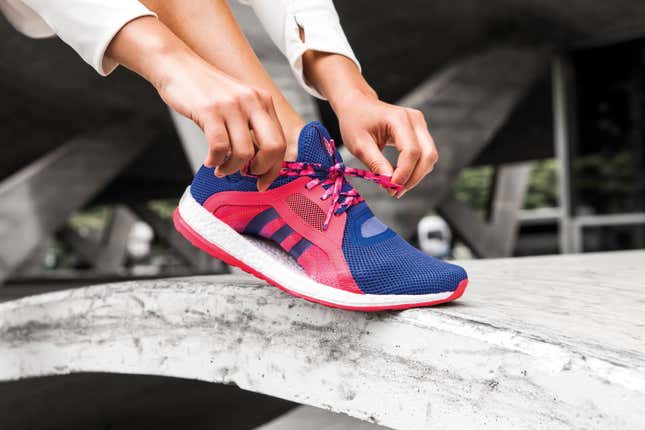 To look at exactly what's going on during running, the company used Aramis, a motion tracking technology used to analyze stress on the wings of planes. A runner's foot will expand up to a centimeter as it hits the ground and comes up again, and Peveto says that movement tends to be more pronounced in women's feet.
"The tendons and ligaments are actually more flexible themselves," he tells Quartz. "The arch, because it's more flexible, will have more movement. That inspired this idea."
Adidas believes the design makes for a shoe that's incredibly comfortable, which is important in a running shoe, if not actually more supportive. Peveto says the support happens on a "proprioceptive level," meaning it's perceived, almost like a placebo. The $120 shoe wraps snugly around your arch, making it feel supported.
Some customers may feel shortchanged that there isn't more actual structural support. Adidas, however, says in its numerous conversations with female athletes, the support they wanted was an arch that feels good, and that's what it delivered.
Another top priority for women was sneakers that look great, and make their feet appear slim and not too long. Two weeks after the PureBoost X launches, Adidas will also release a $170 model created with fashion designer Stella McCartney.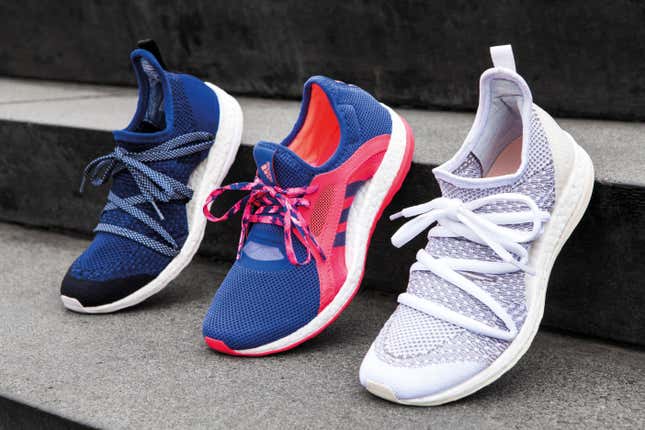 While brands from Lululemon to Gap battle to sell women workout gear, running sneakers may offer a particularly good opportunity for growth. In 2015, brands sold $1.7 billion in the women's running shoes, compared to $2.2 billion for men, according to research firm NPD Group. The men's running market also grew more—4%, versus 2% for women's. Yet as the race numbers show, women appear to run more. There's no reason sales of women's running sneakers shouldn't be higher. 
Nike has realized as much. It's ramped up efforts to target women, and is even launching an eight-part original series to do so.
Adidas kicked off its campaign for women at the end of last year, and Olmstead says female athletes will be the face of its brand campaign in the first half of this year. The PureBoost design should eventually make its way into other Adidas products, but for now, the company has no plans to work it into men's sneakers. It's women's only.