A lot of the time, movies about world leaders only get made after politicians have kicked the bucket. But wouldn't it have been interesting to hear Gandhi's thoughts on being played by the British Ben Kingsley, or Richard Nixon's opinion of Anthony Hopkin's menacing interpretation?
So, in the hopes of grabbing the attention of some enterprising filmmakers, Quartz has come up with a list of dream castings for the leaders who dominate international politics today. Unfortunately, both politics and Hollywood lack diversity—and so this list does, too.
Larry David as Bernie Sanders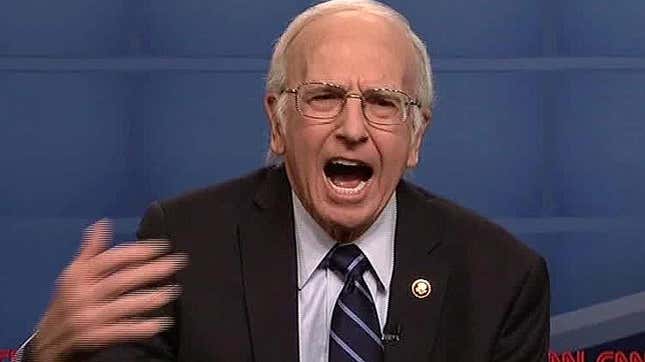 The famously curmudgeonly Larry David is clearly Sanders' brother from another mother. This has already happened, thank goodness. So what about:
Christopher Lloyd as Bernie Sanders—or, Bernie Sanders as Emmett "Doc" Brown
Lloyd may have more hair, but both men have the same wild gaze as they stare into the future.
Steve Higgins as François Hollande
Comedy writer and Tonight Show announcer Steve Higgins is a whole three inches taller than the president of France. (We know this because we routinely look up French presidents' heights, as everyone else does, apparently.) But their resemblance is uncanny. All Higgins needs to pull off the role is a pair of rimless glasses and the ability to tap into the psyche of a president whose unpopularity is without parallel. Et voilà.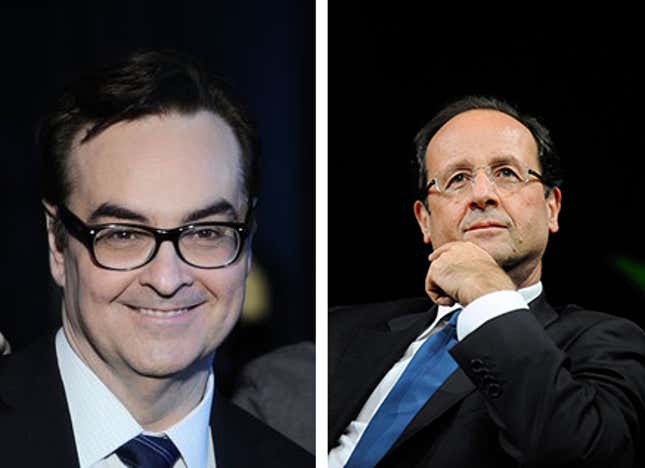 Ryan Gosling as Justin Trudeau
True, Ryan Gosling does actually not look much like Justin Trudeau. But between the wildly popular Feminist Ryan Gosling meme and Trudeau's Davos declaration that "We shouldn't be afraid of the word 'feminist,'" they're neck and neck in a lot of women's fantasies.
So dreamy.
Kate McKinnon as Angela Merkel
Kate McKinnon's resolutely joy-averse version of Merkel on Saturday Night Live captures the German leader's businesslike spirit. McKinnon makes an excellent Hillary Clinton too, but it's no fun to book the same person for two roles.
Which bring us to:
Meryl Streep as Hillary Clinton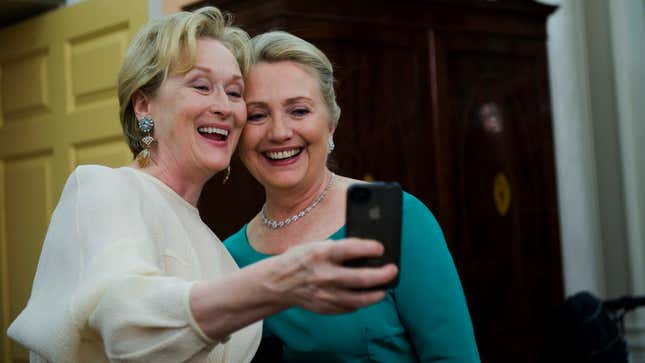 The duo already appear to share the same hair stylist, and both project an aura of down-to-earth authority. Plus, Clinton has already said she'd want the Streep to play her in a movie. (And who wouldn't?)
Leonardo DiCaprio as Vladimir Putin
Just kidding. While DiCaprio has expressed an interest in portraying Russia's president, we believe he's not quite hollow-cheeked enough for the role. As a consolation prize, perhaps he could star in a historical biopic about his true Russian dopplegänger: Vladimir Lenin.
But don't worry we've got Putin covered, too:
Mads and Lars Mikkelsen as Vladimir Putin
One actor might not be enough for Putin. Given his predilection for playing with ferocious animals, it might be wise to cast two men to play His Manliness. With this in mind, who could be better than the steely-eyed Danish brothers Mads and Lars Mikkelsen? Mads has plenty of experience playing villains, and Lars already played a character based on Putin–the subtly named "Viktor Petrov"–on House of Cards.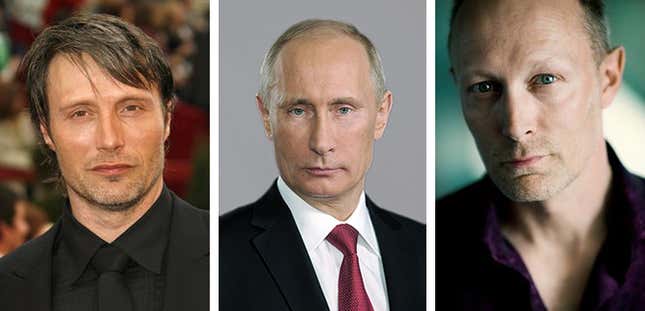 Colin Firth as David Cameron
If he put on some pounds, Colin Firth could be David Cameron. But would he want to? Firth is a gentleman who extols the virtues of "courtesy and empathy." David Cameron callously referred to Syrian refugees who risked their lives to flee the civil war in their country as a "bunch of migrants."
Betty White as Queen Elizabeth
As the reigning queen of Americans' hearts, Betty White has the ideal qualifications for a regal role. What's more, the royal family's affinity for White goes way back: the Queen Mother was such a big fan of Golden Girls that she brought in the cast for a live performance in 1988.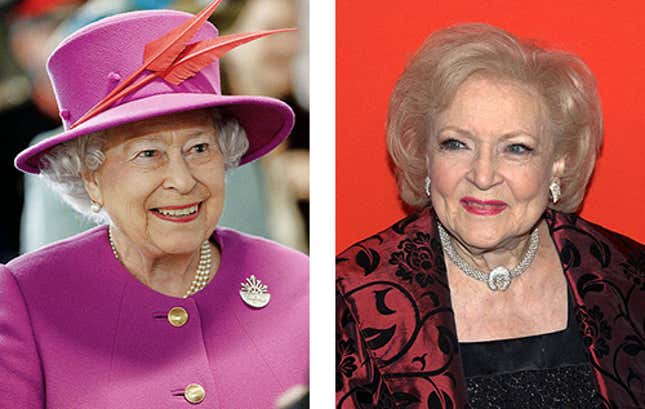 Emma Thompson as Dilma Rousseff
The two look somewhat alike, but this choice is motivated mainly by the fact that Emma Thompson could pull off a head of state in her sleep. We reckon she could run Brazil in real life if she put her mind to it, too.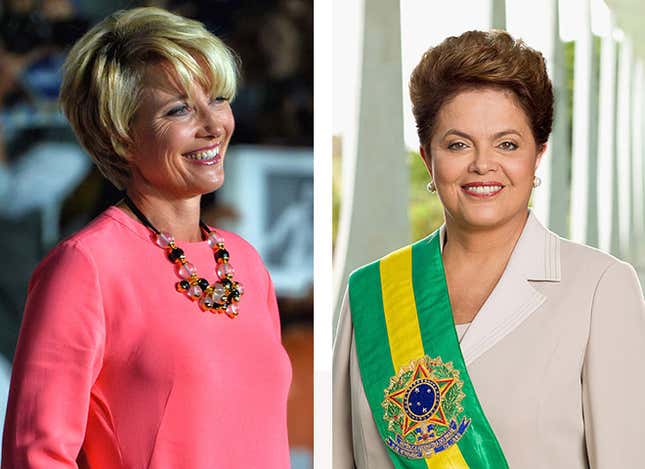 Maggie Cheung as Aung San Suu Kyi
Compiling this list made one thing clear: both film and politics have serious problems with race and gender diversity. Finding women in positions of political leadership was challenging. When they weren't Caucasian, finding actresses to portray them was equally difficult. When it came to the newly elected president of Burma, Aung San Suu Kyi, we were shocked by just how limited our choices were. We settled for Hong Kong actress Maggie Cheung, who's not a lookalike but certainly has the gravitas to portray the Nobel Peace Prize winner.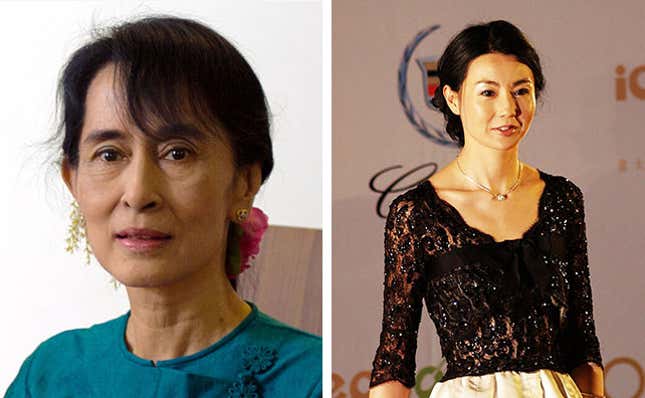 Charlotte Gainsbourg as a young Michelle Bachelet
Chilean president Michelle Bachelet has French, Swiss, and English ancestry. Perhaps this is why we think Charlotte Gainsbourg, daughter of English actress Jane Birkin and legendary French musician Serge Gainsbourg, would bring feisty intelligence to the role.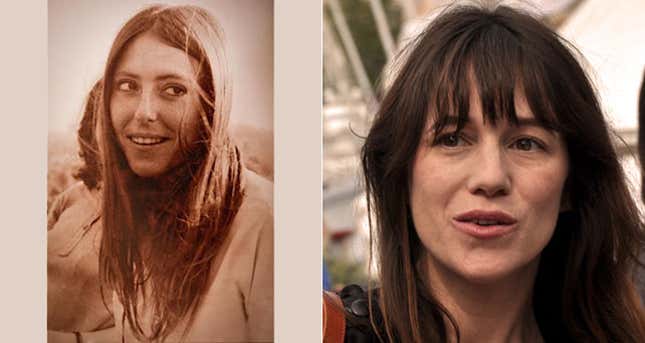 Anika Noni Rose as Michelle Obama
Not only does Anika Noni Rose have the First Lady's high cheekbones, both women are accustomed to making history.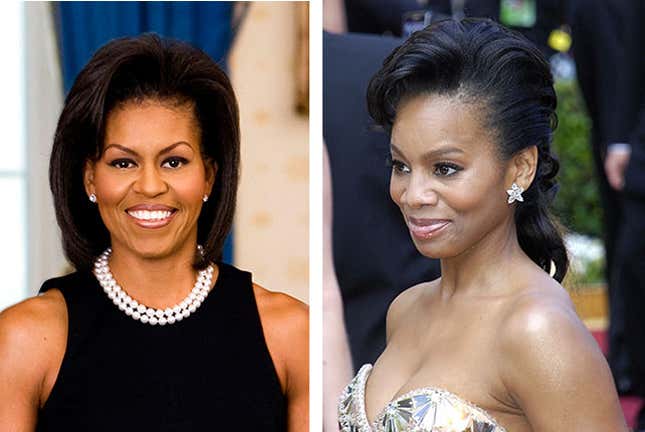 Barack Obama as Barack Obama
As his appearances on "Running Wild with Bear Grylls" and Jerry Seinfeld's web series have made clear, the president's got plenty of screen presence.