It was a weird surprise when Amazon unveiled Echo, an internet-connected speaker that listens and talks, in late 2014.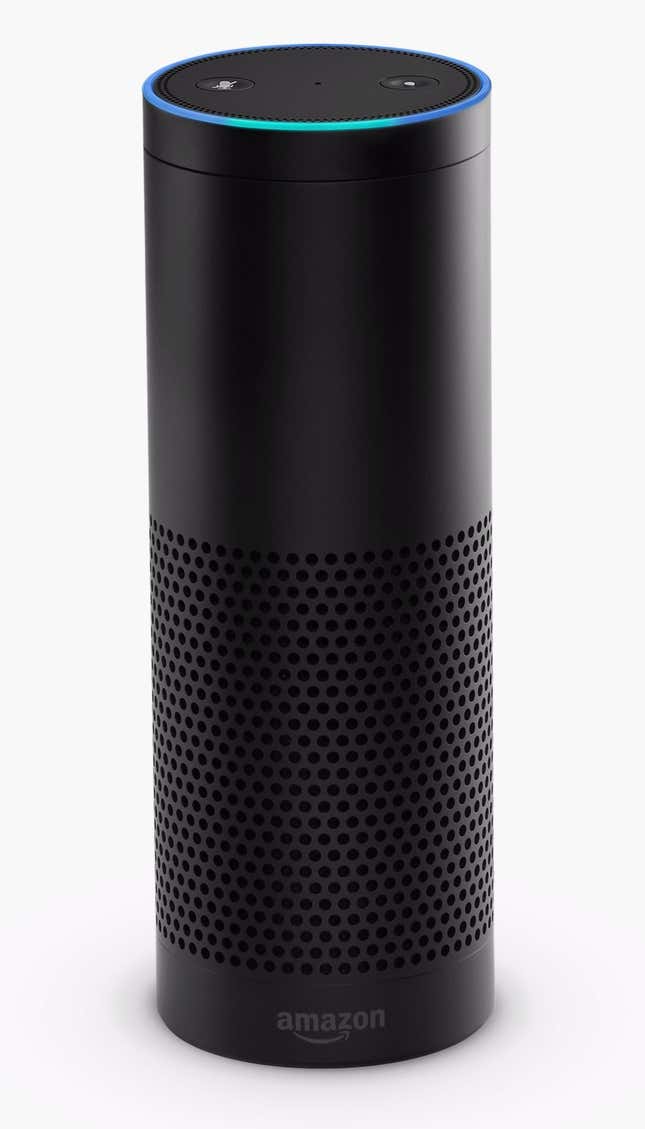 Amazon's track record creating hardware had been inconsistent. While the Kindle e-reader was a long-time success and its Fire TV streaming media device was looking good, the long-anticipated Fire Phone was already an obvious, expensive flop. The company had mostly focused on screens and visual content: books, video, and apps.
Echo, an always-on, $179 speaker with a talking, female virtual assistant named Alexa, seemed like a strange follow-up. "Well this one came out of nowhere," The Verge's Chris Welch reacted at the time. Amazon touted early Echo features like setting alarms, weather forecasts, converting teaspoons into tablespoons, or managing to-do and shopping lists. It worked as a Bluetooth speaker, but was also a kitchen helper you didn't know you needed.
More than a year later, Echo is still pretty curious—in a good way. It has steadily received updates that add useful new features, from entertainment to utilities. And it feels like a sleeper hit that could potentially break through to the mainstream.
Just this week, Spotify began supporting Echo for its music service, and Uber added the ability to request a ride just by asking, "Alexa, order me an Uber." These come in addition to integrations that allow you to control smart lightbulbs in your home, restock on previously purchased Amazon Prime items, and trigger events that use the IFTTT automation service. These aren't universally essential household tasks yet, but they're neat, and on the rise.
It's tough to gauge how well Echo is selling. Amazon famously doesn't disclose sales figures for its devices. Echo is currently the fourth-best-selling electronics device at Amazon, behind two versions of the Amazon Fire TV stick and its $50 Fire tablet. On Black Friday, when Amazon offered a $30 discount, Echo was the no. 1 best seller across all products on Amazon that cost more than $100, according to the company.
Slice Intelligence, a firm that tracks online receipt data from more than 4 million US consumers, says Echo sales increased significantly during the holiday shopping season, "with the expansive growth happening particularly during the Black Friday/Cyber Week period." (It should come as no surprise that many early Echo adopters are among Amazon's best customers. Echo buyers made an average 86 Amazon item purchases in 2015, more than three times the average Amazon shopper, according to Slice.)
Amazon lists more than 31,500 reviews for Echo, with two-thirds rating it five stars (of five possible stars), and just 6% rating it one or two stars. People generally seem to either love it or be frustrated by its limitations. One lengthy review, "The Echo has become the most used appliance in our home," has been upvoted more than 10,000 times and has 285 comments. Its top complaint is that the Echo isn't portable; Amazon is reportedly introducing a smaller, battery-powered version soon, although it won't always be listening for ambient voice commands, which sounds like a significant drawback.
The idea of talking to gadgets in your home that feature artificial-intelligence-powered assistants is still in its early days, but it's an easy trend to spot. On various devices, Apple has implemented its Siri assistant, Google has Google Now, and Microsoft offers Cortana. Compared to those companies, Amazon still seems an unlikely challenger. But Echo is starting to look like the most elegant consumer product of the genre, at least for the home. Amazon's foresight and execution has been impressive, especially in partnering with other products and companies.
Next, Amazon is taking the Echo to the Super Bowl. This weekend, the company will air its first-ever Super Bowl commercial. As Quartz's Ashley Rodriguez described:
In a teaser released by the company…actor Alec Baldwin and football legend Dan Marino brainstorm ideas for what promises to be an epic Super Bowl bash complete with snacks, cheerleaders, and a five-star chef. But the Amazon Echo steals the show, as Alexa, the system's artificial-intelligence personal assistant, jumpstarts planning for the shindig.
For millions of Americans, this could be the first time they've seen or heard of Echo and Alexa. It will be interesting to see the response.
For Amazon, it's easy to see the power of owning the device and platform that people use to control their homes and outsource simple tasks, including shopping. (Especially for an e-commerce company that's also exploring other simple ways to help people stock up on toilet paper, laundry detergent, and snacks, and is increasingly focused on speedy deliveries.)
So in hindsight, Echo isn't that weird at all—it's brilliant. Now it's a matter of selling the concept to the masses, many of whom might still be skeptical of—or creeped out by—an always-on microphone on their kitchen counter.