The streaming media device Amazon unveiled today was, inside the company, codenamed Bueller—a reference to Ferris Bueller's Day Off. And for a while, as competitors from Apple to Netflix staked out formidable positions in home entertainment, Amazon's own tentative steps into the living room evoked the movie's famous line, "Bueller? … Bueller? … Bueller?"
Fire TV is a strong response.
The small box, which plugs into the back of television sets, can be used to watch movies and TV shows with services like Netflix, Hulu, and Amazon's own streaming service, Prime Instant Video. It's also a lightweight gaming console. At $99, the Fire TV competes with other plug-in boxes like Apple TV ($99), Google Chromecast ($35), and various Roku devices (starting at $50). But more than anything, it says that Amazon really is serious about competing for a spot in front of your couch.
The company made its ambitions plain at its New York event, which was outfitted like a very comfortable living room. The smell of popcorn wafted in the air.
Coming from behind
Amazon starts from a weak position. Netflix, with more than 44 million subscribers worldwide, is the undisputed leader in streaming video. By one estimate, it controls 89% of television viewing among on-demand subscription services. The closest competitor is Hulu Plus, with 10% (and more than 5 million subscribers).
At first glance, it's not entirely clear why this should be. Amazon Prime Instant Video is well stocked with content. It's the only subscription service in the United States with coveted children's programming like SpongeBob SquarePants and Dora the Explorer and highly regarded dramas like The Americans and 24. In a new Netflix ad, six of the eight movies and TV shows highlighted were also available on Amazon Prime.
But the reality is people don't identify Amazon with television. The sprawling e-commerce company doesn't generally prioritize its media offerings—did you know Amazon sells music?—and has struggled to compete in the shadow of Apple's dominant iTunes Store.
Most people pay the annual subscription to Amazon Prime—$99 a year in the United States—for the feature it offered first: unlimited two-day shipping on many goods. That it also comes with a library of streaming video is, at best, a bonus. Some analysts question whether Prime subscribers are even aware they can watch so much content. Until today, it was easy to miss.
The Prime advantage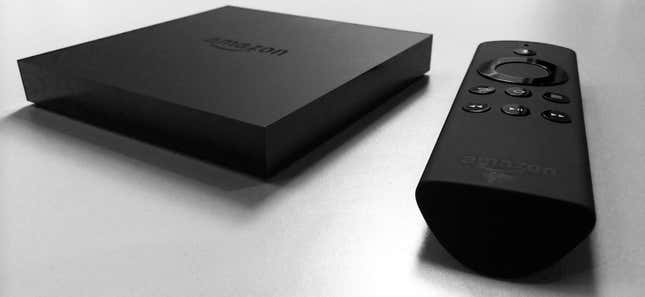 Fire TV might be a success if it merely introduced Prime Instant Video to more of the roughly 25 million existing Prime subscribers in the US. Those people would presumably see greater value in their subscriptions and be more likely to renew. An army of satisfied customers may be the most effective marketing for Prime Instant Video in the long term. (Netflix costs about the same, $96 a year, and doesn't come with free shipping on bathroom towel racks.)
A box alone won't solve all of Amazon's problems in the living room. In fact, pricing the Fire TV at $99, at the high end of streaming media devices, will keep it out of a lot of homes. But it gives Amazon a potential advantage over Netflix, which offers streaming video but has no device of its own, and Roku, which makes devices but doesn't compete well selling video. (Once upon a time, Roku was developed by Netflix and then spun out of the company.)
As both a hardware and software maker in home entertainment, Amazon now most closely resembles Apple, which has its own large ambitions for television. The difference is that Apple TV works best for people who own other Apple devices and prefer to buy video from iTunes. Amazon, by contrast, emphasizes that it isn't a "closed ecosystem." The Fire TV's interface attempts to fully integrate content from Amazon's competitors.
Transparent
could be Amazon's
House of Cards
In an attempt to stand out from the others, Amazon is emphasizing all the movies and TV shows to which it has exclusive rights. (Hulu, not to be outdone, announced some of its own exclusive content in the middle of Amazon's press conference today.) Amazon is also investing heavily in its own original programs, including the mediocre political comedy Alpha House. But it hasn't yet found a buzzy hit like Netflix's House of Cards or Orange Is the New Black, which have won awards and brought in new subscribers.
Amazon's new slate of programming could change that. It just ordered full seasons of six new shows, and early reviews of their pilot episodes have been very positive. One, in particular, has the potential to attract Netflix-like attention: Transparent is a dark comedy, starring Jeffrey Tambor as a transgendered father of three adult children. Its pilot, which Prime subscribers can watch now, is an extraordinary half-hour of television.
Amazon is playing games
The other thing that could give Amazon an edge is that Fire TV is made for video games, not just movies and TV. It's positioned as a cheaper, less powerful alternative to full-fledged gaming consoles like Microsoft's Xbox and Sony's PlayStation.
Only time will tell if the Fire TV can compete well among casual gamers. The next version of Apple TV is expected to emphasize gaming, as well. But as living-room devices proliferate, Amazon is smart to offer something that can satisfy a range of entertainment needs.