Chipotle stores across the US are closed today until 3pm local time as the company convenes an all-staff meeting on food and safety. The meeting is one of several steps Chipotle is taking to revitalize its operations after a series of health scares that devastated sales in the fourth quarter. Per Chipotle's Twitter feed, which is sending out live updates, executives are reiterating commitments to local farmers, in-store safety, and taste.
But let's get to the more important point: This afternoon only, Chipotle is also giving out coupons for free burritos.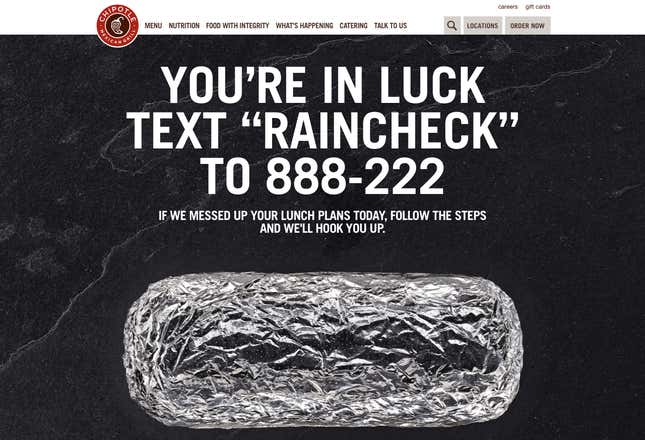 To make good on this offer (which you can also use for a burrito bowl, salad or order of tacos), follow the steps above. That is, text "raincheck" to 888-222. You'll receive a link to a page that asks for your name, email, and zip code. Submit that, and Chipotle says it will text you soon with a coupon for a free item. The fine print: you can only enter until 6pm ET, and "first come, first served, subject to availability." In other words, no promises, but you might as well try?
By the way, the US Centers for Disease Control and Prevention declared Chipotle's E. coli outbreaks officially over last week. So go ahead, enjoy.