Never ones to stop innovating, more and more beer brewers are capitalizing on brand interest, making use of surplus raw materials, and scratching a persistent creative itch by distilling craft spirits—and it's no passing fad.
In fact, Anchor Brewing Co. of San Francisco, CA, has been distilling since as far back as 1993. When former Anchor Brewing owner Fritz Maytag asked Bruce Joseph—a brewer with the company since 1980—to become Anchor's first ever master distiller, Joseph was thrown into the fire without a handbook. "Fritz's philosophy was, 'We'll get a still and start working on it,'" describes Joseph of his boss' can-do attitude. "And so we brewers distilled a lot of stuff that got thrown away."
Joseph describes Maytag's progression from interest in beer to rye whiskey as "natural," concluding that, "if you're in the beer world, and you enjoy real flavorful beers, then you might have some interest in whiskey." But perhaps more importantly, Maytag is also a notorious nonconformist. "When we finally started to put together the distillery, rye whiskey was just incredibly unpopular," mentions Joseph. "And Fritz never liked to do anything that had become popular."
Indeed, when Maytag first "had a vision…in the early seventies" of someday making rye whiskey, the spirit that had preceded bourbon was very much out of fashion. And thus, when Anchor launched Old Potrero rye in January of 1996, it became the only copper pot-distilled whiskey in the US. Since then, Anchor has developed half a dozen other unique spirits, including three different gins: Junípero (a classic London dry gin), Genevieve (a Genever-style gin), and Old Tom (a sweeter gin distilled with stevia).
Sam Calagione, owner of Dogfish Head Brewery in Milton, Delaware, would embark on a similar endeavor a few years later—but Calagione was driven by his love of experimenting with bold, intriguing flavors more than anything else. "When we opened in 1995, our foundational premise was to be the first American craft brewery focused on considering all culinary ingredients from around the globe as potential [beer] ingredients…. Everybody thought we were crazy." However, when craft beer fans and media alike began tipping their hats to Dogfish for its creative interpretations of beer styles, Calagione reasoned that he could apply the same ingredient-focused approach to distilling, too. And by 2002, Dogfish had released several food-infused spirits, including Brown Honey Rum and Peanut Butter Vodka.
Neither Dogfish nor Anchor got into distilling because beer sales were dwindling—quite the contrary. Breweries only tend to branch out when business is strong. As beer continues to boom, other breweries have begun distilling, too: Michigan's New Holland Brewing got into the game in 2005, followed by Oregon's Rogue Ales in 2006. And although it took brewing veteran Ballast Point Brewing Company of San Diego, CA, until 2008 to get into spirits, its recent explosive growth (the brewery produced 277,000 barrels in 2015—more than double its output in 2014) means that the company can now focus more on distilling.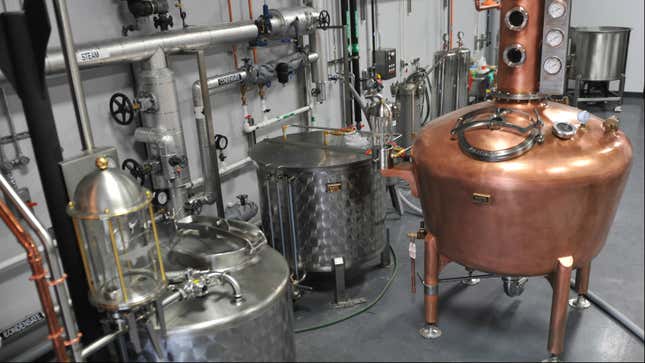 In Ballast Point's case, the decision to dive into distilling was spearheaded by COO and Head Brewer Yuseff Cherney, who, like Bruce Joseph, thinks of the desire to distill as a natural progression for any brewer. But the company didn't have any excess profits to buy a still back in 2008. "So Yusef's response was, 'Don't worry about it: I'll build one,'" explains Earl Kight, Ballast Point's Chief Commercial Officer. "Yusef took a seven-barrel beer fermenter with his buddies, they flipped it upside down, and made a custom column, condenser, and a water filtration system."
In fact, despite all of the success that these breweries have had, not one initially had bags of extra money lying around to spend on shiny new distilling equipment. "I saw this chunk of metal at the scrap yard that we used to go to buy our fittings and piping for our brewery," describes Calagione of the mud-caked, giant cone-like structure that would eventually become Dogfish's first 180-gallon pot still christened "Frankenstill." And Bruce Joseph admits that Anchor had to assemble stills from various sources to keep costs low. "Our two whiskey stills were kinda cobbled together: the condenser, the still top, and the pot were all made by different companies."
But Anchor will finally be getting a new still—the first made by a single producer—to expand its distilling capabilities. "The way we're set up now, we fill a little less than five barrels [of whiskey] a week, but with the new still we'll double that." Such growth is long overdue—because the main focus of any brewery is selling beer, distilling is often treated more like a hobby, with more emphasis on experimentation and refinement than on production. "The distillery was like a small project that we were doing here that the brewery could support, until we got to the point where we had something that we liked ready to sell," confirms Bruce Joseph.
According to James Montero, distillery manager of Dogfish Head, this craft spirit philosophy differs from the system he was operating under at Diageo, his former employer and the world's largest producer of spirits. Montero has an interesting perspective to offer a company as grassroots and fiercely independent as Dogfish, and has plenty to learn from Dogfish, too. "Unlike a large company where a marketer… creates ideas, we are a business that has its hands in the ingredients and in the process, so any new spirit ideas actually starts with Sam, the distiller, myself and our brewer." In exchange, Montero can contribute his expertise of trends, price points, and consumer behavior in the spirit space.
As a result, Dogfish has at last been able to upgrade its distillery. "We got some nifty Vendome stills from the factory down in Louisville, KY, in 2015," says Montero. "And the recipes that [Head Distiller] Graham [Hamblett] had been developing on the small still at the brewpub, we scaled up," he continues, referring to three brand new products: Whole Leaf Gin, Compelling Gin, and Analog Vodka, all released this past fall.
Similarly, Anchor was able to kick their distilling business up a notch when Preiss Imports CEO Keith Greggor and his business partner Tony Foglio bought the company from Fritz Maytag in 2010. As owners of an international liquor and beer importer, Foglio and Greggor had big plans for Anchor Distilling, and made changes right away. "Old Potrero had been in production since '92," says Greggor. "When we got there we found that we could sell every bottle—we just didn't have many bottles!" Greggor and Foglio immediately began expanding Anchor's distillation program.
Growth is exciting, but the fact that the brewers have complete control over the entire distilling process from start to finish is what really gets them fired up. "Every one of [our spirits] are made from scratch, on premise, where we're sourcing the world's best brewing grains from around the globe," beams Sam Calagione. "We're sifting the grains to make sure there's no dirt, we're pitching our unique yeast from our multi-million dollar in-house yeast laboratory… and then we're distilling our gins and our vodkas, intentionally leaving more flavor than the distilleries that choose to buy grain neutral spirits in bulk."
Not only are these almost-farm-to-table liquors crafted on brewery property with a brewer's mentality, they are made, in part, with existing equipment that Calagione and his team are very comfortable with, which saves time and makes for a better product. "A lot of the infrastructure was already in place, like refrigeration and boilers," explains Montero. The early steps of distilling—mashing, fermentation, and yeast management, for example—are the same as in brewing. Vodka, gin, and whiskey can all start out as beer.
Calagione takes further advantage of this production overlap by ensuring his spirits are all infused with a beer brewer's DNA. "Even our technically 'unflavored' vodka has a fruity nose from our proprietary 'Doggie' yeast that we use to ferment the wash," he says. "And it has a subtle, nutty sweetness in the end that comes from unfermented sugars of the brewers grains." Meanwhile at Anchor, Bruce Joseph uses the house ale yeast from the brewery to ferment the mash for Old Potrero. "Fritz really liked the idea that it tied it to the brewery more, and it was a yeast that we were very familiar with," Joseph explains.
Dogfish Head has pushed its identity as a brewery even further to the forefront by actually distilling with beer-specific ingredients. The company can lay claim to the first hop-infused spirit commercially sold in America: Jin, which has been distilled with juniper berries, coriander seed, cucumbers, and whole-leaf hops since 2002. Anchor would follow suit in 2011 with its own fresh, grassy, hop-infused Hophead Vodka, and even began distilling with an actual finished beer. Sold only from early November to mid-January, Anchor's Christmas Ale has been brewed with a different recipe every year since 1975. The generally dark, spiced ale makes for a great base to distill into an herby, piney, white bierschnaps called Christmas Spirit.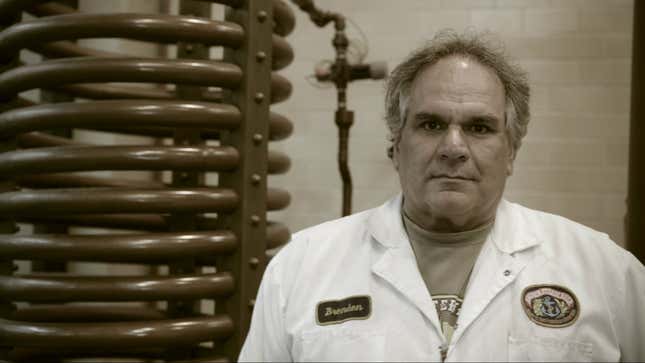 But before breweries start trolling junkyards for distillery parts, they need to consider the differences between selling liquor and beer. Anchor has the proper infrastructure to deal with two very different industries only because Greggor and Foglio divided up the company into distinct sectors. "Before, there was only Anchor Brewing Company, and Anchor Distilling Co. was simply a dba [corporate pseudonym] of Anchor Brewing," Greggor reveals. "Having the two companies… enables us to have specific routes to market." While the two businesses share financing, human resources, IT, upper management, and a supply chain, their sales and marketing departments are independent operations.
Having such an infrastructure is a huge advantage, and younger breweries looking to jump into the distilling game will meet certain challenges. Greggor says, "Their distribution network will be suboptimal for selling. You have a very complex, high-end portfolio as a spirits company—a beer wholesaler would have no idea how to get their head around it." Beer and liquor are regulated very differently, and complex distribution laws vary from state to state.
Ballast Point is learning this firsthand. "When you start taking [the beverages] out to retail, you're talking to two different buyers," explains Earl Kight. "We're very well-known [in the beer community] because of brands like Sculpin. [But] when we walk into a cocktail-centric account, and go, 'You might know us—we sell Sculpin,' they're like: 'What?' So you're starting from scratch all over again." Still, Ballast seems to be figuring out how to navigate these complicated retailing waters. "Most of the beer distributors have a spirits license, they just don't have it activated. So we've talked to some of them to activate their spirits licenses."
Ultimately, however, there's really only one multi-million dollar question when it comes to selling any product: Do consumers want it? James Montero of Dogfish Head thinks so. "Once you reach 21, you're on a journey of discovery in your drinking behaviors," he says. "If your tastes and your income level evolve, you move up the price ladder. I think what's happening with this current consumer base: they're more open to discovery, to flavor, and spending a little bit more to get something better. In general, that's what's driving craft beer, and people are discovering they can explore those types of things in their cocktails as much as they do in their beer."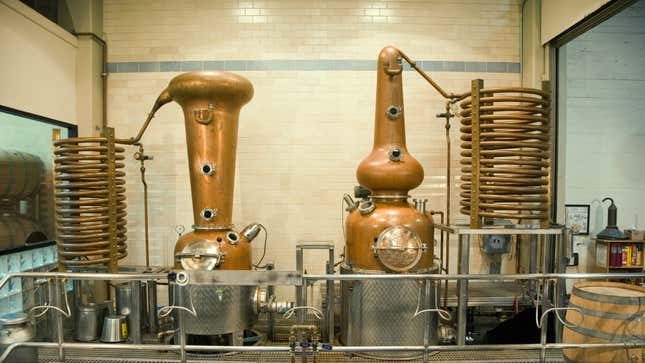 Some beer fans, however, have been more skeptical. Earl Kight says, "When we first got into it on social media, a lot of our fans were like, 'What are you doing, Ballast Point? Why are you guys making gin? You should just concentrate on making beer.' And our response was, 'Hey, listen: we're cross-drinkers!'" Ballast Point isn't alone: thanks to broadening consumer tastes, the craft spirits industry is arguably where craft beer was ten years ago, tentatively bubbling on the verge of a boom. "Sam started Dogfish in what we call the first wave of craft brewing, and… craft spirits are really in their first wave now," says James Montero, citing the well over 600 distilleries currently operating in the US today, up from just 70 less than a decade ago.
Meanwhile, the breweries with the most distilling experience will continue to expand in all sorts of arenas, taking ownership over craft food products, restaurants, and even the tourism space. Last year, Dogfish Head introduced the first full-service beer-themed hotel in the country—the Dogfish Inn—and is about to open Chesapeake and Maine, a seafood restaurant offering a rotation of draft cocktails made from scratch. 
So what's next for these indie brewers who are already well on their way to conquering the spirits industry? Barley-woven socks? Hop-soaked cigars? Whatever their next venture may be, many craft beer fans will likely be on board. They know that when made by passionate people with impeccable taste, artisanal goods are worth every penny. "Consumers often vote not just on the quality of the product," says Sam Calagione, "but on the leadership and ethos of the brand that makes it."