Come for the produce, stay for the … tattoos?
A new line of stores being rolled out by Whole Foods may host quirky local businesses like record shops and tattoo parlors, Bloomberg reported on Thursday (Feb. 11). The initiative is called "Friends of 365." It sounds like a joke, but you can read about it yourself on the company's website.
"We like to mix things up," the company writes. "Record shop? Tattoo parlor? Maybe!"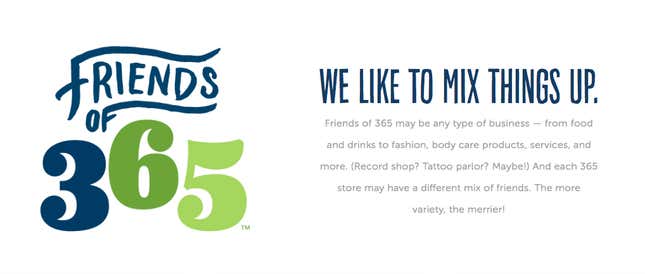 The new stores are called "365 by Whole Foods Market," and they've been designed with millennials in mind. Whole Foods is desperate to win back younger shoppers, and has said its 365 stores will put value first. They'll feature a "smaller more curated selection with excellent price points," co-CEO Walter Robb told Bloomberg on Thursday.
Close behind value is trendiness. Whole Foods knows that millennials have no shortage of grocery shopping options, so they need to differentiate 365 somehow. They've previously described the new stores as "hip," "cool," and "technology-oriented."
But describing is one thing and making good on it another. And nothing says hip, cool, and technology-oriented quite like a tattoo with your kale.