While the rest of America debates who to vote for in the presidential race this November, much of the US fashion industry has already made up its mind.
Democratic presidential candidate Hillary Clinton is the person it seems to collectively want in office, and a few top designers have offered up their services to create t-shirts for her. Clinton's website today (Feb. 18) launched its "Made for History" collection, featuring designs by Marc Jacobs, Tory Burch, and Dao-Yi Chow and Maxwell Osborne—the design duo behind New York's very hyped label Public School and the recent reboot of DKNY.
The site describes the line as a "limited-edition collection from fashion's biggest names, designed to help elect the first woman president of the United States, and Democrats from coast to coast."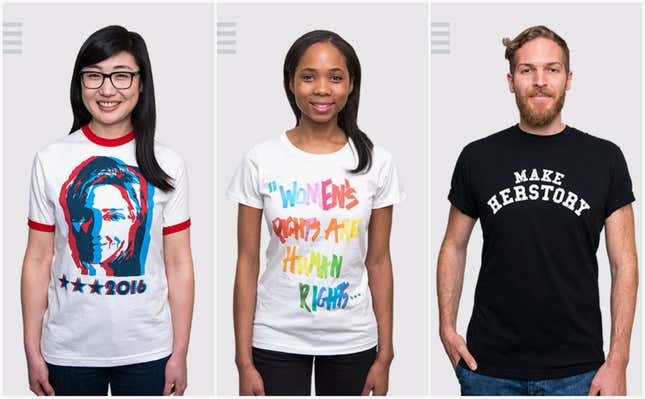 For months now Clinton has enjoyed public backing from a number of influential people in fashion, most notably Anna Wintour, the powerful editor of Vogue, who in the past marshaled support for Barack Obama's presidential campaigns. Wintour has hosted fundraisers for Clinton and expressed her confidence that the former secretary of state will soon be president. There's probably no better ally Clinton could have in the fashion industry.
Clinton's campaign is likely hoping the connection with fashion will translate into some support from young Democrats, who overwhelmingly support Bernie Sanders. "I know I have some work to do, particularly with young people," she said recently.
Presidential candidates have long used swag as a way to collect donations—and data—from their supporters. Some of the more colorful items from this year's campaign have included a $75 guacamole bowl offered by Jeb Bush's campaign, a limited-edition Ted Cruz Christmas sweater, and a Rand Paul beer stein. (Paul ended his presidential bid earlier this month.) Clinton's designer tees join other tongue-in-cheek items, including an 'everyday pantsuit tee,' cross-stitch throw pillow, and a drink can holder that reads, "More like Chillary Clinton Amirite?"
The three t-shirts in the collection, which cost $45 and all specify that they're "union printed" and made in the US, are apparently just the start. According to Vogue.com, more "designer merchandise" is expected in the months ahead.
In the meantime, the "Made for History" collection already has at least one well-known young, fashionable fan. Kendall Jenner, the model, TV star, and one-woman perfect storm on social media, posted a photo of herself wearing the shirt designed by Marc Jacobs on her Instagram and Twitter pages.