Photos from Europe's migrant crisis shook the consciences of citizens around the world last year, and the power of such images was reflected in the winners of 2016's prestigious World Press Photo awards, announced today, Feb. 18.
The photo of the year, by Australian photographer Warren Richardson, portrayed a man passing a baby through the barbed wire of a border fence between Hungary and Serbia. More awards were given to bodies of work portraying the struggle of refugees and migrants (including to Paul Hansen's Under Cover of Darkness, Sergey Ponomarev's images of Syrians arriving in Greece, Francesco Zizola's reportage on people crossing the waters between Libya and Sicily, Matic Zorman's portraits of children waiting to be registered at a refugee camp, and Bulent Kilic's reportage on the dramatic border crossing between Syria and Turkey.
One of the winners is Italian photographer Dario Mitidieri's Lost Family Portraits, which shows a refugee family from Syria in a camp in Bakaa Valley, Lebanon. The portrait, which won third prize in the "People" category, is part of a series in which Syrian families were photographed against a black backdrop, with empty chairs in lieu of family members. Each chair represents someone who was left behind or died during the journey out of Syria, whose location was unknown at the time of the picture.
The series, commissioned as part of a fundraising campaign by CAFOD, the aid arm of the Catholic Church of England and Wales, was conceptualized by Mitidieri together with agency M&C Saatchi, London, to show the impact of war on individual families. It does so powerfully. The missing people in these images can't be dismissed simply as "refugees:" They are fathers and mothers who will never see their kids again. They are children who will grow up as orphans, siblings who have been separated.
Below are Mitidieri's pictures, and the stories of his subjects.
Ammouna's family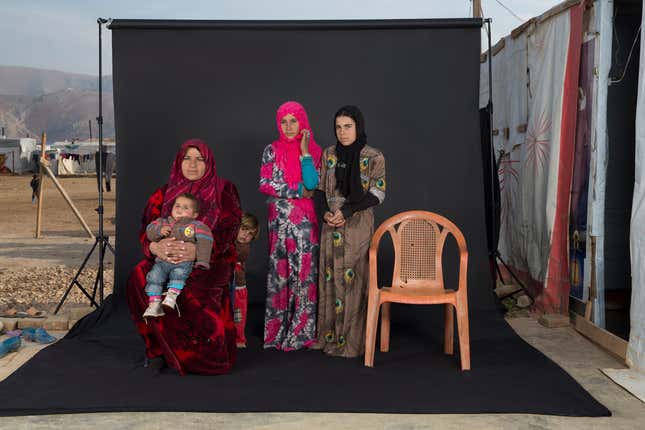 When bombing intensified in her home town in Syria, Ammouna told her family it was time to leave. They took only what they were wearing. Ammouna worries about her father, whom she left behind: "I try to speak to him as often as I can, but it is difficult. Sometimes I can't get a signal on my phone and other times we worry about what we say to each other in case someone is listening."
Razir's family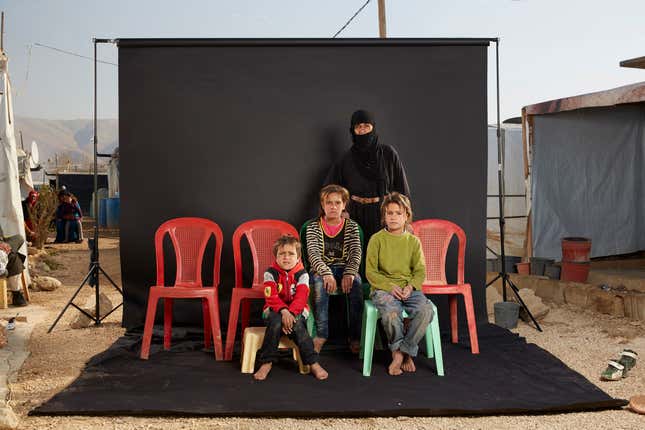 After 40-year-old Razir's husband was kidnapped and executed, her family fled Syria. Razir didn't have enough money to bring all her children to safety, so she had to decide: Which two to leave behind? She left her two oldest girls, and hasn't heard from them in seven months. She and the rest of her kids now live in a tent not bigger than a single bedroom. Their only possessions are a blanket the size of a bath towel and the clothes they are wearing.
Mahmoud's family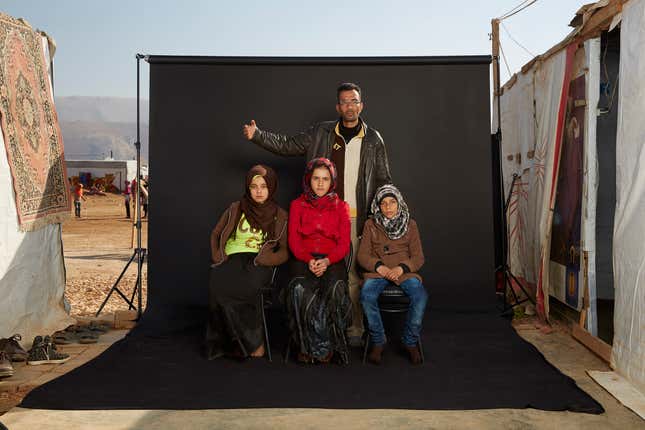 Mahmoud's young family had arrived in the Bakaa Valley camp just 20 days before this picture was taken. Forty days earlier, they had gone to the market in Syria to buy food, leaving their mother at home. When they returned, their home and everything in it had been laid waste to by a bombing raid. When asked about their future, Mahmoud says: "We have no future. We have nothing."
Kalila's family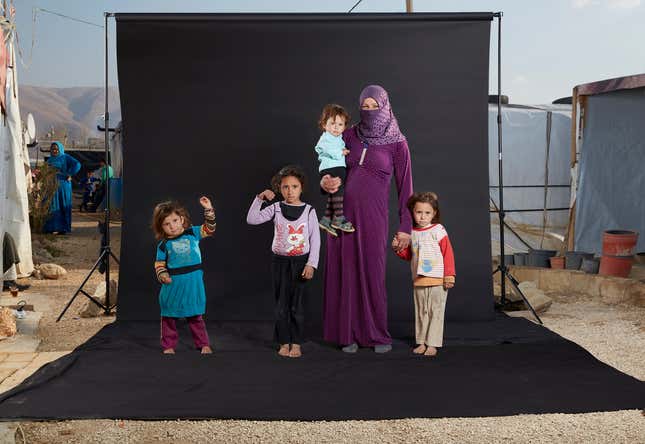 Kalila's husband, Ahmed, told her to leave Syria for fear of danger. He stayed behind as Kalila and her children headed for Lebanon. After this picture was taken, Ahmed was reunited with the family and is now living with them in the Bakaa Valley.
Mohammed's family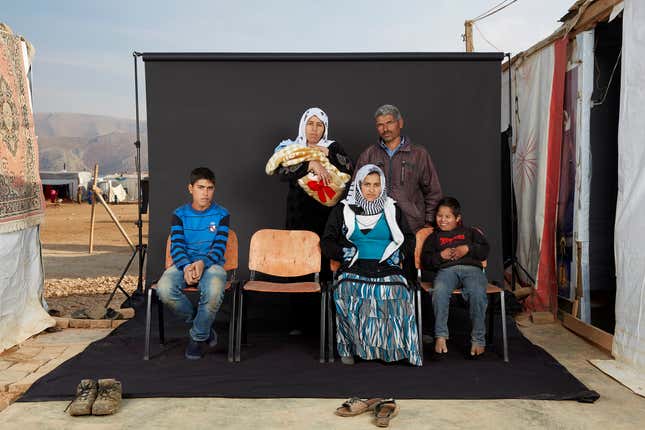 Two years ago, 45-year-old Mohammed was celebrating the wedding of his daughter when a missile hit the building they were in. The family ran out, leaving everything behind, including their newly-wed daughter. They have had no news from her, but they hope that she is in Turkey.
Aly's family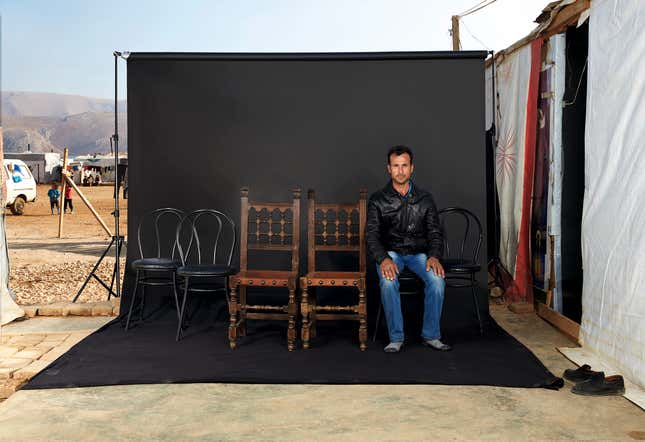 Two years ago, the home that 42-years old Ali spent ten years building was hit by a missile. He fled with his wife and children—but his mother, father, brother and two sisters were left behind. He tries to stay in touch with them over WhatsApp.
Mohammed's family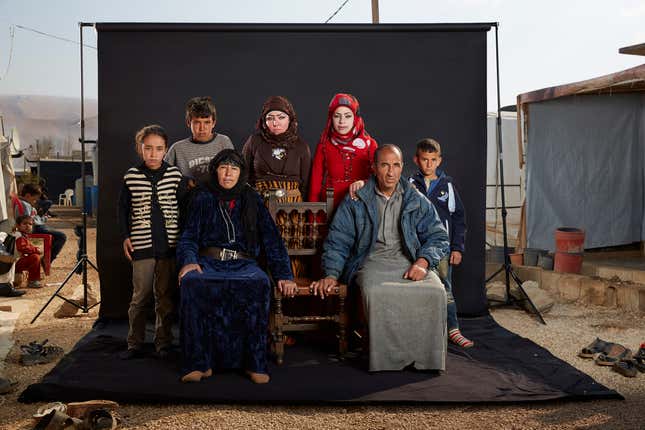 Just over a year ago, 55-year-old Mohammed was sitting in his living room with his family when a missile hit their home.
The missile's shrapnel severely injured their eldest son. The family fled, but in the chaos, their son disappeared.
Mohammed hears from reports back home that his son's injuries have caused him to behave irrationally, including destroying his ID papers, essential for traveling to safety.
Khawle's family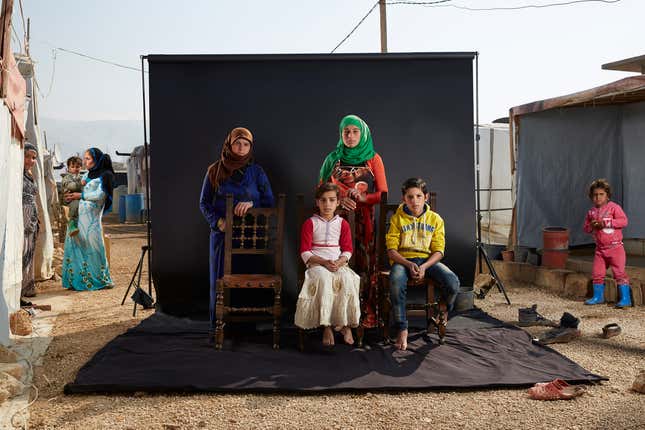 Khawle's family arrived in the camp five months ago, leaving a grandmother, three brothers and two sisters in Syria.
While escaping from Syria, their bus was stopped and they were told to get out. They continued the rest of the journey on foot, but ran into some ISIL fighters. One struck one of Khawle's daughters. She was hurt so badly she couldn't move for days, says Khawle.
Souraya's family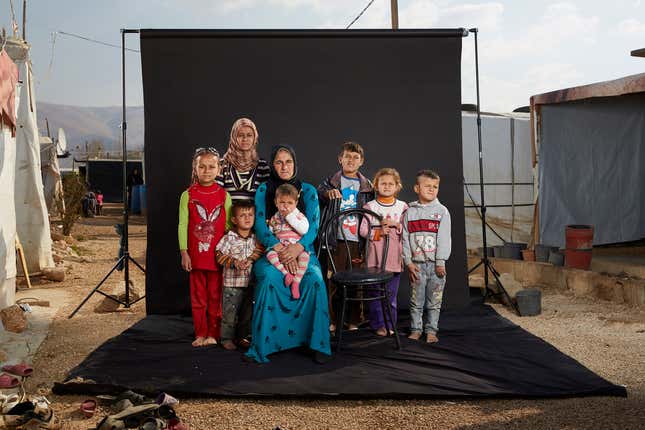 Two years ago, 34-year-old Souraya's husband told her to take their children and flee to Lebanon for safety. He knew that where they lived was too dangerous for the family, but he stayed behind to look after their home. Five months ago, he got together enough money to join his wife and young children living in the camp, but died when the bus he was taking toward them was struck by a missile.
Sahar's family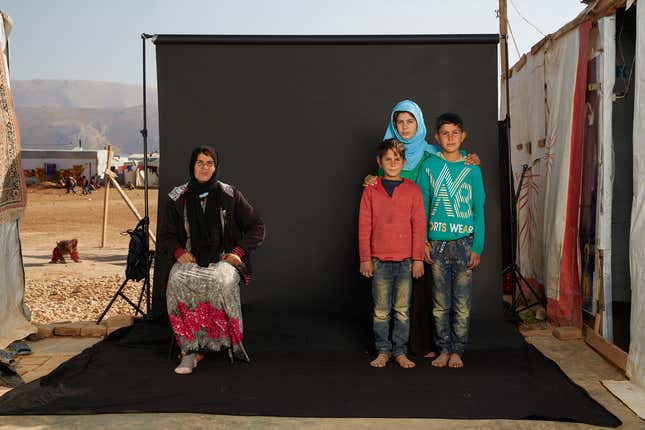 Before the war, Sahar, 50, lived what she remembers as "a good life, a simple life." She was a widow, and lived with her children. A year and a half ago, she was awoken from her bed in the middle of the night by the sound of airstrikes. She and three children fled, but she hasn't heard from the other nine since then.
Ghazyeh's family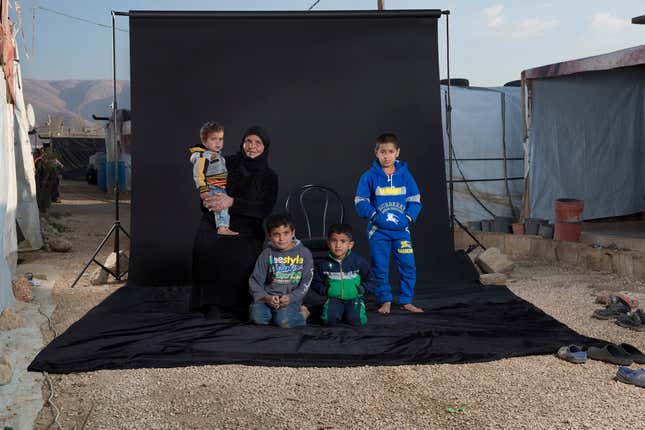 Ghazyeh's husband was killed in a missile strike when she was shopping for food. She ran away with her children, but during their journey into the Bakaa Valley, they were trapped for days in the middle of a conflict zone between several armed groups.