The tech world has (finally) come out against the FBI's attempt to backdoor all smartphones, rightly characterizing the move as a sincere but foolish tactic that would invade our private lives and damage US tech companies. But is the government's conflict with Apple sincere? Perhaps the encryption dilemma is being used for ulterior purposes.
When the department of justice, on behalf of the FBI, persuaded US magistrate Sheri Pym to issue an order that would compel Apple to break the iPhone's password lock, tech companies initially had little to offer by way of support for the Cupertino company. We read carefully non-commital tweets from Google's Sundar Pichai [as always, editing and emphasis mine]:
Forcing companies to enable hacking could compromise users' privacy…intelligence agencies face significant challenges in protecting the public against crime and terrorism [but this] Could be a troubling precedent. Looking forward to a thoughtful and open discussion on this important issue.
Then there's Bill Gates' baffling back-and-forth. At first, he supported the FBI and insisted that the "demand for a 'back door' into the iPhone would not set a wider precedent." Then he said he was "disappointed" that he's being depicted as siding with the FBI.
From other tech giants we heard… nothing. But then the tide turned.
On Feb. 25, Microsoft dispelled any doubt about where they stand by sending the company's president and chief legal officer Brad Smith to Washington where he declared that his company "wholeheartedly" supports Apple in its fight: "We do not believe that courts should seek to resolve issues of 21st century technology with a law that was written in the era of the adding machine."
Smith is referring to the All Writs Act, a law that was first enacted in 1789, passed in its current form in 1911, and remains the "go to" statute when the government wants to extract information from stubborn companies.
The next day, Amazon, Facebook, Google, and others declared their support for Apple's position and announced plans to file amicus curiae ("friend of the court") briefs by Mar. 3. These filings are intended to help the Court by providing subject matter expertise, legal opinions, and other technical elaborations. They'll be made public and will surely make for good reading and discussion.
As I watch the tech world rally behind Apple, as I listen to Tim Cook patiently and convincingly field thirty minutes of repetitive questions with his usual preternatural calm, and as I read through Apple's "Motion To Vacate" judge Pym's Feb. 16th order, I wonder: What possessed the FBI?
Then, I recalled White House spokesman Josh Earnest insisting on Feb. 17 that the DOJ's request didn't amount to creating a backdoor, it was just for this one device, this one time, adding: "The president certainly believes this is an important national priority."
It's become clear that the FBI's "just for this iPhone, this one time" contention is dishonest. In a congressional hearing, FBI director Comey acknowledged that the case could be "instructive to other courts" and, not very credibly, pleaded ignorance to other aspects, claiming he wasn't a "good lawyer" (he served as deputy attorney general during the Bush administration). We know now that there are hundreds of iPhones awaiting the creation of a hacked operating system Apple calls "GovtOS."
Did the FBI intentionally mislead the White House? Was the president's staff persuaded that this was a very specific, opportunistic issue without broader consequences? We've seen it before: An agency or division impatiently takes matters into its own hands and "manages up," plying their superiors with a set of plausible half-truths.
Had they been given the complete and honest story, the executive office certainly would have objected to the degradation of personal privacy and security, something Cook calls "the software equivalent of a cancer." And surely they would have recognized the potential damage to the most valuable US companies: How could a once-trusted business sell "backdoored" technology, or resist foreign government demands to comply?
I wasn't alone riding this train of thought. Among many who questioned the wisdom and consequences of the FBI's actions, one prominent Apple observer put it bluntly:
Actions by the leadership of the Federal Bureau of Investigation over the past month related to the San Bernardino encryption issue demonstrate a shocking level of dishonest and callous disregard for the nation's core principles of democracy. FBI director James B. Comey should issue a formal apology or resign his post […]
On further thought, however, I'm not so sure. I can't really believe that the FBI would abuse the White House's trust by launching an unauthorized expedition to force Apple to backdoor the iPhone. To the contrary, I think this operation was vetted at the highest level—but not for its apparent purpose.
Just this morning, the New York Times tells us that a meeting last month between White House staff and tech executives ended on a sour note. (Such stories are a part of a long tradition of "authorized" disclosures—articles based on trusted relationships between insider sources and writers.) Apparently, chief of staff Denis R. McDonough took exception to Cook's reproaching the White House for "lacking leadership" on the encryption issue, and reportedly called Cook's statements a "rant." Other participants, the New York Times says, characterized the Apple CEO's words as "respectful." However…
Soon after, Mr. McDonough brought the meeting to an end. "Put a pin in it," participants recalled that he said, making it clear that the conversation would continue….But one month later, the Justice Department moved against Apple.
(For context, I encourage you to read the Wikipedia article on Denis McDonough. He clearly isn't to be trifled with: One of eleven children of a Catholic family, he played football, taught school in Belize, speaks Spanish, traveled in Latin America, and has extensive experience with Washington's back alleys. Tim Cook may be tough, but so is president Obama's chief of staff.)
In effect, as the authoritative New York Times article tells us, Cook isn't fighting the FBI on our behalf, he's wrestling with the White House. Does this put into question Apple's chances of success in its quest to keep iOS and the data it protects truly private?
Perhaps…but maybe there's yet another twist.
First, the White House clearly sees that tech companies are now actively supporting Apple. Whether their position is borne of a genuine concern for our rights or simply guided by their own economic interests doesn't matter—they can't be ignored.
Further, I find it hard to believe that president Obama—a professor of Constitutional law—doesn't recognize that backdooring US technology is inconsistent with his duty to protect our Constitution. Ironically, he could find support for objecting to the FBI's request in words uttered in 1987 by recently-departed Supreme Court justice Antonin Scalia: "There is nothing new in the realization that the Constitution sometimes insulates the criminality of a few in order to protect the privacy of us all."
Words that didn't escape the attention and pen of an insightful cartoonist: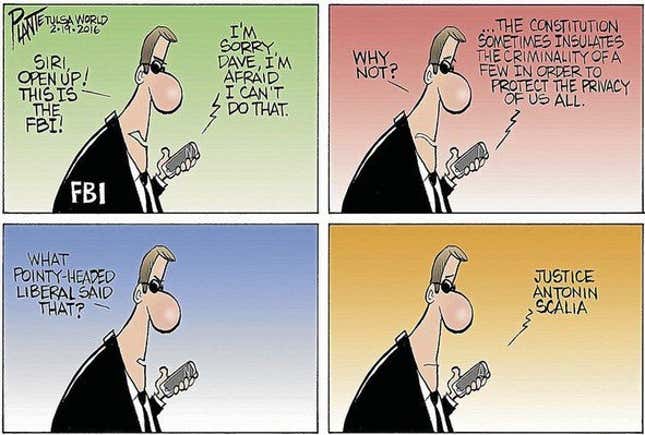 At the risk of seeing too many wheels within wheels, I choose to see a political—and ultimately toothless—motivation rather than a dangerous raid on our liberties and our businesses. In an election year, a Law and Order posture is de rigueur. A good show of saber rattling is a much more effective charm than is explaining the subtle, reflective truth: Backdoors are a terrible idea.
Having struck the right notes, the issue can be delicately guided into a marsh of hearings and commissions where it will slowly sink… until the next crisis.
This post originally appeared at Monday Note.