Refugees from Syria, Iran, Afghanistan, and Eritrea took a big step towards making a new life in Germany this week.
In Berlin, around 200 companies—from small family businesses to big names like Bayer—set up stalls at a job fair, ready for face time with the 4,000 refugees who registered to attend. The crowds gathered outside the venue an hour before the doors opened, keen to see the jobs available in their new home.
The fair, organized by the South Berlin Employment agency, is a small step in the long journey of integrating the 1.1 million asylum seekers who arrived in Germany last year. The country's open-door policy has sowed deep tensions, putting a big dent in chancellor Angela Merkel's approval ratings of late. The new arrivals, who are predominantly young, could help improve Germany's daunting demographics, but only if they get to work quickly and integrate into society smoothly.
Berlin senator for employment Dilek Kolak said the event was sending the message that refugees "are not only welcome, but welcome in the workplace too." Indeed, a recent survey found that although less than 10% of German companies have hired refugees in the past two years, more than 30% are planning to do so over the next two years.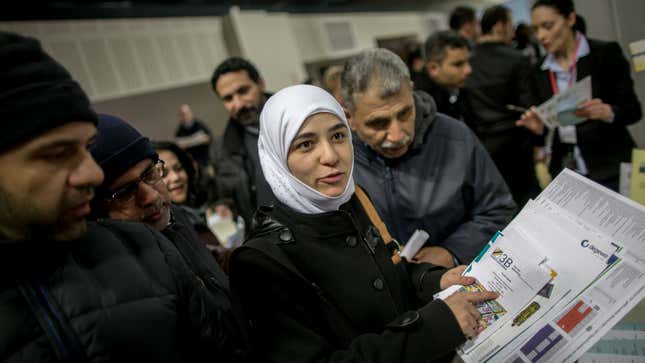 Syrian refugee Salem, a 23-year-old nurse, told the Berliner Morgenpost (link in German): "I have only been in Germany for four months, but I want a job."
Encouragingly, two Pakistani men secured a job offer not long after arriving. "If all goes well, they can start in three months," said Juliane Hensel, who recruited the two men as security guards for her company, City Schutz.
"Germany did a lot for us, we want to do something for them," Asjed, one of the men, told AFP. "We are serious about getting any good job, because we want to stand on our own feet and not depend on the German government." 
Getting a handle on the German language is still the biggest obstacle immigrants face, although many of the companies at the fair were ready to offer classes. On top of this and other training required to get new recruits up to speed, there are additional hurdles to hiring refugees, namely getting the legal approval for them to work from the country's overwhelmed bureaucracy.
While the majority of attendees did not leave the fair with job offers, they had at least made important contacts and got a better feel for the skills they need in the future. Franziska Giffey, the major of Berlin's Neukölln district where the event took place, said it was time to move "from the first phase of housing these people in need to the second phase of integrating them."