Every year in March, the Chinese Communist Party holds two plenary meetings, one for its top legislators, the National People's Congress (NPC), and one for its top political advisory body, the Chinese People's Political Consultative Conference (CPPCC). Combined, the meetings, known as "two sessions," draw 5,000 top party officials, and lay out the government's agenda for the year. This year, the CPPCC session kicked off on Thursday (Mar. 3) while the NPC meeting will start on Saturday.
They are a show of China's state power and confidence—no flaw is allowed.
At an annual meeting of China's top legislature in 2013, an event staff member started harassing the Japanese journalist sitting beside me, because he was wearing a surgical mask, something often worn in Asia by people who don't want to spread germs.
"If you are sick, I can go to a doctor with you," the staffer said. After being asked "Are you sick?" several times, the journalist reluctantly took off his mask. The event staff obviously thought his mask would mar the event's image, while the journalist just had a cold that day, and didn't want to circulate it to others.
There are other controls on journalists. During the "two sessions," journalists from overseas news outlets are unlikely to be called on at the press conferences. They are banned from entering the hotels where the meeting attendees stay, except at very limited times. Chinese journalists, meanwhile, are often asked to publish only official releases.
Because of the meticulous information control and image maintenance, the "two sessions" are considered political paraphernalia in China, and attract little attention from most citizens. But the two week period in which thousands of lawmakers and top government officials gather in Beijing for these rubber stamp meetings, is also when China's one party political system is at its most transparent.
Sometimes, sparks fly

The "two sessions" are of irreplaceable news value in China. After all, journalists can try to approach to mayors, province chiefs, ministers, and army generals for questions without pre-screening and censorship. It's also a time to see frequent and intimate interactions among China's top officials.
Controversial political star Bo Xilai, the former Chongqing party chief, was expected to join the standing committee of China's elite Politburo in 2012. But the unexpected betrayal by his right hand man Wang Lijun ended his career and he is spending life in jail. During the 2012 "two sessions," Bo invited many Chinese and foreign journalists for a 30-minute press conference about Wang fleeing to the US consulate, rumors about his sons, and his model for governing the city of Chongqing. This kind of upfront manner is uncommon for the Communist Party's top officials.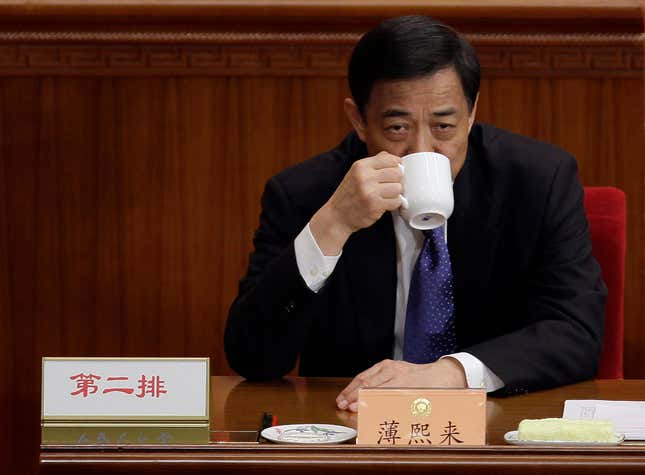 Even more dramatically, at a press conference that ended the "two sessions," then premier Weng Jiaobao openly criticized Bo, and compared his Chongqing policy to Mao's chaotic Cultural Revolution. Bo, often seen as president Xi Jinping's biggest rival, was ousted the next day and his political career was over.
Documents issued at the "two sessions" also indicate China's political direction. The 2015 NPC report (link in Chinese) began each section with quotes from Xi, a style unseen before. It revealed worship for Xi, and openly indicated that the Party leads China's legislature.
Stalking the bathrooms
Official political information about China's government is always delivered in the same mode, without any human emotion. Deciphering what is actually going on is the biggest difficulty for China watchers without insider information because, after all, Chinese politics emphasizes "guanxi," or relationships.
During the "two sessions," however, journalists can observe high-ranking officials up close. Who talks with who? Who starts the talking, while who listens? Who reads documents carefully? Who says "Hi" to who? Watching from the press seats, everything is clear.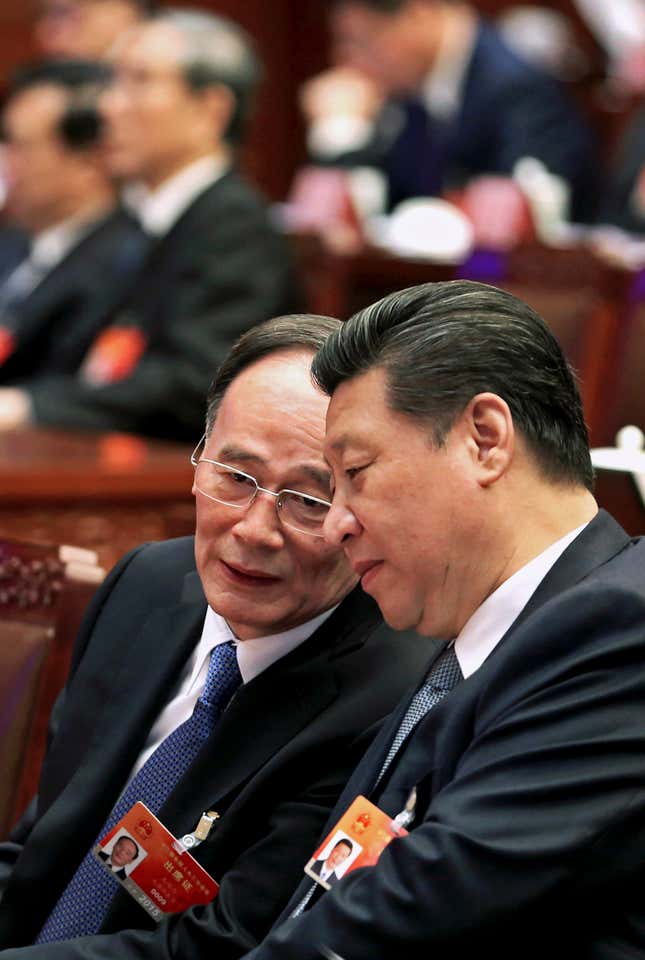 Luckily enough, some of the Party's undisclosed operations—and nonpublic news—can also been discovered.
During the "two sessions" in 2015, a Hong Kong reporter spotted Qin Yizhi, the head of Communist Youth league, who was not on the attendee list. Qin told the reporter Youth League had send staff to talk with Hong Kong students in the protests during the pro-democracy Umbrella Movement. He also revealed for the first time that Beijing was negotiating with Hong Kong to promote national education for Hong Kong students, in order to improve their recognition of China's authority.
Once I waited for an official, outside the washroom, and asked him about a sensitive incident in the region he headed. He answered my questions, surprisingly, and even mocked the victims of the incident.
Not long after, he came back to me to ask me to not run the words he had just uttered. I refused. Before I left the venue, one meeting staff member took a picture of me and warned me: "I already know what media you are from." Later, I got a phone from the propaganda department that ordered me not to publish the news. My newspaper didn't run the news, after weighing the value and risks.
Foreign reporters often enjoy even "better" treatment from security staffers, who follow them closely. The meeting staff members prevent overseas journalists—including those from Hong Kong—from raising questions at the press conferences. Near the end of a press conference, someone often shouts "give Hong Kong media a chance," and then the microphone will surely be handed to three Pro-Beijing Hong Kong newspapers—Wen Wei Po, Ta Kung Po, and Hong Kong Commercial Daily.
So much equality
Last but not least, the "two sessions" are important to show ethnic groups are equal in China.
There's a similar picture every year. A dozen delegates from different ethnic groups in their costumes, hand in hand, walk forward in a line. They smile in the bright sunshine. The backdrop is the front gate of the Great Hall of the People, the national emblem, and the clear blue sky.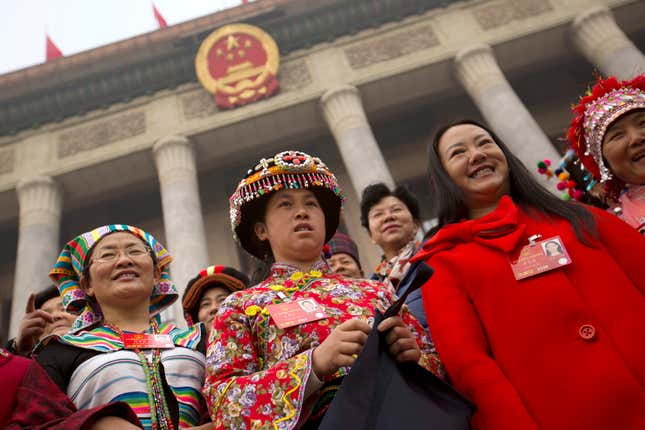 Such a photo sends a signal: Ethnic groups across the country speak about whatever they want, supervise the government, and raise suggestions at these democratic, equal, and open meetings.
The ethic representatives attending are all great speakers about how correct the Party and the government's policies are. But when asked sensitive questions about ethnic disputes and religion, they will sidestep these questions, and even claim they cannot understand Mandarin Chinese.
It's tough for photographers to stage that photo with consistency. "One, two, three, go!," they often chant before the group starts walking. And of course it is very important that it is not smoggy on that day.
This is excerpts of an article originally appeared on Hong Kong-based digital publication the Initium: A close look at the "two sessions:" Understand China from the paraphernalia, written by Gao Junsong, a veteran China reporter and commentator on Chinese politics. Quartz was authorized to translate and publish the article in English.