Mark Zuckerberg and his top executives are the subject of a criminal complaint asking them to pay a €150 million ($163 million) fine for breaking German hate-speech laws. The complaint has been filed by two German lawyers, Chan-jo Jun and Christian Solmecke.
Facebook is at the center of a hate-speech furor in Germany. The social network has been slow to remove xenophobic and racist posts even as Germany has seen a spike in protests by far-right extremists and attacks on refugees.
In December 2015, Facebook, Google, and Twitter said they would delete hate-speech from their platforms within 24 hours, in an agreement with Germany's federal government.
But the 300 posts collected by Jun and Solmecke over a five-month period, starting in October 2015, show that takedowns rarely occurred within a day, if ever. The chart below shows how long a post stayed online after it was flagged as breaking Facebook's community standards:
The posts that were taken down could have been removed by Facebook or deleted by the user. When Facebook removes a post, a notification email is sent to the person who flagged it. Jun says he doesn't have a precise tally of the number of notifications he has received, but he believes most of the posts were taken down by their authors, not Facebook.
Here's a sampling of the posts that have survived more than 100 days on Facebook, despite being flagged as hate speech by Jun and Solmecke:
"Send the whole lot to the work camps"
"Close all EU borders and especially German ones. Refugees should all be expelled or deported. Because we the taxpayers have to pay for this filth. Why? SO they can destroy our institutions, attack our German citizens, rape and still get money for it?"
"The plague is coming now. It's back again"
And a sample of the imagery collected: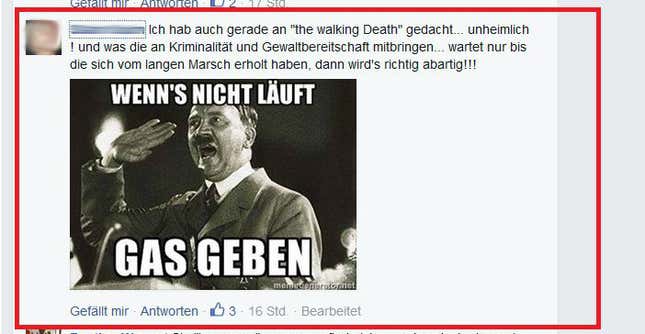 Criminal complaints in Germany are similar to making a police report; it's up to government prosecutors whether to pursue the complaint or not. "Anyone can do it," Jun told Quartz. He's appealing an earlier complaint against Facebook executives that prosecutors declined to pursue, and has lodged a third complaint that the authorities are evaluating.
Facebook has taken some steps to address German hate speech. Zuckerberg visited Berlin last month, declaring that hate speech "has no place on Facebook" at a public event. Sandberg announced a €1-million initiative to combat "online extremism" around the same time. The company also hired an outsourcing agency with 200 people processing flagged posts.
Facebook doesn't say how many complaints it receives, but Jun says a lawyer representing Facebook told him the company receives more than 1 million complaints a day. By Jun's reckoning, Facebook would need a full-time team of 500 people to deal with that sort of volume. "We do not know the complaints structure they have, but we know the results," he told Quartz. "Even very obvious postings were left online."
In a statement to Quartz, a Facebook spokesperson said: "We are pleased that the first inquiries by the lawyers have been closed and look forward to putting this matter behind us so we can focus on fighting hate speech and our efforts to foster counter-speech. The new claims are again completely without merit. There has been no violation of German law by Facebook."
Last month, Sandberg talked up the use of counter-speech, in the form of "like attacks," to combat extremist groups. But that's besides the point, Jun said:
We don't expect Facebook to be a policeman, watching over what users are writing. We only demand that when a complaint is filed, it has to be seen by a person with sufficient training, knowledge, and that they come up with a correct decision in most of the cases. This is not the case currently.