It has not even been a year since the New York-based artist Kelly Beeman typed the "@" that would launch her career.
In the spring of 2015, Beeman was supporting herself with odd jobs, including restaurant work and Spanish translation, while painting on the side, as she had done for years. Then, one day in May, after she finished a particularly fetching watercolor of a woman wearing a blue-and-white striped blouse, which she saw in the fashion designer J.W. Anderson's resort 2015 collection, she took a picture of the painting, and shared it on Instagram. Afterward, on a bit of a lark, she typed the designer's Instagram handle—@jw_anderson—beneath the photo.
"I'm actually really shy in general," Beeman told Quartz over the phone. "I didn't even use hashtags for a long time, because I felt like, 'My god, who's looking at this?' So it was a huge leap for me to tag a designer. I felt really uncomfortable but I thought, 'You know, they might like it. Why not?'"
They didn't just like it. Soon after Beeman tagged the image, @jw_anderson replied with a single word: "love."
Since then, Anderson has commissioned Beeman to paint her Matisse-meets-Maira Kalman interpretations of each season's collection for his seven-year old brand, J.W. Anderson. (Anderson is also the creative director of the Spanish fashion house, Loewe.) Beeman has attracted more than 50,000 fans on Instagram, and completed watercolor, gouache, and ink commissions for magazines such as InStyle, Interview, and Vogue China, and fashion designers including Christian Siriano and Elie Saab. She also did a mural for the Tokyo shopping center, Omotesando Hills.

"Professionally I've really only been an independent artist for, gosh, a year," said Beeman. "[Instagram] helped me get the necessary exposure."
Anderson is not the only designer falling in love with artists on Instagram. In fashion, Instagram is everywhere, and much has been made of how it has changed the way clothes are designed and promoted. But the platform's most remarkable feat might be its revival of an old-world art: fashion illustration. The work Beeman is doing—and that of artists commissioned by Gucci, Stella McCartney, and Dries Van Noten, among others—hearken back to a time when the public digested fashion collections via expressive watercolors and line drawings, rather than glossy magazines, websites, and, well, Instagrams.
After her show at Paris Fashion Week, Stella McCartney invited a handful of artists she discovered via Instagram to stay and illustrate her fall 2016 collection for a series hash-tagged #stellastrations.
Alessandro Michele, Gucci's much-lauded new creative director, is also an avid Instagrammer—you can follow him @lallo25—and a social media team at Gucci's headquarters monitors the artists who tag Gucci on the platform.
In February of 2015, Michele invited @unskilledworker, aka the budding British artist Helen Downie, to attend Gucci's fall 2015 show and paint four works inspired by it. Those paintings were displayed alongside works by mega-artists such as Jenny Holzer and Rachel Feinstein at a Michele-curated show in Shanghai—and, of course, they were all over Instagram.
Wednesday (March 9) Gucci launched the second incarnation of #GucciGram, a digital curation of works that re-interpret its signature patterns and prints. This season, Gucci commissioned multimedia artists from eight countries including, China, Japan, Thailand, and Singapore, to remix Tian, a bird and flower print that references 18th-century Chinoiserie.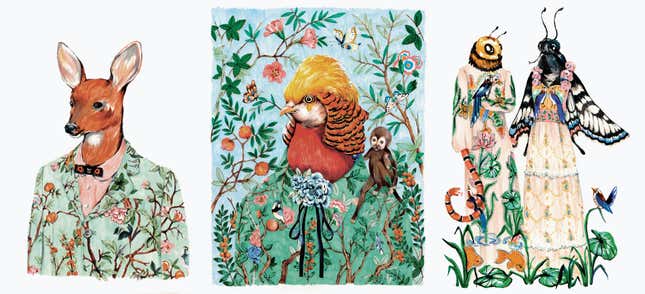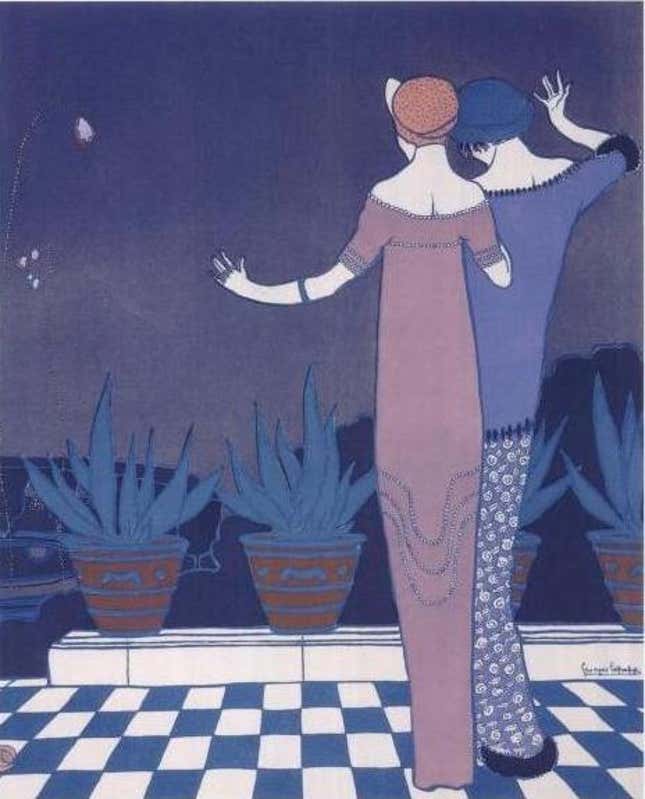 There was a time when illustrations where essential to a fashion house's presentation. In the early 1900s, art nouveau-style illustrations and elegant line drawings by Georges Lepape and Erté captured the louche, modern, pre-flapper appeal of Paul Poiret's robes and dresses, elevating them to another art form entirely—and capturing their place in fashion's collective memory. (Just look at a photograph of a Poiret piece and tell me the illustration isn't a superior rendering.)
Sometimes, the whole is greater than the sum of its parts. Here, just a glimpse of the many relationships between fashion designers and the artists they inspire on Instagram.
Stella McCartney and @wasteland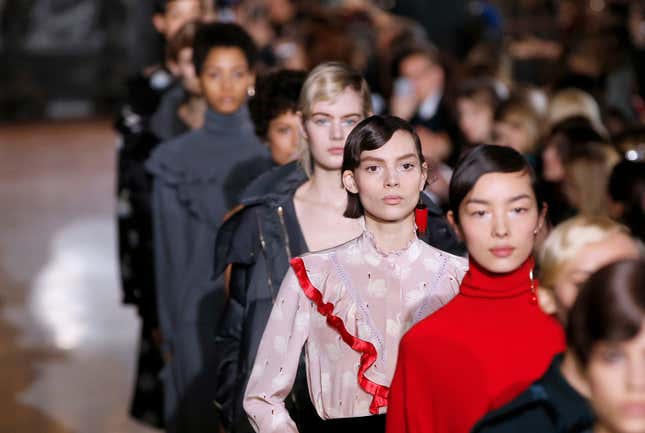 Dries Van Noten and @buttonfruit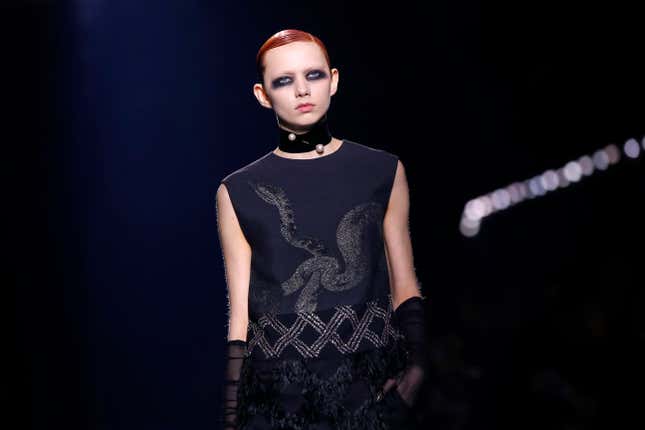 Delpozo and @isabelitavirtual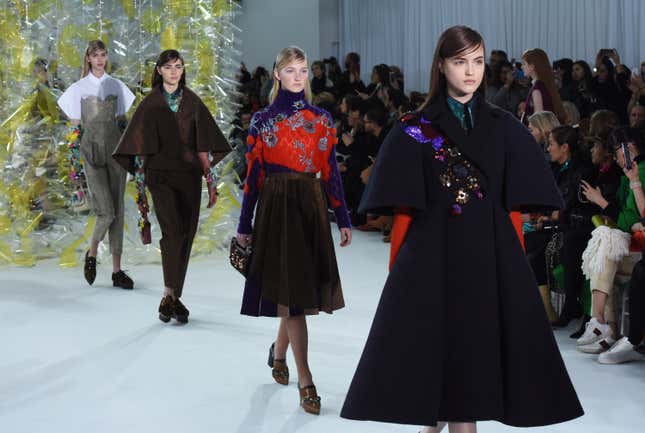 Giambattista Valli and @vincentmoustache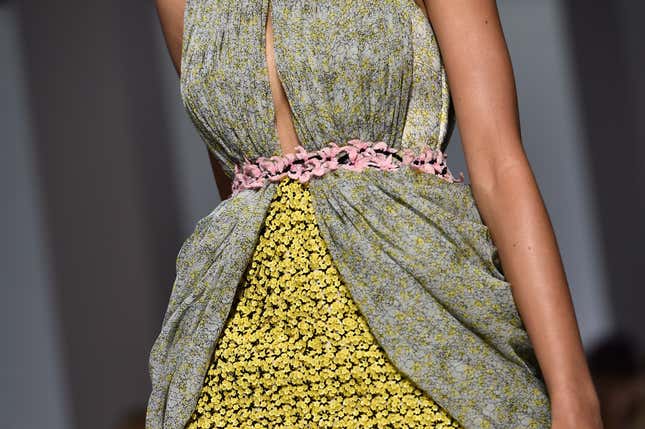 Gucci and @unskilledworker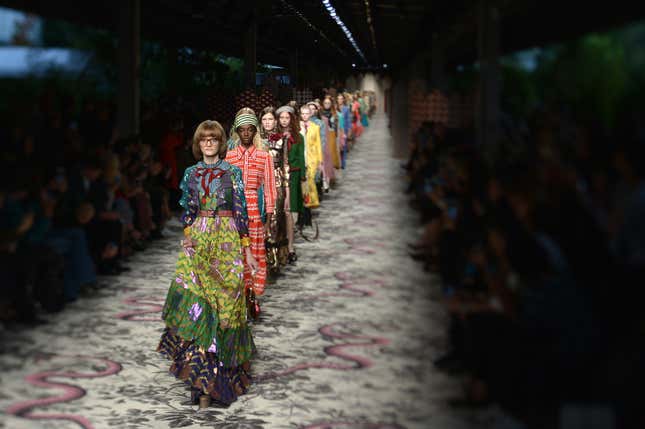 J.W. Anderson and @kellymariebeeman