Berlin
Firas AlShater, a Syrian refugee, became a YouTube celebrity pretty much overnight. In January the acting student made a video describing an experiment in which he stood blindfolded on Berlin's Alexanderplatz with a sign saying he was a Muslim and asking for hugs. (It was his version of a street performance carried out by Arab artists in various countries.) AlShater's take on Germans—that they need some time to warm up, but once they do, they don't stop—isn't particularly original, but his goofy and endearing manner won over thousands of fans.
Within days of posting it to YouTube, the video had 300,000 views, and German media were bombarding AlShater, who will soon turn 25, with interview requests. Fans recognize AlShater on the street and public transit. Sometimes they even try to hug him. He has recently landed a book deal, too.
AlShater's German co-producer, Jan Heilig, attributes the popularity of this, and other videos the pair have made, not just to their lighthearted humor—a genre which Germans haven't quite mastered—but also to the lack of refugee voices in an otherwise very serious debate about immigration in the country.
"Firas is the first," said Heilig. "He's not just answering the questions that people ask, but really saying what he wants to say. "
They created a YouTube channel called "Zukar," or "Sugar." Its origin story is murky. The impetus seems to have been a request from a charity that Heilig works with to create videos featuring refugees. They decided to take footage of AlShater's experiment, which they'd shot earlier, and intersperse it with his monologue about Germans.
After it became popular they quickly followed up with another video in which AlShater riffs on how cats can rack up YouTube likes and get asylum easier than him saying, "If you try hard enough, you can learn to hate anything."
They picked the name "Zukar" because it sounds similar in German, English, and Arabic, and plan to create a total of ten videos, funded by individual donations. They've also branched out from AlShater's monologue form.
A more recent short film, posted at the end of February, was a response to a video showing right-wing extremists attacking a bus full of refugees in Clausnitz, close to Dresden in eastern Germany. Zukar's humorous take features black-clad right-wing extremists from Clausnitz getting lessons in overcoming their fear of foreigners by touching a refugee baby.
By the time I meet AlShater and Heilig, they're well-versed in dealing with the media. They work out of the offices of Heilig's production company, called filmbit, set in a maze of industrial buildings in eastern Berlin. They tell me that within three weeks of posting that first video, they'd appeared on many of major German morning shows, got visits from international journalists, and had appointments with nine German publishers. They ask all of their visitors (including me) to write a note on a piece of colored paper and wrap up two sugar cubes to leave in their bowl.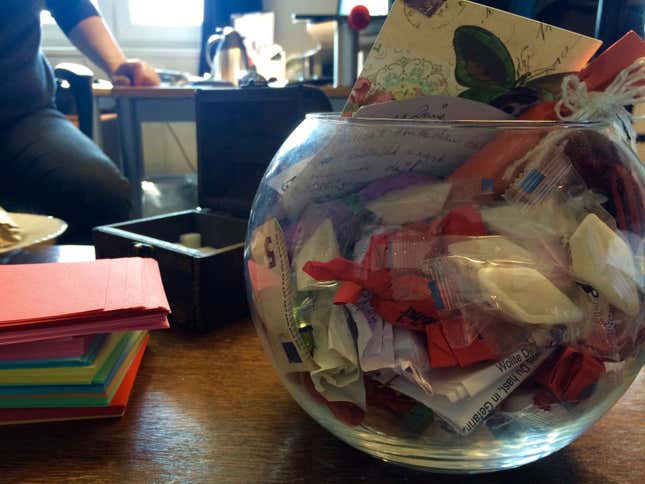 While we talk, AlShater, wearing gray sweatpants, a T-shirt, and house slippers with a hole in the toe, sprawls out on a sofa and plays with his Beats headphones. He explains that they got the idea for the first video after watching anti-refugee demonstrations and thinking that the Germans marching in parades couldn't be representative of the country, but he wanted to approach the topic with a sense of humor.
"I've seen enough hate," said AlShater, who said that he also spent time imprisoned by the Assad regime and help captive by Islamists. "It's easier to approach people with laughs and humor."
He said he's been interested in theater since he was a teenager in Damascus and took up acting studies and filmmaking at university. In 2012 he met Heilig, who was looking for a local filmmaker to help him finish a dark comedic documentary called Syria Inside, after his first collaborator died during filming. Heilig sponsored AlShater's work visa to get to Germany and in May 2013, AlShater was granted asylum to stay. While his parents are still in Syria, AlShater says that his siblings fled and made it to Berlin. He had planned to continue his film studies in Germany, but with the book contract and the rest of the film series, he's not sure he will have time in the near future.